by adagio teas



(7 reviews)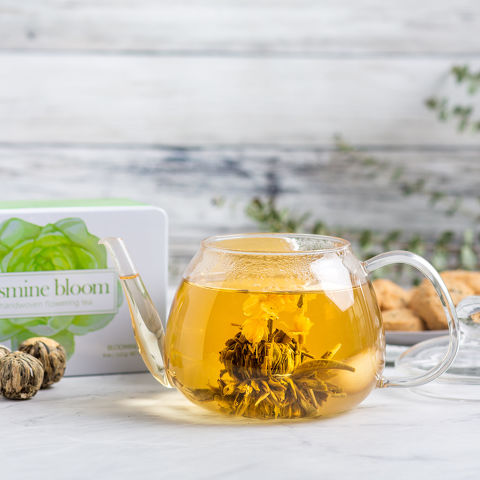 Blooming teas appeal to the eye as much as the palate: each serving is a hand-tied cluster of tea leaves that slowly unfurls in water to reveal a delicate flower hidden within. The splendor of the flower "blooming" in the cup enhances the wondrous taste of tea leaves gathered at the peak of freshness. Enjoy these yourself, or share with those you love.
Exquisite green tea leaves from China's Fujian Province, hand-shaped into a bud containing within it fragrant jasmine flowers. Contains a moderate level of caffeine. Brew at 190° F for 5-7 minutes, or until the bloom is fully open.
Recent reviews
Blooming teas are really fun and this one tastes great as well. It is very light and floral

It's really fun to watch the tea bloom in a glass cup or tea pot. This is my fun tea to get when I get paid

Interesting tea to try but not all the blooms actually bloomed. Flavor is not very special and the tea is pretty pricey.

This is a wonderful tea for jasmine-lovers and very nice for Spring.

I told so many people about how great this tea is!!