by adagio teas



(1 review)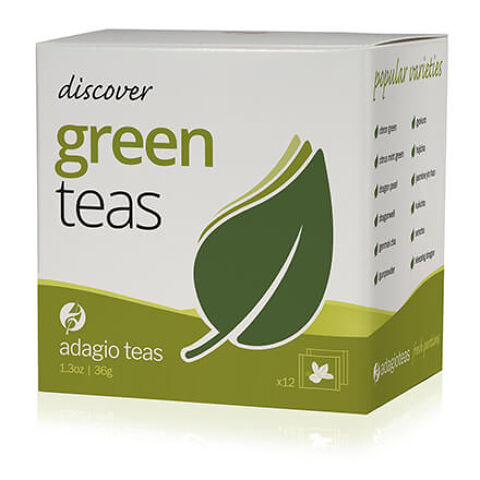 Discover a new world a flavor with our Portions Sampler Set. This set makes it easy to try twelve of our best selling teas, each perfectly pre-measured for a convenient loose leaf tea experience. This set includes:
kukicha - This blend of leaves and stems yields a sweet sesame seed or chestnut note. Tender like soft white rice. Balanced and low in astringency.
sencha overture - Rich, brothy texture, refreshing aroma and sweet flavor reminiscent of tender steamed veggies and fresh seaweed.
hojicha - An Adagio customer favorite, with a toasty nutty flavor and slightly mesquite note. Earthy and warm quality, soothing finish.
jasmine yin hao - A deeply floral, very layered fragrance, cups to be soft yet full-bodied with a sweet, slight dryness in the finish.
gyokuro - Deeply sweet, aroma of freshly buttered greens - no grassiness or harshness. Soft with a balanced, delicate finish.
gunpowder - These leaves are hand-rolled into tiny pellets, and yield a full-bodied cup with a hint of smokiness.
genmai cha - Classic Japanese green tea, blended with toasted, popped rice. Warm, nutty with a lovely savory and hearty quality.
citron green - Chinese green tea with the delicate flavors of lemon and lime. An Adagio favorite, refreshing hot and iced.
citrus mint green - Effervescent blend combines green tea with the fresh zest of lemon and orange, and cool spearmint.
dragonwell - Inviting, toasty aroma and sweet rounded flavor. Nutty, buttery texture, pleasantly dry finish.
jasmine phoenix pearls - Hand-rolled pearls majestically unfurl, releasing a delicate scent and flavor. Sweet and almost sugary with a soft, airy mouthfeel.
sleeping dragon - Has a soft, fruity sweetness enfolded by a rich, smoky note similar to gunpowder, but more complex and crisp.
Recent reviews
This is my most favorite purchase from Adagio so far. It is fantastic! It was so much fun trying out all the green teas. I found, through this sampler, that I love green tea! (a whole lot more than I like black tea). Some of these were so delicious and intriguing I immediately ordered more. My favorites: Phoenix Jasmine Pearl (I will always have this one), Jasmine Yin Hao, and Genmai Cha. I can't wait to get my order of these tomorrow! :)