by adagio teas



(15 reviews)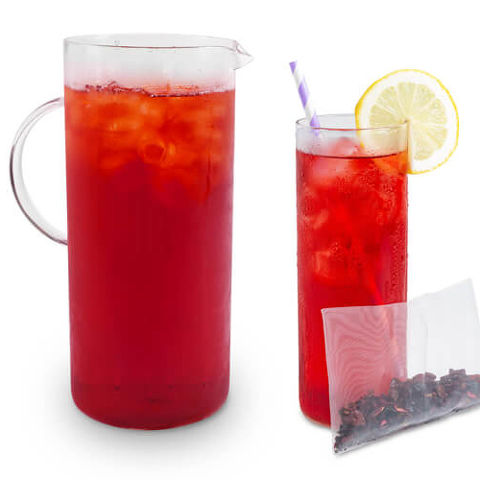 Premium herbal tea in cold-brew pouches. Simply place overnight in a pitcher of water. Awake to find a tea rich in flavor and aroma. For quicker preparation, steep in hot water for five minutes and add ice. Contains an herbal mixture of black currants, cranberries, raspberries, elderberries, bilberries, hibiscus flowers and rose hip. Naturally caffeine-free, perfect anytime of day. Makes 32 ounces. Steep at 212°F for 3-5 minutes
Recent reviews
Beautiful color and fresh flavors. One of my favorite iced teas and I love how easy it is to make.

This tea is better iced than hot. Add a little sugar, as it's pretty tart on its own.

yo this tea is really great because it has its own sweetness so no sugars or any kind of sweetener needed but it still is great with sugar i honestly could go both ways

This one is great iced! I love that it has no caffeine as I can share it with my kids and not worry about them getting too hyper from it. The berry taste is reminiscent of kool aid.

The ultimate summer iced tea, with a brilliant red color perfect for celebrating the 4th of July. It's very fruity but not tart or sour. Cooling and refreshing, with that "ahhhh" kind of satisfaction. Highly recommended!

My favorite summer ice tea ( I cold seep it overnight in the fridge, and I like to add a little stevia sweetener). Great strong flavor. My friends all like it when I serve it. If you have not tried this tea yet, give it a chance - you won't be sorry.

Excellent berry flavor. Fruity, no tartness. Loved cold brewing it overnight.

I didn't really care for this tea, but that's mostly because the blueberry flavor is pretty pronounced as one of the main notes and I don't like blueberry.

I was expecting this tea to be either too sour or too sweet but it was neither. Its perfectly balanced and refreshing.

I love this tea. It is so easy to make and is very refreshing. It has a great fruit flavor that doesn't require any sweetener, which makes it healthy. It's not just a summer drink, I enjoy it year round.

Very good. The kids really like it a lot and asked for more.

Even my mother who doesn't like blueberries loved this tea, and the bags were ideal for easy brewing.

Easy to make and refreshing ice tea. Summer is coming!

This is a great fruit tea although it may be a just a bit too tart for my personal taste. But refreshing nonetheless!