by adagio teas



(19 reviews)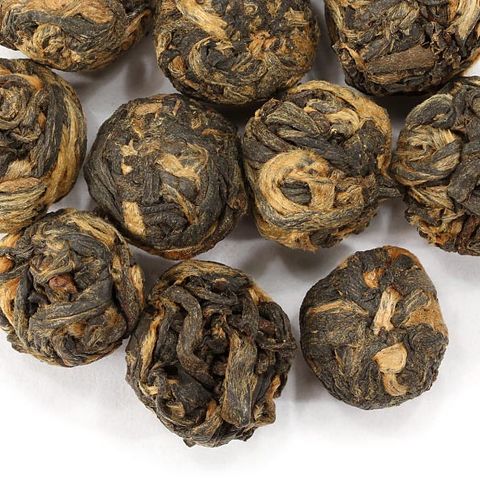 Black Dragon Pearls is a rare, hand-rolled variety of black tea with a smooth, rich and chocolatey taste. Hailing from the Yunnan province, this black tea version of the popular Dragon Pearl is comprised of only the highest quality leaves and buds, expertly rolled into a large pearl-like shape. Black Dragon Pearls are naturally sweet and smooth, with a touch of earthiness. Subtle cocoa notes whisper gently as each pearl unfurls, delivering a superior tea experience not to be missed. We suggest using 2-3 pearls per cup for the fullest flavor. Steep at 212°F for 3-5 minutes
Recent reviews
It looks so cool while steeping and tastes pretty awesome, too.

This tea is amazing. As the leafy balls unfurl and release their flavor, you know you're in for a real treat. But that's only the first cup. The true star of this tea is the second cup you brew. The flavors are more complex and your enjoyment enhanced.

Enjoyed this tea. Smells nice. The pearls exspand so it didt

Require to many to make a nice cup.

These are popular and pretty good dianhong, similar to others but little balls.

I always keep this in my pantry. It is a star and worth the price. You only use two-three pearls a cup and can resteep several times. It is very smooth and strong and makes for a great breakfast tea.

WF

Very good. Enjoyed it quite a bit and its definitely worth the price. Though Adagio's other golden black teas are all similar enough in quality that theyre still good substitutes if you want a cheaper option

One of my favorite teas at adagio and in general. The floral scent is really there and pairs perfectly with the black tea

The lovely taste of a strong breakfast tea with the fun of a jasmine pearl. I love pearl teas in general, and I'm so glad to find a black tea version.

These are really yummy and fun to watch open up. One of my regular teas!

JI

I absolutely love this tea!! I would definitely purchase again

Was not my favorite. Had a nice taste but probably would not purchase again. Happy to have only purchased a sample.

The black dragon pearls were highly rated, so I bought a sample to try with my sister! It had a dark, pure taste that we both enjoyed! However, it is more pricey than the other teas we like, so I'm not sure if we'll buy this again.

Delicious black tea! And delightful to watch these pearls unfurling in a glass teapot!

SF

My favorite tea, hands down. Smooth and deep black tea taste with no bitterness. I'm able to resteep, often twice, and still get good flavor with no bitterness.

My favorite black tea. Rich, complex flavor and a strong natural sweetness

This is the tea I used to impress guests; it's got such a great flavor, and it's very fragrant.

The description from the adagio site lives up to itself with this tea. It's got a lovely sort of cocoa taste to it. I use 3 pearls when brewing and it creates a rich, heavy tea without being bitter.

Bought this pu-erh because of its name and it did not disappoint. Dark color, strong taste.