by adagio teas



(11 reviews)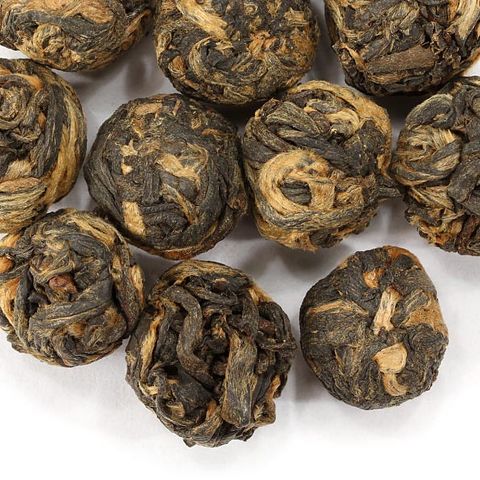 Black Dragon Pearls
is a rare, hand-rolled variety of black tea with a smooth, rich and chocolatey taste. Hailing from the Yunnan province, this black tea version of the popular Dragon Pearl is comprised of only the highest quality leaves and buds, expertly rolled into a large pearl-like shape.
Black Dragon Pearls
are naturally sweet and smooth, with a touch of earthiness. Subtle cocoa notes whisper gently as each pearl unfurls, delivering a superior tea experience not to be missed. We suggest using 2-3 pearls per cup for the fullest flavor. Steep at 212°F for 3-5 minutes
Recent reviews
Nice really smooth black tea. I think the pearls are really neat. Not my everyday tea but jive to have once in awhile.

Was not my favorite. Had a nice taste but probably would not purchase again. Happy to have only purchased a sample.

The black dragon pearls were highly rated, so I bought a sample to try with my sister! It had a dark, pure taste that we both enjoyed! However, it is more pricey than the other teas we like, so I'm not sure if we'll buy this again.

This is a nice tea, but honestly I didn't find it to be anything all that special. Especially not with the price tag. Yes, it's lovely to watch them "bloom," and it's nice and smooth, but the flavor isn't especially unique. Again, it's nice, don't get me wrong, but there are plenty of other nice, simple black tea options on Adagio's roster that are equally as nice without the cost. About the only thing this one might have over them is that it seems to brew a second cup just fine, and its aforementioned smoothness.

Delicious black tea! And delightful to watch these pearls unfurling in a glass teapot!

SF

My favorite tea, hands down. Smooth and deep black tea taste with no bitterness. I'm able to resteep, often twice, and still get good flavor with no bitterness.

My favorite black tea. Rich, complex flavor and a strong natural sweetness

This is the tea I used to impress guests; it's got such a great flavor, and it's very fragrant.

The description from the adagio site lives up to itself with this tea. It's got a lovely sort of cocoa taste to it. I use 3 pearls when brewing and it creates a rich, heavy tea without being bitter.

Bought this pu-erh because of its name and it did not disappoint. Dark color, strong taste.