by adagio teas



(13 reviews)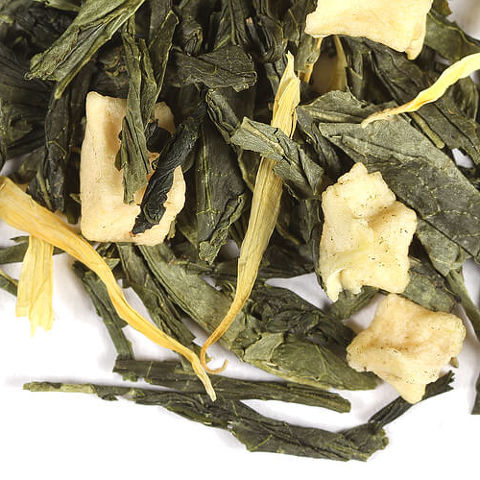 Calypso is a fun and festive blend of luscious fruits and coconut with green tea leaves from China. Juicy, sweet and punch-like with Caribbean flair, one sip and you can almost hear the steel drum band. Ah, paradise! Steep at 180°F for 2-3 minutes
Recent reviews
This was a very light, delicate tea--decent, but not great. At 2 tsp/cup I could taste the coconut (very good, not artificial) and a bit of tropical fruit. Iced with a bit of stevia, it was even better. I wouldn't buy this again, except maybe during the dog days of summer as a refreshing iced tea.

This is a fantastic green for those who don't love the grassy/seaweedy characteristic you can find in a green. The fruit flavors mute that down to create a fun, tropical blend. This is a nice, light sip that would compliment a springtime picnic or iced for summer by the pool. Happy Sipping!

Really delicious tea! Smooth, slightly mineral green tea with fruit flavors.

Fruity, coconutty, smooth and relaxing. It's a portal to the beach, and best paired with a good book and a sunny day to lounge around on.

This is one of the best green teas from Adagio! It's fruity and tropical, with a touch of coconut flavor to give it that tropical summer feel.

DR

decenttropical green tea, mild citryus flavors were noted

Wonderfully light and fruity as an iced tea. a New Favorite Green Tea. Will buy again.

This tea has a strong tropical flavor and the fruits make it naturally sweet. I tried it iced and hot and enjoyed it both ways

Simple but always great. Great to cleanse your palette after a meals or also a wakeup drink in the morning

This tea had a lovely coconut flavor especially when iced

Welcome to a beach bash in a mug. Take a sip and enjoy the tropical vibes.

This is by far my favorite green tea of all the endless choices. It is unbeatable in flavor, aroma and complexity.