by adagio teas



(13 reviews)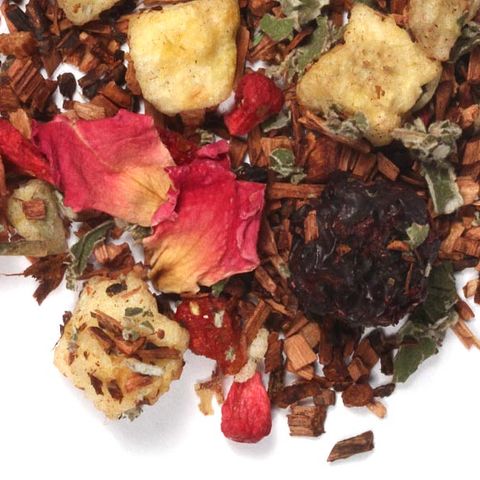 The smooth, gently sweet flavor of honeybush lays the perfect foundation for our Honeybush Wild Berry. This caffeine free cup offers a soft, juicy flavor of blueberry, raspberry and strawberries with the subtle hint of rose petals. A wonderful spring inspired blend that can be enjoyed anytime of day or year. Steep at 212°F for 5 minutes
Recent reviews
CK

Tastes a bit artificial, but still pretty good. Can taste blueberry and some cough syrup under that. It's definitely better cold, as the fruitiness comes out, but the other honeybush teas are better.

Sweet, tasty, and incredibly fruity. The honeybush made a perfect base due to its smooth and mellow flavor, letting the fruit taste shine through.

Smooth, soft base of honeybush with sweet fruit and light floral aroma. A great caffeine free treat.

Let is steep longer for the full berry flavor to become more pronounced. I liked it best as an iced tea and sweetened with honey.

I really liked this one. It was fruity and smooth and naturally sweet.

This tea smelled like berries when I opened it. After steeping, I mainly tasted honeybush tea with an aftertaste of berries.

Yummy tea. Smells really really good. Takes me back to a garden full of cherries

This tea is not bad. I prefer honeybush tea without additives but the berries add a nice flavor

Honeybush is always a favorite with its gentle sweetness. I enjoyed the bright notes of the berries, and found it to be especially good with a bit of honey.

I love this tea and a few other honeybush varieties from Adagio.

I love Honeybush teas! My favorite by Adagio is their Honeybush banana nut, but this is also a sweet and delicious blend. Highly recommended!

The moment I took my first sip I knew this was a keeper. It had been a long day and I crashed on the couch for an evening of video games. I wanted a warm, non-caffeinated beverage to help me wind down. This tea brought such a rich comfort to my soul. The berries blend seamlessly with the honeybush so that both flavors are present, with the berry slightly more pronounced. Mildly sweet, completely soothing. Highly recommended!