by adagio teas



(15 reviews)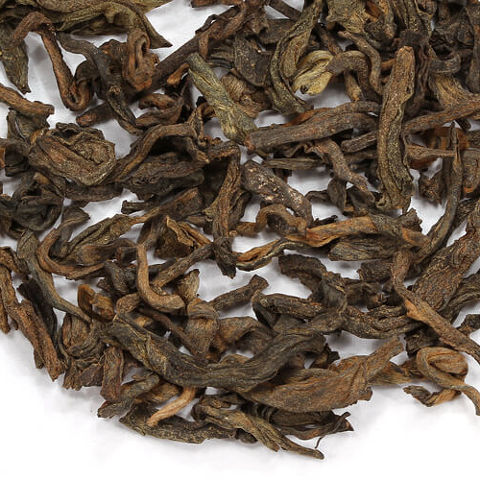 One of the five main types of tea (white, green, oolong and black being the others), pu'erh tea stands apart with its uncommonly soft earthy flavor and woodsy tones. Unlike all other teas, pu'erh (pronounced 'poo-err') is actually aged. The tea leaves go through a natural fermentation process before the tea is gently dried. This creates a cup with zero astringency and deep, rich body. Pu'erh is extraordinarily smooth and deeply refreshing. Our Pu'erh Dante (the shou variety of pu'erh) gives a clean, damp forest aroma, dried mushrooms, leather and earth. Some sweetness of figs or dates and a slight creamy flavor. Mellow and grounding. If the flavor is too strong for you, simply dilute with water (which, interestingly, doesn't work for many other teas!) Pu'erh is extremely versatile - you can steep it for as little as 30 second or 30 minutes, whatever pleases your palate. It won't get bitter and is great for multiple infusions. Steep at 212°F for 3-5 minutes
Recent reviews
Earth, leather, fishy sea air, and hay, with a nice kick of caffeine. It's an acquired taste for sure! Next time I will try a pre-rinse and see if that cuts down on the fishiness.

For what it is, it's greAt quality. Very earthy tasting. Not a fan of this one but I can tell it's exceptional quality

It tastes like burning. Which i was totally into but much like my thoughts on Pu Erh Poe. It's an acquired taste.

WF

Fine. Not normally a fan of Pu-erh teas and this didnt do much to change that opinion. Still alright though so anybody who normally likes teas like this will probably have less of a problem than I did

CB

Fine black tea, not too strong, not too weak. Earthy, but not unpleasant. I enjoy mixing with other teas, e.g. Assam melody or one of the Earl Greys -- adds a new complexity

This is my first Pu-Erh tea. Not a big fan. It's kind of grassy, in between a matcha and an oolong. Kind of sweet, which I found unpleasant. Kind of had a floral aftertaste.

If you are looking for deep and earthy, this is for you. That's not my personal preference, but this one was nice to try.

Can't say I enjoy my tea tasting like hay. I did try doing the first rinse. I was amazed with how dark the tea was in just 30 seconds, but the second steep at 3min was even darker. The first steep did have a fishy smell and taste. I was too curious not to taste. Thankfully that went away for the second steep, which had a warm hay scent and taste. I managed to drink down the whole cup, but I wasn't a fan.

so nice to enjoy the flavors of Adagio Communitea - and this is new and most enjoyable for me

Very earthy and outdoorsy, perfect for winter when there's no garden to tend to nd it's too cold to wander the forests. I love it. Tastes like dirt, but in in the satisfying way, like stopping for a drink after working in the garden.

Pu-Erh is one of my favorite teas. This is very deep and almost has a date or fig aftertaste with notes of creaminess.

This is a big tea. Its a pretty straightforward pu erh. Make sure to be careful when steeping it as it can become overwhelming really quickly

Definitely has a strong flavor, very earthy. Not my favorite.

You MUST rinse this with hot water before brewing! After a steady rinse, and when brewed lightly, I find it tolerable. They say this tea is grounding and I think they meant to say it tastes like the ground. It reminds me of something goblins or fey folk might brew... and by that I mean it tastes like mushrooms and moss. If you DON'T rinse it, it tastes like a fresh sip of pier water with all the fish froth included.