by adagio teas



(18 reviews)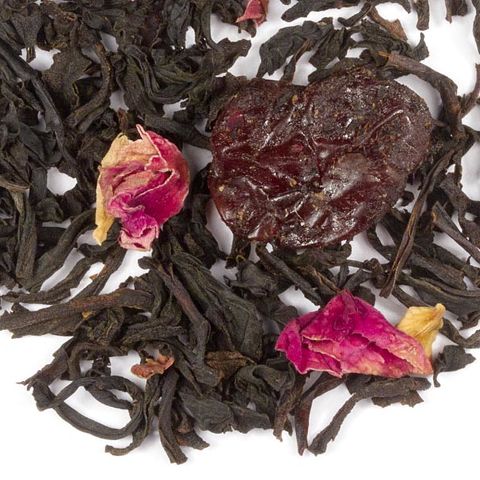 This premium Ceylon tea flavored with summer cherries is treat for any Chekhov fans musing in their Cherry orchard. Lovely candied Cherry aroma, juicy flavor and slightly dry finish. If you've never read Chekhov, it doesn't have a happy ending. If you'd never tried our Cherry Black tea, it'll make up for it. Steep at 212°F for 3 minutes
Recent reviews
AD

The cherry flavor doesn't really stand up to the flavor of the tea.

Nice black tea base; quite astringent but not bitter. Aroma of cherries, but tastes mostly of blackberries in the new blend. A little rose flavor.

This one is hard for me to review, on its own I found it more on that medicinal Cherry taste side, but combined with a little black tea and it was outstanding, enjoyed it so much mixed.

WF

Did not enjoy it. Good scent, but the flavor felt off. Very weak and had a strange odor after brewing. Even the cherry scent was lost afterwards

Good cherry teas are hard to come by, since usually they taste like cough syrup. This smells like a bag of cough drops so I had my misgivings, but the flavor's more like tart cherry.

EC

I didn't expect to like this tea as much as I do. The leaves definitely have a slight cough-syrup/almond extract smell, but the brewed tea actually does not taste as artificial to me as most cherry flavored things do! It's very pleasant! And much better than the blueberry tea, which was surprising to me since I usually prefer blueberry. I drank this on its own to give it a fair review, but I have also mixed it with the chocolate tea, and that is to DIE for - reminds me of cherry coke!

I am super excited to have this for my blends. I can't wait to try it with cream and some of the others I have!

CK

Very cherry flavor! And not a marzipan flavor, but it does taste like tart cherries. I think I prefer this one to the almond adagio one, though they are similar in flavor. This one is juicier nd definitely fruity. Good black fruit tea!

I personally found that i don't like the fruity tea, but my husband really like this one. he said it tastes like red kool-aid lol

Sad to say, this tasted like cherry cough syrup to me. 😕

The cherry flavor tastes kinda artificial to me and ruins the delicacy of the tea. Not very happy with this tea

This was pretty alright, but the cherry taste was a little weak. It was like holding a cherry lollipop in your mouth while taking a swig of black tea.

This tea is pretty good, though it doesn't have as much flavor as I'd like. I'm also not a huge fan of the rose petals. Would prefer just the cherries.

It smells heavily of artificial cherry but I rather like it. If you add a little milk to it, it tastes like a treat.

Too flavorful for me and even if I dilute it or add other flavors, it's really not my style of tea.

The dried cherries lend a delightful flavor to almost any tea! this is one of my favorite "add-ins" and i enjoy it daily!

Pretty solid tea. Definitely getting this for my cherry-loving friends.

A great fruity tea. I'll admit cherry is not my favorite of all the Adagio teas I've tried (and I've tried many) but if you love cherry flavor it's well worth trying.