by adagio teas



(22 reviews)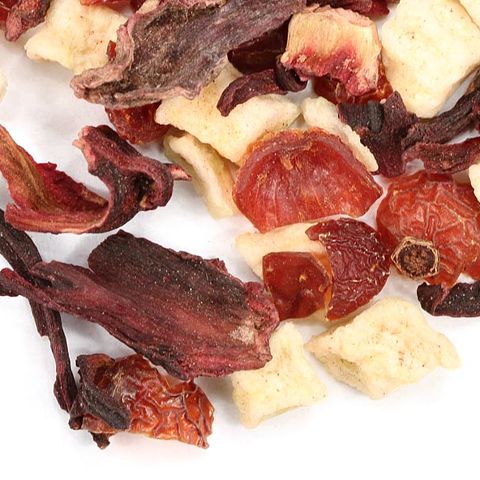 Cherry pie, anyone? This delicious blend of sour cherries, apples, orange peels, rosehips and hibiscus flowers is an easy stand-in for dessert any day. Cheeky sweet and tart, with a clean finish. Naturally sweet and caffeine free. Steep at 212°F for 5-10 minutes
Recent reviews
This is a great full flavor tea that's a little tart. Reminds me of a perfect fall day. I might try blending this with their key lime.

Very strong cherry aroma in the dry tea. It cold-steeped to a deep red, tart tea. Adding sweetener tones down the tartness and enhances the cherry flavor. Delicious.

CK

I was convinced I was going to get a big 'ol swig of cherry flavored cough medicine but I certainly did not! I must've had a misprint on my CommuniTEA packet as it said to steep for 2 minutes but I ended up going for 4 more and really enjoyed the results.

TR

I really did not enjoy this. The cherry flavoring just had this kind of false flavoring to it, whether that's true or not. I would not recommend this

Cherry tartness without the usual cough syrup taste I find with lots of cherry flavored things. It's reminiscent of just popping sour cherries on a summer day.

Very nice cherry flavor. Tart and sweet with a beautiful red color in the cup.

This is like cherry jello but not as artificial and sweet. So very nostalgic and comforting without the "why did I like this as a kid?" questions. Very, very cherry and the most beautiful color.

Like a bowl full of cherries. Naturally sweet, tart,and caffeine-free. steeped the recommended 10 minutes. As I do with most really fruity herbals. you really need to LOVE Cherry to drink this tea. I didn't get the hibiscus or rose others have noted. a strong cherry lollipop flavor if you add your preferred sweetener, but I didn't care for this tea, but I personally just don't like Cherry.

This tea had a strong cherry scent, but not much of a cherry flavor. Cherry must be a challenging flavor to recreate as tea.

I love this tea. It's fruity and has an interesting sort of dry mouth feel. I would like to try blending it with other flavors.

Needed sweetenr in this one, found it a bit off without it. Enjoy it overall

It was ok, but tasted similar to most of the fruit blends with hibiscus, where the flavor ends up being primarily hibiscus. You could pick up some cherry notes though.

There wasn't anything particularly special about this tea. It tastes strongly of cherry with the expected tartness but not overwhelming.

The cherry really shines through in this tea. It is pretty strong, but it isnt overly tart

Awful. Very strong. Was no way we could drink this...

Very prominent cherry taste and the other flavors blend nicely with it. Doesn't taste like cough medicine thankfully!

Strong cherry scent and flavor -- could have done without the rosehips.

This one is delightful warm or cold, and not bitter like some herbal fruit teas.

LL

My personal favorite. Love the pieces of apple for sweet and large pieces of cherry for flavor. Strong flavor so need less tea than you think.

Refreshing and good cold, though the cherry flavor almost tastes artificial

This tastes just like cherry wine from Nashoba vineyard. Like warm cherry pie. I love it with a little honey to curve the tart flavor. It's just as good over ice.