by adagio teas



(22 reviews)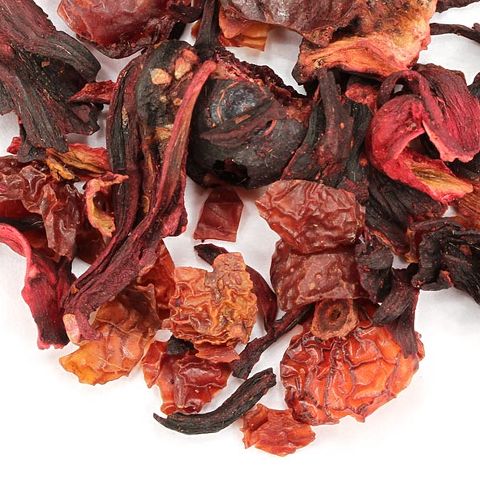 Berry Blast is a delicious blend of natural fruits and spices that brews up a mouthwatering cup of herbal tea. Entirely caffeine-free, this blend holds a special appeal for kids and sweet-toothed adults. The flavor is all natural, emanating from black currants, cranberries, raspberries, elderberries, bilberries, hibiscus flowers and rose hip peels. The cup has a bold and slightly tart flavor, with a juicy clean finish. Steep at 212°F for 5-10 minutes
Recent reviews
This tea is just how the description goes. Avery bold, mixed berry flavor with a slight tartness and juicy finish. Its great hot or iced but iced is my favorite. Its versatility makes it great to have around for any season.

Super duper fruity, amazing iced. The "blast" part of the name is well earned.

I prefer this one iced. It can be very cranberry forward, tart but sweet with the other berries balancing it. I added a little honey too. All this Bold Flavor and no caffeine.

I steeped this tea at 212F for 7 minutes and then stuck it in the refrigerator to cool. It had very nice berry flavor and made a good iced tea. It was very tart, though.

Delicious. Sweet, tart, and packed with berry taste.

I'm not a big fan of the berry herbal blends. I find them tart and sweet.

I will admit, my brother bought this tea and let me have a cup. Its a good tea, just not my style. I will refrain from giving it a low star count because of personal preference.

MJ

Heavy in hibiscus. Smells like berry flavoring. Isn't bad if you're looking for a berry-flavored tea and the flavor, in itself, is rather mellow and fruity. Not my favorite, but it certainly gets the job done.

The longer you steep this the tarter it gets so fair warning. It's just honestly too much hibiscus and sourness for me.

very fun tea. Be careful not to over steep it or it becomes sour. Love all the different flavors

This tea is VERY tart. The fruit tastes very high quality but it gets really strong really quickly. Its zippy and a bright tea

AM

This is a bit too tart for me. I think it would be good iced with sugar, but that's not how I like to drink tea.

Everything about this tea is great! It is cool and crisp and makes me think of summer every time!

A little too tart for my personal taste, but it's still a nice fruity herbal tea. The berry flavors are strong but not overpowering to the point of being unbearable.

One of my favorite fruit teas from Adagio! In case you just can't choose one fruit, you can have a bunch with this blend. I've found that the longer I steep it, the bolder and sweeter it is (i.e. the better I think it is)!

I love this, it's like hot Kool-Aid when brewed alone, and great for blending.

A sweet, fruity blend. It can be a little sour depending on how long you steep it. It's such a lovely red color & smells fantastic.

Very good! Has a very fruity flavor, almost juicy. My favorite tea from adagio

LM

My favorite fruit tea!! Sooo good with black oolong

Possibly my favorite fruit "tea" from adagio. I mix it with hibiscus and peppermint for a great iced tea blend (here in Texas we do iced tea all year long). I've used a French red fruit tea in the past and this is definitely comparable to the higher priced French tea.