by adagio teas



(19 reviews)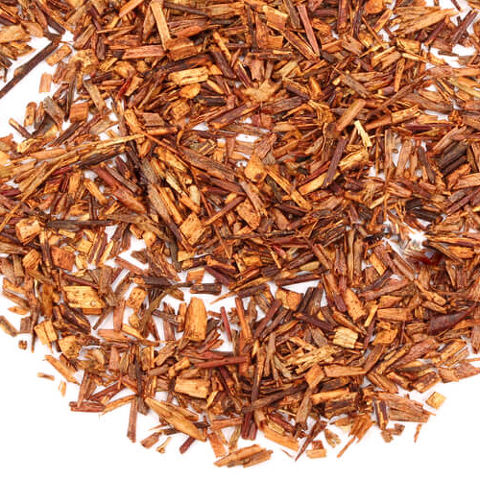 Depending on where you're from, you may either say 'car-a-mel' or 'CAR-mel.' Anyway you put it, though, this naturally caffeine-free treat with rich notes of caramel flavoring (that is sugar free!) is sure to have you saying, 'wow! that's good!' Soft and satiny, like a melty caramel. Rounded, sweet and mellow finish. Steep at 212°F for 5 minutes
Recent reviews
Pretty mild tea. Good with a small amount of honey for a bedtime treat.

There is not a lot going on here besides rooibos. The caramel provided a nice aroma, but not a lot of caramel flavor. This combo works better for me than red rooibos paired with fruity flavors, as this didn't turn medicinal.

It could have had a little more of a caramel flavor for me. It tastes too much like regular rooibos to me... which is fine because I love the taste! I was only hoping for a bit more caramelly sweetness.

Strong smell of caramel, but very little taste of it. Very woody, very rooibos. Not awful, just not really my style - I'd drink it at your house to be polite but wouldn't seek it out.

The familiar scent of rooibos - a little medicinal, a little woody. It steeped a beautiful red color. The caramel flavor came through stronger once it cooled a bit - warm and smooth, goes very well with the woody, sweet flavor of rooibos.

I added sugar and milk.

Steeped 212F 5min

EC

I got a sample of this through the March CommuniTEA box. I don't like rooibos, and this was about as bad as they come. No redeeming qualities, just the regular rancid rooibos taste. I couldn't even taste any caramel. My kids liked this, so I let them have the rest.

I think it tastes like raisins? I don't know if this is from the rooibos or something else. It wasn't gross, but I wouldn't buy it.

CK

This is probably the worst rooibos tea I've ever had. Rooibos already tastes so medicinal but with the added caramel it tastes less like medicinal tea and more like straight up medicine

Nice caramel aroma. Not very much flavor though. Probably would come through better if sweetened or creamer added. Smooth and delicious.

I was so looking forward to this based on its good reviews, but I hated it. The medicinal flavor of the rooibos still comes through.

One of my favorite things about rooibos tea is that it doesn't get bitter from over-steeping. I like my teas plenty steeped to get all the flavor.

MJ

Actually tastes like caramel tea! Can't really complain.... A bit odd, but certainly not bad!

Lovely caramel flavour. I highly reccomend for any caramel lovers out there.

I thought I would enjoy it since I really like the chocolate and hazelnut rooibos but caramel flavor smells artificial so this is a NAY for me

Very smooth and sweet. It definitely has a strong and delicious caramel flavor. It's great on its own or mixed into other blends.

I am not a fan of this tea. The Rooibos is great, but the caramel reminds me of a frappachino.

The earthiness of the rooibos pairs beautifully with the caramel for a pleasing cup of tea

Very good evening tea. Although I do love Adagio's Caramel black tea, I think I prefer this one simply because I can drink it anytime and I don't have to worry about the caffeine. They've done a great job of bring out the caramel flavor.