by adagio teas



(21 reviews)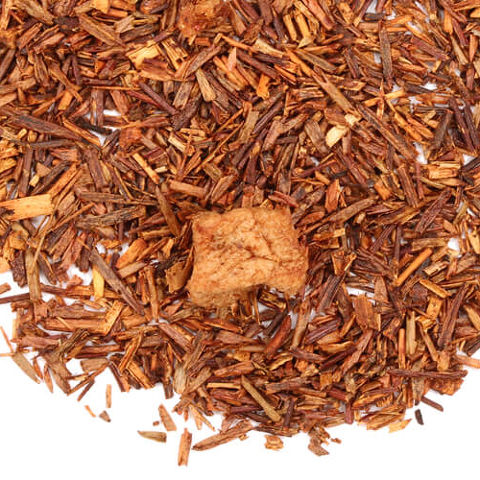 Like freshly baked apple pie, this blend of cinnamon, apples and Rooibos tea will send your tastebuds into overdrive. If you want to satisfy your sweet tooth without a guilty conscience, indulge in a cup for an after-dinner treat. Naturally caffeine-free. Steep at 212°F for 5 minutes
Recent reviews
CK

Some of the reviewers on the parent site say this blend very strongly resembles apple cider. The last time I tried apple cider was in Kindergarten so I don't have any sort of memory to compare the claim. What I can say is that I don't taste much other than rooibos. Another taster in the house said they could, but maybe I'm just too sensitive to rooibos to find it.

KW

This was a pretty good rooibos. I especially enjoyed it with cream and sugar.

This is a delicious caffeine free tisane when steeped at 195 degrees for 4 minutes. It is wonderful on its own but even better with a bit of sweetening and a splash of cream. A bit of frothing or whipped cream makes a great sweet, spicy latte.

I was able to make it through 2 sips and had to pitch it. Disclaimer: I can't stand rooibos, and tried this as part of the CommuniTea. I also don't like those spongy little apple pieces in my tea, they freak me out! Sorry Adagio, I love most of your teas, but this one was a hard pass.

Pleasant apple cinnamon flavors. Rooibos is present, but not overpowering. I'd love it to have a stronger cinnamon flavor. (212° x 5 min)

Mild, earthy rooibos with light apple and warming cinnamon flavors.

I wasn't sure if I was going to like Rooibos teas but this cinnamon apple changed me into a lover of rooibos teas. It was delicious

JF

One of my favorites for cold weather. It reminds me of drinking apple cider, but in tea form.

A delicious tea with strong notes of cinnamon that's perfect for autumn!

This one is delicious! So much better than I anticipated. More cinnamon than apple. Rooibos makes the perfect base.

This is good, but I like the peach rooibos a bit more

I really wanted to like this, but the cinnamon flavor is very weak and the apple is too. It tastes like watery cinnamon and with cream it just tastes like bland milk.

LD

It took a bit of getting used to - initially the herbal rooibos was too much and I didn't like it. But the taste mellowed out and got better as I kept sipping. I do love the scent though - mmmm - classic apple cinnamon, like a granola bar or oatmeal.

Less like a warm apple pie and more like apple cinnamon oatmeal cookies. Still good though.

By itself the apple flavor is far too light and overpowered by the cinnamon. A little bit of honey helps bring out the apple but still not the best cinnamon apple out there.

Not a fan of the cinnamon flavor in this tea. Did not really feel the apple flavor either

This has a light spiced apple cider aroma, but the flavor is just very weak. It mostly just tastes like rooibos with a bit of cinnamon.

Apples and cinnamon are always a good combination and this is no exception. I love the flavor and it's not so strong that you can't taste the rooibos.

The apple flavor is too light and is overshadowed with the cinnamon flavor. It's a good tea if you really like cinnamon, but I would not get this again.