by adagio teas



(25 reviews)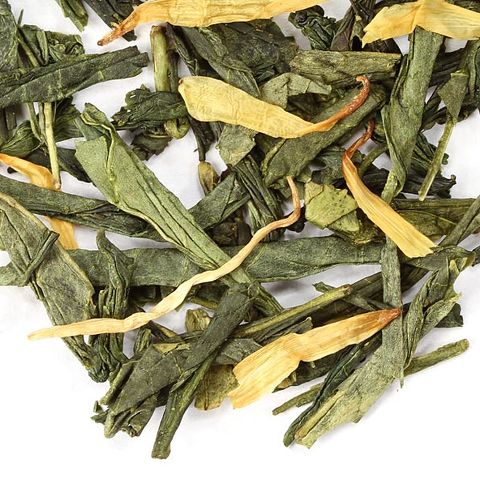 Apricot Green tea combines green tea leaves from China with the delicate flavor of apricots. Warm, dense fruit-floral aroma, succulent texture. Our naturally flavored Apricot Green tea makes a light and refreshing drink that's popular both hot and iced. An Adagio customer favorite. Steep at 180°F for 2-3 minutes
Recent reviews
While I love apricot black tea, this one lost a few points for a tad too much grassiness coming through.

apricots are my fave fruit of all - used to have a tree when lived in wa... and in Adagio tea, just yummy

Good slightly fruity green! The apricot and peach flavored greens are both really good. I'm a big fan of those and also the ginger.

Fruity green teas are great from adagio, generally.

I am not a green tea lover. And I've tried several times. This one was very different and I was surprised at how much I liked it. The fruitiness changed everything and some sugar made it pop.

A sweet, refreshing flavor that I wish I had thought to ice. Apricot really pairs well with the green, and they compliment each other with tastes of spring.

JM

I normally don't go for green teas, and when this was hot, it definitely had that green grassy flavor. However, when it was iced, it was absolutely delicious. The apricot was able to shine through, with the green profiles much further back.

When hot the apricot only came across as a scent, not a flavor, and it was slightly bitter even though I was carful about my time and temp. I added some sugar and let it cool. Similar to a lot of fruit flavored teas, the apricot flavor grew stronger the more I let it cool. This would work well iced. The green tea kept it's bitterness, though it was more of an afterthought once it cooled.

Steeped (1) 175F 2min (2) 2.5min

Light, tasty green tea. The dry tea smells just like apricots, but the taste isn't very strong. The tea is still nice though. Pale liquor that's smooth and silky with a light green flavor.

Very light tasting green tea with bursting apricot flavor. I love all fruit green teas so this was a winner in my book.

CK

This tea is easily my favorite flavored green! I can't believe I thought peach was better than apricot because this blend surely proves me wrong.

The flavor of the tea is balanced with a nice floral undertone. I would recommend only steeping this tea for 2 minutes at 180F or less so that the tea does not become overly bitter.

I can see why people love this tea so much. This green tea is one of the best from Adagio, and the apricot flavor is very pronounced and delicious. Perfect hot or iced.

My personal favorite Adagio "flavored" tea, the apricot really goes well with the green tea. I love this cup.

Decent tea but I'm not very impressed with its flavor or taste. Try harder :)

Very light on the apricot, but the light floral-fruity flavor shines here.

Didnt really mind the apricot taste. I thought I would , but its not my cup of tea. Haha

This was the first apricot tea that I ever tried and it did not disappoint!

I like adios apricot green tea it is just subtle enough

There is nothing wrong with this tea, I just found the apricot to be a weird combination. It didn't add much freshness and just tasted a bit too much like a sweetened beverage

Quite good! I'm not much into fruity teas but this one strikes a good balance.

Not my favorite tea ever, but I didn't resent it either. The flavors were delicate and not quite as fruity as my level of liking, but still an enjoyable cup of tea.

TB

Great tea. The green tea is not too grassy and the apricot adds a nice fruit balance. I love it best as an ice tea

JC

One of my go-to blends when I'm looking for iced tea. I skip the prepackaged sleeves and brew a pot, let cool and pop it in the fridge to be enjoyed with my meals. It's light, refreshing and with a moderate level of caffeine, it doesn't keep me up at night.

CD

While I love the taste of fresh apricots, it held a gentle fragrance, but not the flavor. Meanwhile the actual cup was too grassy for my tastes.