by adagio teas



(22 reviews)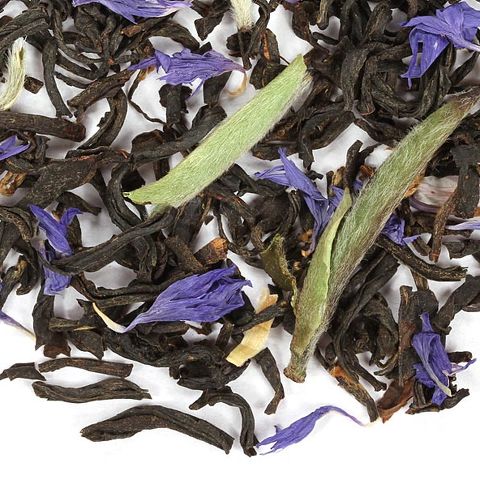 Like the fictional Scottish town of Brigadoon, this special Leap Year tea only appears once every few years. Luckily, it's every four years instead of a hundred! Celebrate Leap Day with this Scottish Breakfast Blend of Assam and Keemun teas. We've added a touch of Silver Needle and blue cornflowers to evoke the blue and white of the Scottish flag that Brigadoon would fly. Leap Day is needed to correct the fact that the Gregorian calendar year is about 6 hours shorter than a solar calendar year. The extra day is an opportunity to do something out of the ordinary, something that doesn't come along too often. Steep at 212°F for 3-5 minutes
Recent reviews
Horrible. The smell when I first opened it made my nose hurt, the taste? Was so bitter i had to put so much sugar in it, it simply became unhealthy

special leap yr tea - pretty and flavorful and wow :) thank you adagio

This is one of my favorite black teas. I wish I would have ordered a larger bag because I have to wait four years. I could drink this tea daily.

This is one of my favorite teas. It would be my go-to tea every morning if it wasn't a limited release. Definitely try it when it's available at the next leap year.

This is great, wish it was available all the time!!

AF

Really enjoyed this one! Got it last window of availability & had it almost every morning until it was gone.

I expected more from a once-every-four-years blend. It was okay; I was not blown away, and am not planning to buy more when it's available.

A smooth black tea, unless you steep it too strong, then it hurts my stomach. That is ok though, using exactly the suggested amount of leaves (or less) just makes the tea last longer!

This tea is FANTASTIC! It has a rich, yet clean taste. It is naturally sweet and rebrews well. I ordered 2 bags on the leap year but really wish I had gotten more.

AG

This tea is delicious! I'm buying a bunch next Leap Year!

AW

A good malty tea! This makes a high quality, strong, black cup of tea.

A fun mix, a fun tea, a fun tin! This is a sweet tea blend to celebrate leap year!

I love this! It's like a classic breakfast tea, with a little extra oomph of flavor to mix it up! I wish I had ordered more—instead I find I just hoard it!

A favorite of mine, a twist on classic Breakfast blend. I like the addition of the silver needle, especially; and it makes a nice strong brew that stands up well to a bit of milk.

What a great tea when you need a quick pick me up!

SE

A sweet black tea. A bit temperamental, it took me a few tries to get it just right, but now I love it.

Caffeine is very strong!

I love this tea and wait for it every 4 years. Wish I had ordered more now that I am home for a full pot of tea every day.

Very glad I ordered this when I could! Wish I had ordered more.

TR

I love trying rare and unique teas, so I leaped upon the chance to try Brigadoon this year. Absolutely no regrets! It only takes a little bit of sweetener to bring out a caramel-like taste, but with depth that you'd expect from a cup of coffee. I only bought one tin, so this will be a very special occasion tea!

This tea is only available on Leap Day every 4 years, so stock up! A deliciously smooth and malty Scottish Breakfast blend

I ordered this on a whim 4 years ago and could not be happier! It is almost time for it to come back and I am literally counting the days. I tried to ration it when I first got it, since I only got one bag and knew it wouldn't be available again for a while. Of course that didn't last long. This tea is strong and perfect for a cool spring morning. I will definitely be ordering more when it comes back again!