by adagio teas



(22 reviews)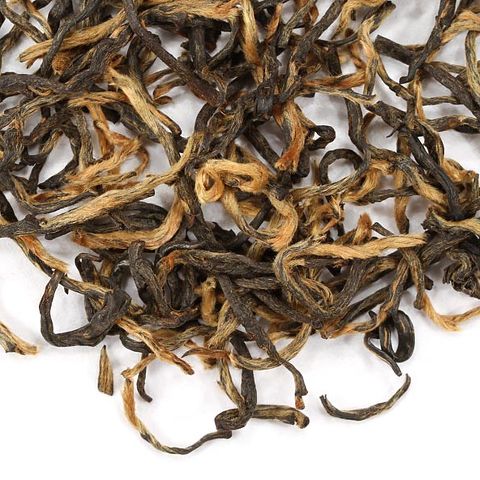 Golden Monkey or Jin Hou is a famous Chinese black tea whose leaves are said to resemble monkey paws. Golden Monkey originates from the Fujian province of China and is hand-processed each spring with careful plucking of only one leaf and one bud. This Golden Monkey is sweet and very "nosy": savory roasted apples, palm sugar, walnut, cocoa, rye and spice notes that linger as you sip. Rich, coating texture and very smooth, soft mouthfeel are both signs of a quality Jin Hou. This is a very complex black tea and can be enjoyed in multiple infusions, a real treat for black tea lovers. Steep at 212°F for 3-5 minutes
Recent reviews
A great black tea with a hint of chocolate in the flavors.

Superb most of the time. For those who find it astringent steep for 3 to 4 minutes. Most black teas I do for 5, but I go less with this one. I will try the Harney and Sons one someday, but costs twice as much, and hard to believe it could be better.

WF

I liked it. Not as good as other golden black teas available, but still worth a shot. Still worth a shot in case you like it more than I did

Love this golden monkey, there is a sweetness to it that is lovely, a hint of honey

It's very savory. Has a bit of a plum/fruity after taste. It's got some nice cinnamon spiciness to it. Has a bit of a honey flavor.

Very astringent to me and I don't get much other flavor but a bitter walnut that I didn't enjoy

One of my favorite teas. Mild yet a smooth delicious flavor, hard to describe but I love it!

CK

This is an excellent single-ingredient tea! Definitely one of my favorites out of all the single-ingredient Adagio teas I've tried. It's balanced and a little sweet, perfect to set you up for a great day.

MA

This tea had the earthiness of other authentic Chinese teas. It brews nicely.

I really enjoyed this. It has subtle spice notes. Like caraway.....

I noticed fruit notes in the dry leaves--raisin and lemon. The brewed tea was perky, and, unlike most black teas, I found it enjoyable without milk or sugar.

I love the golden look of this tea. I steeped it twice, 3 and 4 minutes at a near boil. When I sipped it before adding anything to it my amateur taste really didn't pick up any flavor. I added a bit of sugar and it brought out a smoothness and flavor that was lighter than the Scottish Breakfast (I know that's a mix but I don't really have anything else to compare it to). Whereas the Scottish Breakfast would be a brisk wake-up call, this tea see, to be able to achieve the same goal but in a calmer way - if that makes any sense. I didn't get any bitterness from this.

The smell is rich and chocolatey. It tastes earthy with hints of cocoa or maybe caramel. The taste is more complex and the sweeter notes stand out more with a little sugar added.

I didn't love this, it's overly astringent, like a black walnut, only not nearly as creamy or sweet. I shouldn't have to add sugar to a good black tea, but this needs it.

Strong, bold, and smooth. The taste was like biting into a very dark chocolate with cocoa nibs and walnuts. Absolutely delicious.

I am a big fan of Dian Hongs and didn't want to like this Fujian as much as I did. It is EXCELLENT.

MJ

Bold and complex, I absolutely love this tea. Certainly one of my favorites, at the very least!

JG

My favorite, Rich and robust. Great tea to start the day

Rich, bold flavor and a very energizing amount of caffeine

Fruity and earthy at the same time. This tea is not monkeying around!

This is one of my favorite teas. It has a full, balanced flavor. This is a great breakfast tea and can be enjoyed over multiple infusions.