by adagio teas



(10 reviews)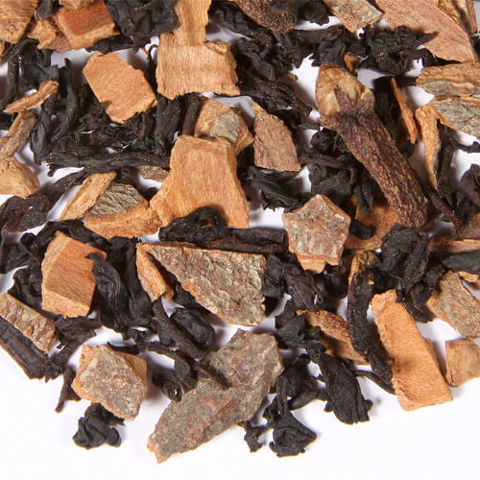 Finally, the wait is over! A long-time customer request,
Fiery Cinnamon Spice
is here to stay! This tea packs the perfect punch of cinnamon flavor, blended with Ceylon tea, orange peels, and cloves for an amped up, kick-in-the-palate cinnamon experience. Perfect to heat you up on a cold day, or just wake up your palate on an early morning. This tea will bring a smile to any cinnamon lovers face. Steep at 212°F for 3 minutes
Recent reviews
Good strong cinnamon tea. The cinnamon is very strong and spicy.

TS

This tea has a strong cinnamon spice flavor. I enjoyed this tea but it was a little too strong for me.

Very strong. I like to take a little bit of it and add it to some of my other teas. It works well for that.

If you're looking for cinnamon... look no further! You've found out! Simply delicious and full of cinnamon spice!

INCREDIBLE! I'm buying my second big bag of Fiery Cinnamon!!! If you like cinnamon, this one is awesome!

This one's a little too strong for me but I can see why some like it!

Accurately described, this "fiery" tea will sizzle on your tongue and set your taste buds buzzing. It's a highly concentrated, spicy tea with 110% emphasis on the cinnamon sensation. No flowery or fruity accents here. I detract a single star because while the initial flavor kicks into high gear, the lingering taste is a bit thin, as though the strongest flavors of this tea literally zip across your taste buds. Even so, few Adagio teas capture autumn's most stereotypical aura so well.

I am a huge cinnamon fan and when I ordered this tea I was super excited and anxiously waiting for it to arrive. I was expecting a super cinnamony, spicy tasting tea. It was a nice tea but the spice didn't pop as I'd expected it to. I do recommend it but perhaps the name should be something different.

KD

My Favorite tea hands down. The cinnamon flavor is good both hot and iced. It can also be used to add flavor to other teas like Irish Breakfast.