by adagio teas



(38 reviews)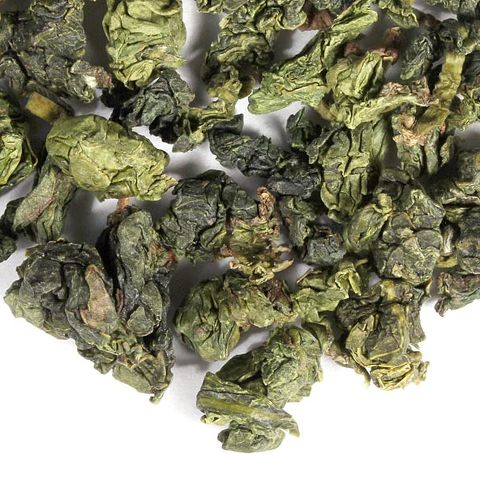 Our Golden Flower Oolong is grown in the misty mountains Anxi County in Fujian, China under its given name of Huang Jin Gui. It is a rolled leaf style, low oxidation oolong that offers sweet, floral notes of honeysuckle, osmanthus and a subtle creaminess. All this lingers and provides well for those who enjoy multiple infusions. Savor its lingering, layered nuances as an everyday, oasis of serenity tea. Steep at 195°F for 2-3 minutes
Recent reviews
Not my fave, but I'm thinking this may be because I am realizing I'm not a big fan of oolongs. The liquor is definitely golden in color, and it's fun to watch the leaves unfurl. It is honeysuckley and a little too floral and something else--mineral?-- to me. This has mostly great reviews so I think it's more me than the tea, just personal preference.

MJ

Very floral, delicate taste. Not bad at all. It definitely has an accurate name!

One of the best green teas I have tried from Adagio, I will definitely be purchasing in a larger quantity!

A lovely, light oolong. Try steeping more than once.

Adagio's Golden Flower is a lovely oolong tea

warm, gentle, flavorful, and each sip makes one want another

WF

I liked it. Not particularly big on green/oolong types, but this is still a good option for anybody looking for them. Sweet and smooth flavor, cheap price

Big, beautiful whole leaves, floral flavour and scent that intoxicates, a pale gold coloured liquor, and at a price you have to check twice it's so low? Buy it yesterday.

CK

This is a five-star oolong to say the least! It's on the cheaper side of Adagio's oolong offerings but does not skimp on flavor! It's got subtle floral and fruit notes that make it a delight to the palate.

This is my favorite everyday oolong. It has a lot of fresh flavor, even when compared to more expensive teas.

AF

LOVE this oolong-- so tasty and fresh. Sometimes cheaper oolongs are far too oxidized, but this one is just beautiful.

Very nice floral and earthy oolong. The leaves unfurled beautifully.

I liked it, felt it would go well with an Asian meal or on it's own, but not with an afternoon tea with sweets and sandwiches.

I did not know what to expect from my first straight oolong. It had a straw-like scent dry, in the COmmuniTea packet, but the minute it was in the water it was overwhelmingly flora.

The flavor of the 1st steep had a strong floral taste. I added some honey to it, which helped a bit.

I gave it another go and steeped a 2nd time. It still ha a strong floral scent, but not as strong as the 1st steep - this time I tried a sweetener.

The 3rd steep was my favorite. The floral scent was down down to accent-level, noticeable, but not near as powerful as before - a natural sweetness finally got to show off, which I helped along with a bit of sugar.

If I could steep to the 3rd level immediately that'd be great, but the first 2 steeps, while they had a floral scent I enjoyed, it wasn't my favorite thing to drink.

Light, floral, and held up to 3 steeps very well. the honeysuckle scent reminds me of the bushes that bloom on warm summer days, without being a "seasonal" tea if that makes sense.

I expected Golden Flower to have a grassy taste and I wasn't sure how much I was going to like it. It is actually very smooth and light and delightfully floral!

This tea is similar to a green tea with almost floral jasmine undertones. A little goes a long way as the buds are tightly rolled.

This is a wonderful oolong with a light flavor, buttery mouthfeel and lovely floral aromas. A second infusion is nearly as good.

This is one of my favorite oolongs of all time. Its aged just the right amount and has a delicious floral and slightly vegetal taste

A very simple tea, but with a nice and light floral flavor. A good tea to blend with other teas as well.

My husband is really picky, but he loves this one.

This one's a little greener than I normally drink, but it was still good. The smell was really grassy, but the taste was nice and floral

I enjoyed this flavorful tea. It steeped well multiple times.

AW

This oolong was light and delicate when brewed--a great tasting and smelling tea!

Subtly sweet and lightly floral, beautiful Oolong at a great price.

Serene, subtle, and floral, but really shines as a iced tea, where it's refreshing and bright if a bit mild.

One of my to go tea when I can't make up a decision. Very simple but always helps bring your mood up

KK

A little too mild for my taste. Maybe longer steeping or multiple brews would help. I will try that next time, but as of now, I don't think I'd offer again. EDIT: TRIED WITH new teapot with proper Temps and a second steeping. This is now a new fave!

I love floral tea and this tea is perfect. So pure so delicate. Outstanding flavor

I'm usually not a fan of floral teas, but this is light enough that I enjoy it. It has a creamy and slightly sweet vegetal oolong base, with light floral notes that are stronger in the aroma than the taste. Very enjoyable.

Earthy but good, not a tea you'd drink if you're looking to satisfy your sweet tooth, but it does hit the spot.

Very earthy flavor and aroma, it almost tastes like soil. Not terrible, but I probably wouldn't buy it again.

This is one of my favorite teas. I drink this in the mornings, at night, at work... pretty much all the time. If I have a cup in my hand (and I pretty much always do) theres a fair chance its Golden Flower.

Smooth like an oolong, but earthy like a matcha tea. It's light in every respect with hints of floral flavor. Not my preferred cup, but very likely be someone else's!

This is a really great, light, and refreshing tea!

M

This tea is the best, it has become one of my favorites. Lovely clear yellowish/green color with a lovely lightly floral bouquet, somewhat reminiscent of jasmine. Oddly it tastes a bit like gemechi pop when drinking. It's very light and refreshing, delicious and quite affordable by the pound.

Absolute favorite afternoon summer tea! Reminds me of eating honeysuckle as a kid. The oolong is mild and the floral flavor stands out wonderfully!