by adagio teas



(27 reviews)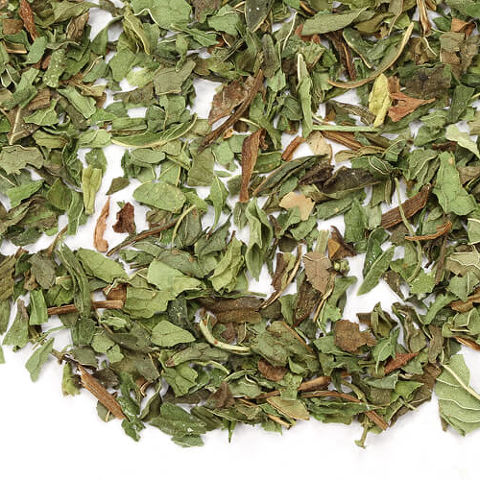 A native of the Mediterranean, Spearmint was revered by ancient Romans for its ability to 'stir up the mind.' It continues to be savored for its refreshingly clear aroma and soothing qualities. If you find peppermint a bit too cool sometimes, Spearmint is definitely for you. This herb has a rounded, slightly smoother and more grounded taste than peppermint, with warming and cooling notes. Very gentle to the palate, and naturally caffeine free. Steep at 212°F for 5-10 minutes
Recent reviews
CV

I drink so much mint tea! Finding good quality mint tea is so much harder than I thought. After buying 16oz of disappointing weak flavored teas on Amazon, I tried Adagio and never turned back. Strong, clean spearmint flavor that can be drunk alone or blended with any tea or even used for cooking.

I love all mint teas. This was especially delicious. One of my favorites. I need to order more.

Very "mint gum" is the best way to describe it. Refreshing and cooling, it's a lovely herbal tea for both morning and afternoon.

While peppermint is too sharp for me, spearmint is soft yet tasty. I love that it is delish on its own hot or cold and that it can be blended with other flavors to pop the flavor.

I received this in the CommuniTea box and it is a really good spearmint tea. It has a nice strong flavor that isn't bitter or overwhelming.

That being said minty teas are not my favorite, but even I can admit it is a good quality tea despite that.

Very nice mint! It's bold, and bright and smooth. The aroma will lift your spirits for sure.

SS

Beautiful fresh spearmint leaves. Refreshing smooth tasting tea . Nice tea to enjoy by itself or it would be a nice addition mixed into a blend.

Smells like spearmint gum. Tastes very minty; good for the tummy and freshens the breath.

LF

Best spearmint you'll find, perfect and smooth. Just amazing for an upset tummy.

The best spearmint I've found available anywhere. I go through a. Lot of it. It's smooth and light.

CK

My first introduction to spearmint tea was through a really cheap box of bags so this is a definite step up from that. It's smooth and clear with a hint of earthiness that always hits the spot.

A cool and refreshing mint tea. It's a bit lighter than the peppermint, but similar as well, and blends well with other teas.

I drink this when ever i have heart burn and im out of the Minty Comfort tea

KM

This tea is smooth and fresh, perfect to add to other teas!

I Love this tea hot or iced. Mint is a favorite with me. a great bedtime tea, soothing for a tummy ache. Perfect for relaxing on a Rainy day or winding down in the evening anytime of year. it sounds odd, but this pairs nicely with my favorite Moroccan meal.

Pure mint tea. Great smell and flavor. Good to add as an accents to other tea

MJ

Wonderful tea. Just pure spearmint, so if that's what you're looking for, whoa does it fill the bill! Cool and refreshing.

This is a very nice mint tea, it was a lightness to it but still plenty of flavor. I also like mixing it with peppermint.

Okay, this is definitely one of my favorite teas. I love spearmint, and this tea doesn't disappoint. Even the aroma is amazing. I added some sweetener, but I could have just as easily taken it without it.

A good tea. Minty. Not terribly complex but sometimes you just want something simple.

A little sweeter and lighter than the peppermint tea. Its a little less minty, but still tastes very fresh and tasty

KF

Love this tea. I like spearmint more than peppermint in tea, so this was great for me. Gets stronger the longer it steeps. I always use a very fine mesh steeper with this one.

Nice minty flavor without being too overwhelming. Fresh.

Not a very bold spearmint tea, but maybe I'll just steep it longer next time. Still a solid mint choice. Thanks Adagio!

Great quality spearmint - and a wonderful addition to another tea (I mix mine with lemongrass for a tasty decaf cup at night).

This is a great, basic, spearmint tea. I like to add it to the Adagio Chamomile tea for a great night time option. I highly recommend.