by adagio teas



(17 reviews)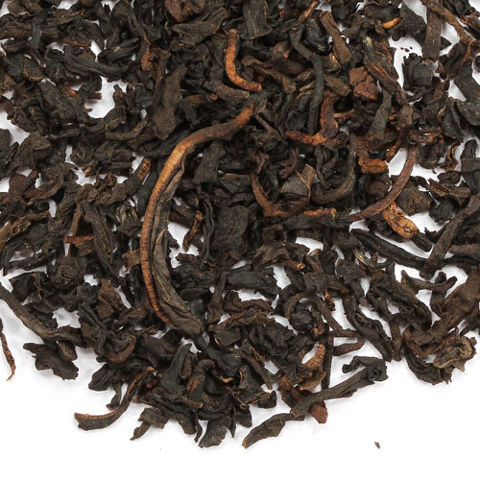 Adagio's Decaf Vanilla Black combines the pure, sugary-spicy flavor of vanilla with bright Ceylon black tea from Sri Lanka. Soothing, sweet and very 'beany' vanilla fragrance (like warm sugar cookies made with fresh vanilla beans). Very well-blended and pleasant astringency in the finish. A gentle, natural decaffeination process retains the delicate shape and flavor of the tea leaves. Steep at 212°F for 3 minutes
Recent reviews
EC

This tea is excellent! It's really tasty by itself or mixed with other teas. I like it especially with the decaf strawberry and the decaf raspberry. :)

A very pleasant Ceylon black tea accented with Vanilla. The additional flavor is tasty without overwhelming the warm, slighly astringent flavor of the base tea. Delicious! Steeped for 3 minutes at 180 -185 degrees.

AM

A great dark decaf - mellow, delicious vanilla flavor. I love this for winter evenings.

CK

This tea deserves every five star rating it gets. It's so easy for vanilla teas to taste like artificial sweetener, perfume, or some other crime against the original. On top of that, it's also easy for decaf teas to taste flat and dull. Adagio's Decaf Vanilla bucks both stereotypes to make a full-bodies cup you can take to bed with you.

I think Adagio does great decaf tea ~ no off or weird tastes. I would never guess they are decaf. This was a very tasty black tea that had a subtle vanilla cake batter aroma and flavor. It is smooth, with no bitterness (when brewed at 200F). I liked it plain, but with a few bits of rock sugar it tasted a little like frosting.

The vanilla flavoring tastes slightly artificial, but over all, this tea is not bad, especially with cream

Not so good. It's really flat, and the vanilla taste is weak. Then again, most decaf teas are. Still, it's not the best tea. Drinkable, but I wouldn't want it again.

Really nice decaf. No bitterness and just the right amount of astringency with a delicious, sweet vanilla taste. Great evening tea and was very good iced.

This tea is lovely and smooth with a hint of sweetness. It's perfect for serving along side dessert.

I enjoyed this, very light. I also use it to some other teas to get some extra vanilla flavor

A good tea but not enough vanilla flavor unless you add milk.

I really like Adagios vanilla green and vanilla oolong but this one was just ok. It's nice to have an evening option though, and it will probably be good blended with something fruity.

Great vanilla tea. Love that it's decaf so I can enjoy it before bed without being stimulated

Great decaf tea. I use this as the base for my blend

Sweet! Perfect, mellow, vanilla tea. First cup, I wasn't sure, but following cups sold me on it. Good straight or with vanilla creamer.

Nice vanilla flavor. Natural flavor. Doesn't seem artificial.