by adagio teas



(16 reviews)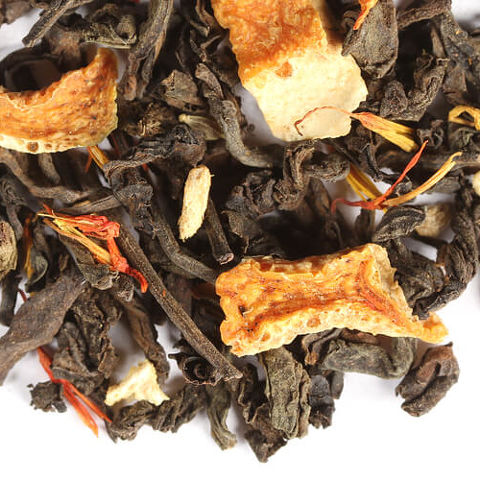 Pleasantly perky spices add warmth and sweetness to the mellow mineral notes of Pu Erh. Sweet cinnamon and anise with tingly ginger liven up the palate while soothing the soul. A great companion for a chilly day. Steep at 212°F for 5 minutes
Recent reviews
This was a good chai-like tea. I can taste more of the cinnamon and orange in this.

Really enjoyed this tea! I steeped at 195°F x 4 minutes. The spice leans more toward the cinnamon, and doesn't overwhelm the tea. I didn't taste anise, and that was a minor disappointment. I liked the tea both unsweetened and slightly sweetened, hot and cool. A great fall tea that isn't too heavily spiced.

Smooth and rich tea with lovely spices. The cinnamon lends a nice aroma and the ginger a warming heat. The anise is light and adds a little spark.

Simply delicious. The smoothness of this fermented tea blended with cinnamon, anise and ginger and citrus sweetness creates a very tasty cup of tea with no bitterness. Steeped 3 minutes at 185 degrees.

Nice chai-like tea. I was afraid it would be too heavy on the anise, as I'm not crazy about that spice, but it wasn't. I prefer Chorange and Hazelberry Pu Erhs to this one...the Pu ERh flavor isn't obscured by spice.

Maybe the cinnamon was a little strong but otherwise this one was nicely balanced.

Very delicious, I like that I can taste the pu'erh tea without the spice being too powerful but adding enough flavour to be enjoyed. Like many of the other teas, this one has a delightful smell and the taste is just rich and wonderful.

This was nice and mellow tasting, though I feel like this is stronger on the cinnamon than the other spices in the mix.

The spices in this tea worked well together and I didn't think it needed any sugar. I rinsed my pu-erh before brewing, but I don't think you need to with this tea.

I really liked this. The spice blend was nostalgic for me. This is only the second pu-erh I've tried and I've really liked them both.

Cozy fall tea. No one ingredient stands out, they all blend together beautifully.

Someone else used the term mellow and that's a lovely word for this cup of tea. Not overpoweringly spicy but still nice and flavorful.

Very mellow pu erh spice blend. I would rate this higher if I was a fan of spiced teas. This is a really good one of you like them.

A nostalgic taste that holds up well to a second steep. It tastes like the holidays, warmth and coziness.

A nice and spicy Pu-erh, if you generally like spices in your tea, you'll like this one.