by adagio teas



(18 reviews)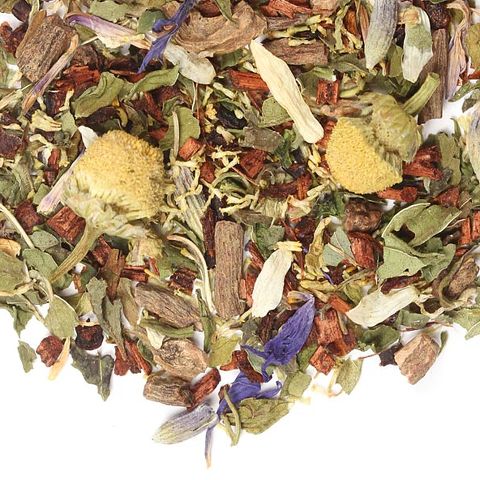 Using a blend of herbs known to promote healthy sleep,
40 Winks
will round out your day and carry you into the sweetest of dreams. We've combined valerian root, which is commonly used as a sleep aid, with the familiar flavors of soothing chamomile, spearmint and lavender. One cup before bed makes for an ideal way to unwind and lull yourself into a deep slumber. Steep at 212°F for 5-10 minutes
Recent reviews
I was pleasantly surprised by this one. Lavender and cherry is very hit and miss for me. I cold steeped this one while I was at work and it did its job that night!

This tea is delicious and soothing and it does a good job of masking the valarian root flavor. However, I was disappointed because I only got one little bit of cherry in my sampler pack. It was a really good bit of cherry.

This is a good nighttime tea. The herbs, particularly the Valerian, are very relaxing in the evening. The chamomile flavor is more mild than Sleeepytime blends and this tastes a lot better.

great for bed, but definitely needs some lemon or sugar

I'm not a lover of chamomile or mint, but the valerian in this is a selling point. It is much better than Sleepy Time tea, with more spearmint notes.

The slight taste of spearmint brings this all together. It really helps me relax.

Very pleasant tea. So delicious. Its ingredient helps sooth my mind

Yummy tea. Totally healthy and beneficial for your body

I am in LOVE with this! It reminds me of a tea I've had before. But its much better. My new nightly tea!

PM

A very flavourful tea. Very good for reading or chilling after a busy work day. Add a little of honey during the cold months and it helps with a sore throat.

RS

This tea, despite all of it's fancy ingredients, tastes almost exactly like the Celestial Seasonings Sleepytime tea, which I honestly view as an accomplishment. It's soothing and has none of the offensive flavor valerian has on it's own.

AM

This tea is ok. There is some taste in it that I am not a fan of, but I can't tell what it is

A subtle yet soothing way to end a day. It really does help me get to sleep. 😌😴

I love a good nighttime tea and this one joins the ranks at the top of my list.

KW

It's not my go to evening cuppa, but if I need to unwind and get in bedtime mode, this is a good choice.

This was a really interesting blend. It was very floral but not overpowering

This tea is very calming and is the perfect thing to drink before bedtime.