by adagio teas



(24 reviews)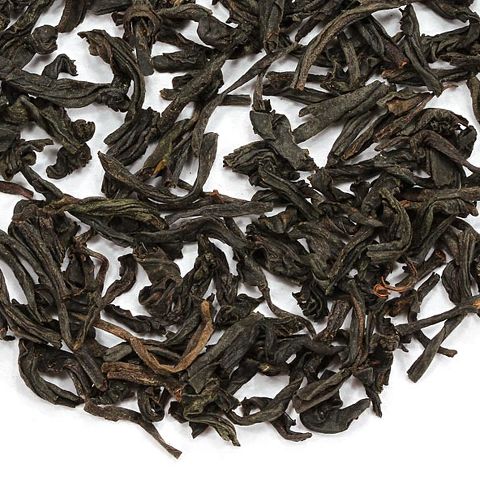 Lapsang Souchong
is a black tea from the Fujian province of China, famous for its smoky aroma and flavor. To create this, the finished tea is given some extra drying over smoking pine fire, imparting a sweet, clean smoky flavor to the tea.
Lapsang Souchong
sometimes gets a bad rep for being brashly smoky, but really fine examples aren't like that at all. Our
Lapsang Souchong
is very approachable: clean and slightly cool smokiness in the aroma, like menthol. Sweet, refreshing smoky flavor, crisp and edgy. Golden-coppery color in the cup; the mark of a Lapsang that hasn't been smoked to a jerky. Sweet pine flavor, lightly evaporating finish. It's amazing all the dimensions of 'smoky' you can experience in one, very well made cup of fine
Lapsang Souchong
. Steep at 212°F for 3-5 minutes
Recent reviews
This tea is good in blends but it's a bit strong by itself

I think this tea has very unique flavor that not many people would like it. It's smokey and earthy. I enjoyed it

I wanted to try this to see if I'd like it. I had a feeling I would t and I was right. Smokey teas just aren't my thing but you never know so it's good to try especially when you can get a sample really inexpensivley from adagio.

I may not be the best to review, as I realize I dislike smokiness in teas. This is a strong smoke flavor.

MJ

This tea tasted and smelled like liquid smoke, not at all what I wanted from a glass of tea. I can see the appeal if you're into smokey flavors, but sadly I'm not.

I did not like this tea. Most teas I can get through a glass but not this one. It was smoky like BBQ and not at all what I want from a tea.

When I first smelled it, I was pretty nervous. It was strong, like burning rubber almost. But the taste was way different, like a campfire in all the best ways. I was no expecting to love it as much as I did.

Lapsang Souchong is a very acquired tea taste. Either you dislike it or it grows on you. This particular lapsang souchong howver is one of my favorites. The smokiness is to die for

First time I had it want a huge fan but worth another shot

CL

This tea is mild and smokey. It helps warm me up on a cold day. A great tea for coffee drinkers that are just getting into tea. Honestly one of my favorites

Love, love, love it. It is like drinking a campfire in the most positive way ever!

EL

a surprisingly subtle flavor for such a strong smoky scent

I am utterly obsessed with this tea! It smells like all of the best parts of a campfire in a cup, and the flavor is delightfully smoky. Taken well with sugar and/or milk, or even plain!

My boyfriend and I are obsessed with this tea. It reminds us of a cabin in the winter. Love the smokiness!

TA

Very strong smoky flavor like it was cooked on the grill. This is one of my favorite teas.

Very unique tea! Dry leaf is a bit like hanging your head over a BBQ pit. Brew this and the whole room will smell like the tea (good or bad, depending on your opinion). I wouldn't suggest this as a first-time tea, but something to work up to.

This is what I refer to as the "get my butt moving" tea. It has a great smoky aroma and a strong wake you up flavor with out being harsh or bitter and enough caffeine to get my day going.

A smoky tea that tastes and smells just like a campfire. Lots of caffeine in this one, so it's perfect for when you need a boost in your day. Tastes great on the tongue and leaves a smokey, but not astringent, aftertaste in the mouth. One of my all-time favorite teas, simply for its unique flavor and scent. Absolutely worth trying for the experience. If you love it, you'll be back for more!

I really adore this tea IN OTHER TEAS. By itself its very very smokey and reminds me of the burn season in the piney south just before the damp winter sets in. Probably an acquired taste, but I think it's amazing sprinkled in a spice tea during the chilly seasons.

Ok, maybe it's just me but this tea tasted like burning wood....almost like the smell of a campfire. I'm not a fan of this one.

To be honest, I prefer this flavor tea from another vendor. That does not mean I don't like this tea from Adagio. Some people have made this tea work very well in their fandom blends and even I find this tea good for a blend. Lapsong Souchong is not for the faint of heart (or noses). It is an acquired taste and if you like it, you like.

JW

I love Adagio Tea, I really do. THIS TEA on the other hand... I couldn't drink it. It has a very overpowering woodsy smell, making tasting the tea nearly impossible. I gave it to a friend of mine, and she said that if you can get past the smell, it's not bad.