by adagio teas



(24 reviews)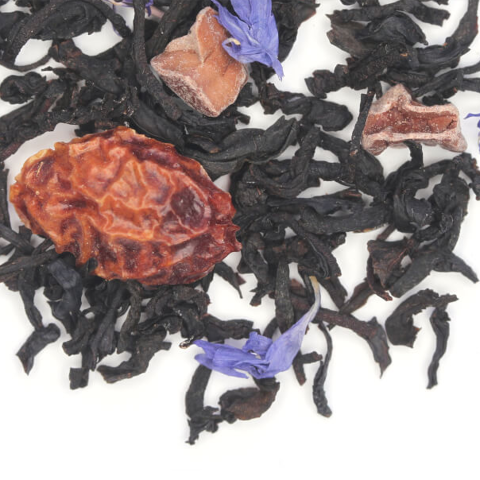 Whether sitting cozy by a fire on a snowy winter day, or sitting out on a front porch swing on a sultry summer afternoon looking out over green rolling hills, our Kentucky Bourbon tea suits many occasions. With hints of malt, soft barrel smoke, caramel, roasted apple, and vanilla, this tea echoes the nuance of a good bourbon without the boozy side effects. Also try this tea iced with mint infused simple syrup for a teetotaler's perfect mint julep. Sip slowly and savor.
Recent reviews
EC

I guess I was feeling adventurous when I decided to buy a whole bag of this. The flavor profile makes it sound like it would be totally amazing, but it mostly tastes like fake smoke and chemicals. I didn't know enough about lapsang souchong to know that it's not something I like. The rubbery/smoky flavor does NOT work for me. I hope I can find someone to give this to, or it risks sitting on the shelf until it expires. :(

CK

This is my least favorite adagio tea! I was expecting more bourbon, but this is all smoke. Like campfire smoke, no bourbon flavor at all. I know some people like this, but just not for me.

Unfortunately I cannot stand the smoke taste, the bourbon taste is spectacular though so I gave it 3 stars anyway

This is not a tea for the faint of heart. Although the dry tea leaves smell sweet, once brewed there is a predominantly smoky flavor. It's quite unusual but very enjoyable.

CN

It, incredibly, smells and tastes like it's named. The smokey flavour is very strong. This is a tea I'd only have once in a while and definitely one that needs to grow on you, if you're not a burbon fan.

They were not kidding about the smoky bourbon flavor! Phew!

Good and malty! Not quite bourbon with the taste as it is missing a bit more bite but the scent is there.

The smell alone was wonderful, the aroma while waiting for it to brew was amazing. Thought it would be great but it tasted like another black tea. Slightly disappointed with the flavor was hoping for more maple notes

The smell of this tea is as intoxicating as bourbon itself. I know some reviewers haven't liked it, but I personally thought the flavor was perfectly balanced with a caramelly, oak barrel tone.

The package smells exactly like bourbon and the tea tastes nothing like bourbon. I ended up getting the taste I wanted by adding actual bourbon.

I cant say this was my favorite tea but the flavor was certainly unique and smokey

TA

This tea is alright. I wouldn't say its one of my favorites. I kind of has a chocolate, coccoa coffee taste. I like the chocolate flavor. I don't like it nixed with a coffee flavor though.

no boozy teas for me, ty - but i guess some might enjoy

I was surprised how much I liked this one. I got it in a sampler pack, and it was my favorite of the lot. It's complex without being overwhelming. I usually prefer my flavored teas with only one or two flavor notes, but this tea really does a fine job bringing together various elements. When I first tried it I thought it was merely okay, but with each cup I found I liked it more and more.

I love the hint of smokiness in this rich, warm tea. It combines surprisingly well with the cocoa and fruit flavors that are predominate in this brew. I like to sip it slowly as a morning cup when I need a little extra comfort.

Hated this! My partner said it smelled like tobacco and tasted worse. One of the only teas I've ever poured out.

While not one I will rush to order, once I got past the smoke smell, this tea really wasn't bad to drink. Had a sweet flavor profile underneath the smoke. Had hot with some sugar.

LD

The scent threw me off at first, as it has a very caramel-appely scent, not at all like a bourbon. But if you take your time, the bourbon does waft through. I may be biased as a scotch fan, but the lapsang souchong is in a perfect ratio here, to give just enough smokiness to give a bourbon effect, but not so much as to overpower the other flavours. A great rendition of bourbon. Perfect for summer nights by the campfire, or cool autumn evenings with cozy blankets. Also delightful cold brewed into iced tea and drank completely plain.

This tea is interesting. Right off, it did smell like whiskey to me. It tasted ok, but no big wow.

JM

I was excited to give this a try, thinking maybe it would bring out the hidden Southern gentleman inside of me. Alas, it didn't, and I really didn't like this. The smokey note turned me off.

I was disappointed with this when I tried it in the communitea box. Just not good.

Smokey, and slightly sweet. Definitely not an everyday tea, but still really good.

A nice smoky tea. If you give it about 5-8 minutes to cool down you get more of the caramel and vanilla tones to come through in the tea.