by adagio teas



(24 reviews)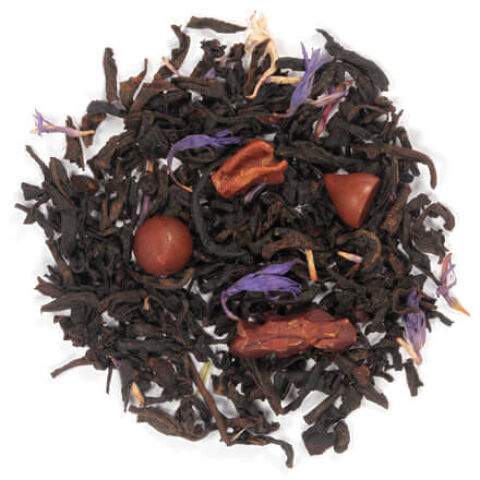 Like taking a bite out of a velvety smooth chocolate confection, our Chocolate Truffle tea is truly a chocolate lover's dream. Our rich black tea is blended with cocoa nibs, chicory, chocolate chips, and even a dash of cocoa powder to create our most lusciously decadent indulgence yet.
Recent reviews
PJ

A truly delightful sweet chocolate tea made only better with a splash of creamer!

Delicious dark chocolate flavor. Like a decadent dessert! A little bitter when brewed at 212, had to add a bit of honey. Next time I will brew at 195-200 and see how it goes.

AD

This is a decadent cup of tea. It's like making good hot chocolate a tea and I like it.

Sweet, decadent chocolate woth no weird aftertaste.

May staff got this for me for Christmas. I was surprised it was so good. I had imagined you couldn't get enough chocolate flavor to satisfy, but Adagio did. I have gifted to several friends and they all enjoy it as well.

A wonderfully chocolate tea! Adding just a little of your preferred sweetener and some milk makes this tea a dessert in a cup!

Chocolate tea can be tricky to pull off, but Adagio has a winner here. No funky aftertaste or residue on the tongue. Sweet, chocolate and decadent.

Love trying new different things. I'm not a chocolate person but this tea was amazing.the aroma and flavors were perfect. I didn't need to add any sweeteners

This is my favorite chocolate tea. Rich dark chocolate flavor. Does not taste artificial. I like mixing this tea with strawberry or mint tea. It is good with cream and sugar.

Nice flavor, more of a rich dark chocolate than a sweet milk chocolate.

CN

Love this tea! It can be steeped about 2 times with the chocolate flavour still being strong. An amazing tea that I can finish a pot of and not feel guilty. Hits a truffle craving for sure.

JM

This is a very strong chocolate tea, so if you like chocolate this is definitely worth trying! It works nicely in blends.

I started adding some cocoa powder to the tea before steeping and BOOM. So good hot with milk and sugar.

Nice chocolate flavor, great morning cuppa, nice caffeine level.

Nice chocolate flavor- strong, but not overwhelming. It's light for a chocolate tea, a bit floral. It has unique undertones, which I'd imagine is the truffle. I don't love cholate teas, but this ones pretty good.

It's very similar to the chocolate chip tea. It might be a little more chocolatey, or it might just be me thinking it's more chocolatey. Either way it's good, and one of my standard morning teas.

Pretty good, but less chocolate than I'd hoped for. I expected a lindor truffle and got hershey's syrup. Would drink but not buy.

i was initially not a fan of 'dessert teas' but have come to enjoy them - the subtle flavors are very fun

TA

Nice desert tea. Not a strong chocolate flavor. It smells more chocolaty than it taste. overall its a good tea

DB

My absolute favorite Adagio tea! The flavor is absolutely wonderful with a rich, hazelnut undertone. Highly recommend!

I got this as a sample and was not expecting to enjoy it but the chocolate perfectly balances the black tea flavoring. Great with half and half

Really chocolatey. I don't usually love chocolate tea but the addition of real chocolate chips takes this up a step and it really shines.

Tasty chocolate tea, adding milk and sugar turns it into a magnificent dessert tea. It's delicious on its own, or mixed with fruit teas like strawberry.