by adagio teas



(17 reviews)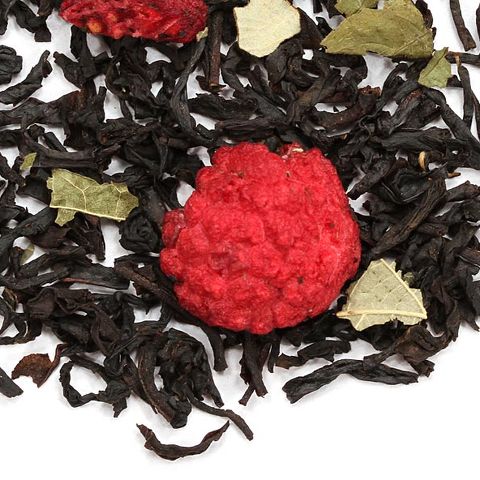 A blend of crisp Ceylon black tea from Sri Lanka with sweetly tart red Raspberry flavor. Very candy-like aroma, delicately tangy and jammy Raspberry flavor. Rounded texture, balanced astringency and sweet, slightly dry finish. This fun, juicy cup is tangy without getting too 'cheeky.' Steep at 212°F for 3 minutes
Recent reviews
I enjoy this tea, I use it to mix with other teas to add some raspberry flavors.

one of my best memories of living in portland was going out to the garden at 5 am to pick raspberries - as the sun was coming up and glowing through them like rubies... and the sweet juicy flavor. ty Adagio

Very tasty. There's a powerful aroma of berries and jam, that carries over well into the taste. Nice and fruity.

CK

This tea is absolutely delicious! My favorite berry black tea second only to Adagio's Raspberry Green, though maybe I just biased toward raspberry. W

Either way, it's really good!

Another berry flavor in a black tea base, but it could have been about any berry flavor as I didn't really get raspberry from it. Also needs a lower temp and shorter brew as it is quick to go beyond acceptable levels of bitter. It started tasting even more berry-like as it cooled, so this might be best iced rather than hot.

Not nearly as good as the strawberry black. This is so bitter! I pulled this early while steeping, and even brewed it at a lower temperature and it still turned out wildly bitter.

This tea isn't terrible. I'd be willing to drink it if someone offered it to me, but I'm not interested in buying it. The flavor is decent but there is just too much extra bitterness to try to combat. I usually add a little bit of sugar to my tea, but the amount of sugar I would have to add to this to try balance the bitterness would be ridiculous. (3 min @ 212F)

I followed the advice from the other reviewers and brewed it at a lower temp for less than three minutes. I definitely recommend that as I ended up with a nice flavor and no bitterness. I think this one benefits from just a touch of sweetener to bring out the raspberry.

The smell of the dry leaves straight from the CommuniTea packet was a bit artificial smelling, very candy-like. This scent completely disappeared during the steep though. This black tea is definitely temperamental. At first taste it was quite astringent, and I couldn't taste any berry flavor. I added sugar as I am wont to do. When it reached more of a 'warm' temp the berry flavor finally decided to shine through. This tea would probably benefit from a cold brew, and enjoyed iced.

EC

I'm so glad I got to try this tea in my CommuniTEA packet today! Raspberry is one of my favorite flavors, and black is my favorite variety of tea. This does smell slightly cough-syrupy when dry, but when brewed it smells a lot more natural. The raspberry flavor is light and subtle when you drink it hot. My packet disappeared too fast for me to try it iced, but I am confident it would be delicious, and I will definitely be getting the 3 oz. bag. This is one I would choose often - it's a great solid black tea.

This tea tastes like summer. Added some Adagio honey and the flavor popped.

Aroma of the dry tea is strong and candy-like and smells just like raspberries. When brewed at 212 for 3 minutes, the black tea was a bit too strong for me. It's very astringent leaving a dry mouth finish. The raspberry flavor is a little sweet and also quite tart and very tasty.

Excellent rasberry taste with little tartness, watch your time, found it not too forgiving if you steep over

Deliciously tart - perfect for making blends or drinking hot OR iced

Sweet and tart and just a bit dry, not too artificial. Makes great iced tea.

A straightforward, raspberry-flavored tea that's just shy of tart. Tangy and dark without any unnecessary accents. Aficionados of fruity teas will not be disappointed, but those looking for a more complex blend may find Adagio's Raspberry Patch more their "cup of tea."