by adagio teas



(13 reviews)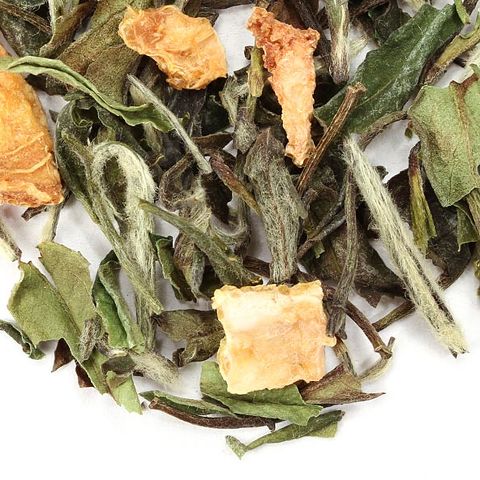 Premium white tea from Fujian region of China with tender-tangy flavor of tangerines. Sweet and warming citrus aroma, with a clean and softly juicy flavor. A playful combination perfect for any white tea fan. Steep at 180°F for 3-5 minutes
Recent reviews
CK

Can't really taste the tangerine, tastes mostly like white tea. I like white tea, but this isn't anything particularly special. Was expecting more citrus.

adore tangerines... and when i can find them in the store, always save and dry the peel to add ... adagio has taken out that work for me and made a glorious tea

This is a nice light tea. It smells good and the citrus came through nicely for me.

Smell= 10/10; Taste= whole different story. I am a huge fan of strong flavor and this won't be something I keep around. The smell was very aromatic.

A subtle, light citrus blend that's fruity but not too sweet.

LD

I'm not normally a fan of white teas but this is really nice. The dry scent is much stronger than the brewed scent, but it is lovely! It's a very mild taste, but the tangerine is just there enough to make a lovely cup. I added half a teaspoon of honey and it brought out the flavours even more.

Not a fan. The citrus essence is too strong and smells fake. Wont buy it again

Can't put my finger on it, but it left an odd lingering taste in my mouth. Tangerine taste was decent

This is a good one. Light and sweet, its a nice treat in the morning.

This was okay, the tangerine flavor came through but it just didn't have the bright note I was hoping for.

This wasn't my favorite, but it was okay. I could taste the tangerine but for some reason it was a bit stale tasting. Maybe it was just a bad batch. But I still drink most of it and it wasn't a total waste. I think those who like white teas more than I do will enjoy this one!

JC

I am enjoying the delicate tangerine flavor to this white tea. It's doesn't overpower the white tea, it's just right. For me, it's a nice cup for late afternoon when I want something low-caffeine.