by adagio teas



(22 reviews)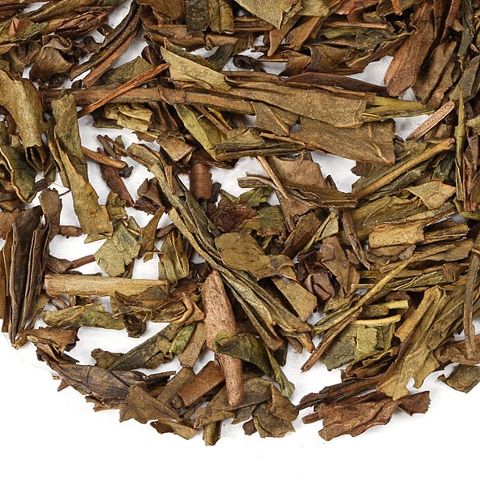 Green tea from Japan that is rendered brown by roasting Bancha (a summer crop tea, harvested after Sencha) tea leaves. An Adagio customer favorite, with a toasty nutty flavor and slightly mesquite note. Earthy and warm quality, soothing, clean finish. Steep at 180°F for 2 minutes
Recent reviews
This is freaking delicious!!! I got this in my green tea sampler box, and it is one of my favorites! It has a delicious, warming, nutty roasted flavor that I love.

Edit: I wound up getting 3 solid steeps out of one serving, and a 4th, weaker (but still decent) brew. Definitely reordering next time!

Nutty and toasty roasty. Pretty decent stuff all told.

This is by far one of my favorite green teas. It was given as a 'gift' sample in an order for adagio and I am certainly going to order more when I run out. I love how much nuttier it is than regular green

I enjoy hojicha. This is exactly what hojicha should taste like: nice and toasty! This particular hojicha doesn't really have anything about it that separates it from other brands' hojicha.

A really nice green tea! It's got a roasty quality that I love, and the green-vegetal notes that I don't always like in other green teas, is very mild in this one.

This is a wonderful, comforting cup of tea. It's roasty and toasty and very smooth with no bitterness. It has a good amount of mineral flavor and an almost honey-like taste. Light astringency to finish leaving its flavor to linger in the mouth.

Not your usual vegetal tasting green tea. Nutty and toasty. I added some sugar and enjoyed it.

To me, it tastes kind of like Udon broth with a hint of chocolate. Not awful, but strange for a tea.

I like the toastedness of this tea, it has a good nutty flavor in contrast to the vegetal taste that many green teas have.

This is a very earthy tea. Not my personal favorite, but green tea lovers would probably enjoy it.

A nice earthy roasted green, very flavorful and pleasant.

DL

Very nice earthy, roasted flavor. The vegetal undertones from the bancha leaves still come through giving this roasted green a nice level of complexity.

Nice toasted pine nut and vegetal, almost seaweed. Brothy and really rich.

I really, really liked this. I typically want flavored green tea but this was nutty and warming and delicious.

AW

The toasted flavor of this tea comes through really strongly, which I didn't love personally, but if you like roasted teas you'll enjoy this!

I love the toastiness of this tea. There's no bitterness, and its a very unique green tea.

Love it. Very classic very pure. Great tea for every morning

Im a big fan of hojicha tea and this is a great one. Its smokey and earthy while still maintaining a fresh green tea flavor

An amazing tea that took my by surprise. The flavor is toasty and nutty and so comforting.

This is a very unique green tea and I wasn't expecting the flavor I got. It's a lot earthier than most greens, but makes for a nice change from the more standard flavors.

Love love love the nutty notes! Hojicha is one of my favorite teas and the Hojicha from Adagio is one of my favorites!