by adagio teas



(31 reviews)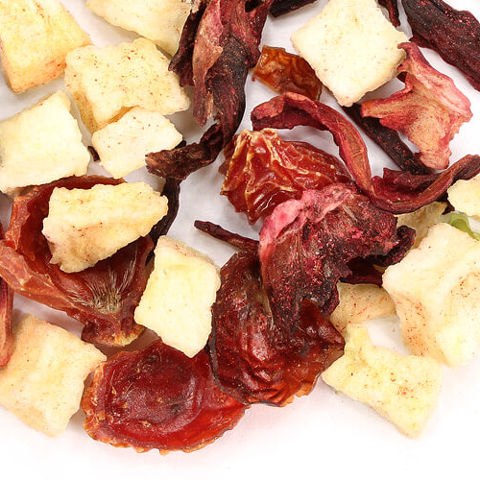 Raspberry is a complex flavor. It can be more sweet than tart, warm and chewy like a jam, or a fruit-floral accent. This blend plays to all of those nuances. Fresh raspberries, apple pieces, rose hips and hibiscus come together to tell the story of a raspberry. Zesty, tart and slightly sweet. A balanced cup that, because it's caffeine free, you can enjoy anytime. Steep at 212°F for 5-10 minutes
Recent reviews
Raspberry herbal tea that is so refreshing iced! The flavor is fresh and fruity as if you whizzed berries in your tea. A little sweetener brings out the raspberry flavor and tames the tartness.

Absolutely delicious! My friend was rally into this one as well <3

Hot, this tea leaves (HA!) much to be desired. Cold, it tastes like fruit punch kool-aid. Which I happen to like. I am not normally an iced tea drinker, but I will make an exception to finish out this packet.

LD

I bought it to cold brew and does it ever make a nice iced tea! Great raspberry flavour with a nice floral scent. Cold brewed overnight with a splash of simple syrup and this is so refreshing on a hot summer day!

CK

I gave a sip of this—completely unsweetened—to my husband and he thought I was drinking Kool aid! I just ordered a 3oz to scratch the sweet drink itch and I can already taste it.

Tangy and fruity. Nice raspberry flavor with lots of tart hibiscus as the base.

Although I brewed it iced for 10 minutes with sugar, it was not sweet and tasted like it was missing something. It did have a beautiful ruby color though.

I love all things raspberry and this was right on point for me. I enjoyed the tartness of the raspberry. It was flavorful and delicious

JM

This is a tart little herbal tea. My kids really like it iced during the summer! It's also fun to use in desserts and gives them a nice little extra fruity kick!

This one was too artificial and tart for me. I recommend getting the wild strawberry instead.

DL

Tart, fruity, bright - everything seems to come through nicely but the apple is a bit on the lighter side. Takes rock sugar and orange blossom honey well.

So good! Tasty as heck, with a nice powerful raspberry flavor and aroma. Nice and tart, it's a great late night tea when you want high flavor and no caffeine.

KO

even less fruit flavor than the watermelon tea- again, all the hibiscus herbal teas only taste like hibiscus

This was really flavorful. I enjoyed it both hot and iced.

JJ

My go to for iced tea... just add a little stevia and fresh lemon juice.

good flavor, not my favorite but its definetely not bad

MJ

Super mild raspberry taste and delightfully sweet!

This was nice and sweet. I'm not normally a raspberry tea person, but it was delicious iced and not too powerful.

I was afraid it would be too sour to my taste just like other berry tea but it's just right. Very pleasant.

This is a fantastic raspberry tea, I love it hot or iced. I do add a touch of sweetener to balance out the tartness of the hibiscus. It is so smooth and delicious, and packed with fresh raspberry flavor. Will definitely be ordering more.

I don't even really like raspberries that much, but I absolutely loved this tea!!! It was a really nice flavor and tasted great

Even when it's summer, I still like to drink hot tea in the evenings. This is a great herbal tea that helps me wind down and the bright flavors match the summer time!

Tart enough that I felt the need to add sugar, but delicious enough to earn 4.5 stars.

Really jammy and tart. This tea is good on its own and its great iced

The flavor is natural and rich, and the color is glorious.

This is a great fruity herbal tea, but I prefer the fruit medley over this. It's still delicious and the raspberry flavor comes through nicely. Very refreshing.

Still my favorite Adagio tea! This raspberry tea is amazing - perfectly tart, sweet, and bold. I bought the biggest bag they sell!

Tart berry flavor, wonderful rich and tart when brewed hot and slightly sweeter with more identifiable raspberry flavor when cold brewed, definitely a must have for summer and a comforting fruity way to end my night in winter!

I did not enjoy this as a hot tea. The flavor seems pretty artificial and overly strong. Did not seem particularly sweet either. This may work better as a sweetened iced tea.