by adagio teas



(35 reviews)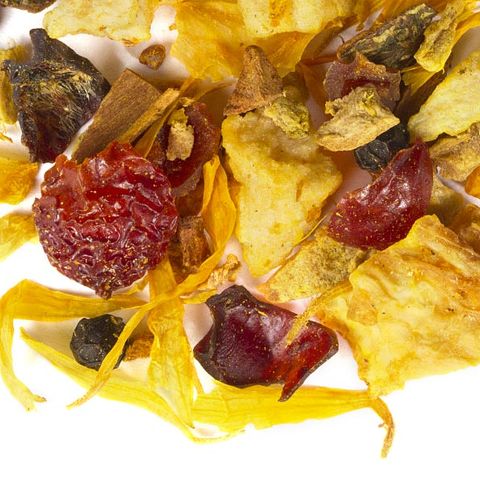 Bright and sunny, our turmeric tea has the fruity, sweet taste of juicy mangos and the zest of Florida oranges. The fruitiness balances the earthiness of the turmeric, widely popular for its health benefits, while ginger and peppercorn enliven your senses. Savor the taste as you heal your body. Steep at 212°F for 5-10 minutes
Recent reviews
CK

One of the teas I have a big bag of in my collection! Very tasty and refreshing. The turmeric is very balanced with the fruit. Not too sweet. Definitely better hot. Cold it just tastes like a cut of turmeric water, but warm the fruit comes out. Good for very cold winter days.

Not only is is great tasting, especially with some sweetener and milk, but the health properties for me are the winning mark. Great for autoimmune disorders

I'm not a huge fan of turmeric teas to start with, and though I didn't love it, it was pretty good considering. Spicy and slightly fruity - enjoyable even for a non turmeric lover.

Great tea! The turmeric is subtle and the sweet orange and mango balance the spice. I steeped at 212°F x 5 minutes and sweetened it with a little honey. Like most herbals, it didn't stand up to a second infusion.

Surprisingly ok for a turmeric tea. Like, there's no real taste of anything besides just "bright." I would never get it for myself, but I mean, it's not terrible, so that's a win.

CK

This tea has so little turmeric in the pale yellow liquor that I was convinced I somehow prepared it incorrectly! Besides that, the tanginess was a little out of place in this blend to the point that it evoked one of those "weird tea" faces I make upon first sip and it was not because I loved it.

This brews up to a very pale yellow cup. Very little turmeric flavor (or color). Didn't taste any of the ginger, cinnamon, mango or peppercorns. Tastes of only orange. The aroma smells very soapy.

Wow was this surprising. I did not expect to like this one. I am not a fan of peppercorns and took the two noticeable ones out. It was a fruity very tasty blend. I wish I had more.

Really like this one! I didn't think I would but was pleasantly surprised. Its fruity with a hint of spice somewhere in the background so its not overpowering. The balance is perfect. I drink this hot, I don't know if I'd like it cold.

This is a warm, comforting cup of tea. The flavors weren't as strong as I expected, but it's a decent midday tea.

I'm a big fan of mottled ciders so this was right up my alley. Perfect way to add turmeric into your system. Great afternoon tea

TA

I love this tea. It taste wonderful and has a beautiful yellow color. I like to sip it while relaxing.

This tea was fruity enough to make me want another cup. I like that the turmeric was subtle and not overpowering the tea.

Pleasantly suprised. The turmeric is hardly detectable. The first note is the apple but then citrus and ginger take over. Good with a little stevia.

This just might be my favorite caffeine free tea. It is warm and smooth and nicely balanced by the hint of peppercorn.

They did a really nice job of subduing the turmeric which is sometimes overwhelming. For those how are using turmeric for health reasons I think you'll like this.

Very healthy tea. Also smells really good. Such a great tea

Maybe I didn't give it a good enough chance, but this tea seemed weak to me. I love turmeric and was surprised to be disappointed by it.

This is a really complex tisane with notes of ginger, cinnamon, citrus, an earthy sharp base from the turmeric, and a bit of peppery spice. Not something I drink every day, but always enjoy it when I'm in the mood for a cup of something different.

This tea is solid. It does make me feel like a hippy but it really yummy made into a latte.

MJ

A solid tea! I fully enjoyed the spices and the blend to the utmost. I'm a sucker for spiced tea and this one is no different. The hint of orange in there was exemplary when combined with the strong spices.

This tea is nice but i do wish it didn't have the kick of perpper!

I tried this one in the Communitea samplers. A new favorite herbal tea. It has the mellow, floral sweetness of mango with a hint of pepper kick and the earthiness of turmeric. Perfectly balanced.

One of my favorite teas from Adagio! The perfect combinations of flavor for any fall or winter day.

I was very surprised at how balanced this tea was. Turmeric is notoriously overpowering but this tea did a great job at extracting the flavor without making it too spicy or bitter

AM

This tea is amazing. I definitely need to buy more. It has a nice fruity taste which isn't too strong.

This tea does not shove you over with spices like many other tumerics tend to do. It is pleasantly aromatic and would be nice iced.

Not my usual kind of tea, but I really like it. I feel like it helps with my joints too.

MR

Great flavors and health benefits in this tea. Perfect blend of flavors for a great cup of tea

I was looking for a variation of the usual turmeric tea I drink and the sample of this was fun. If you're a turmeric tea drinker, give this one a try.

Very tasty and sweet. Would recommend if you like the taste of Turmeric.

Simply put: I'm pleasantly surprised by this tea. I'm not a fan of sweet potato, but this tea is simply astounding. It's soothing, calming, and refreshing all at once. Ginger came foremost to my tastebuds but the other flavors blend together to create the perfect evening sip. Highly recommended, especially for the fall season!