by adagio teas



(6 reviews)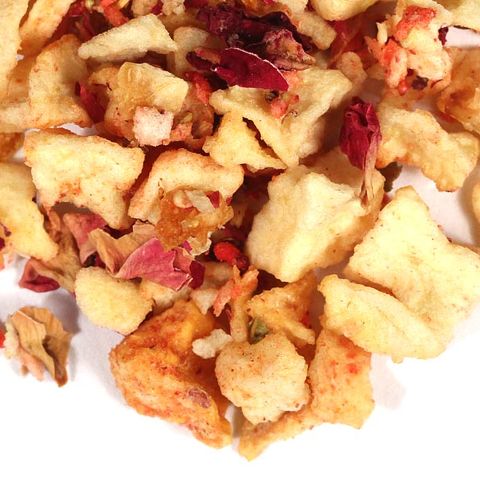 Break out the grass skirt and lei because we're going tropical! This sunny herbal tea blends the refreshingly zesty flavors of peach, strawberries, mango pineapple and papaya. The aroma alone will evoke feelings of relaxing on an exotic island getaway, minus the ten hour plane ride. Pour your freshly steeped tea over some ice for a cool treat and you may as well have captured summertime in a cup! All you need is tiny pink umbrella as the finishing touch. Steep at 212°F for 5-10 minutes
Recent reviews
This peach tea is very light and brews with a light yellow color, but the flavor is very bright and refreshing, and the peach flavor is delicious. This tea blends very well with peach serenity as well. It's a bit more citrusy than peach serenity though.

I love this tea hot or cold, and it's a great enhancer for any other peach teas that are weak on the sweetness.

I usually hate fruit teas, but this one really didnt taste overly sweet or perfumed. Its really fresh and good iced.

Very tasty, especially over ice. My sister, who doesn't usually like tea, herbal or otherwise, liked this one.

So tasty! very peachy. It was a little light, I ended up using quite a lot of it at once. But it was so so nice.