by adagio teas



(27 reviews)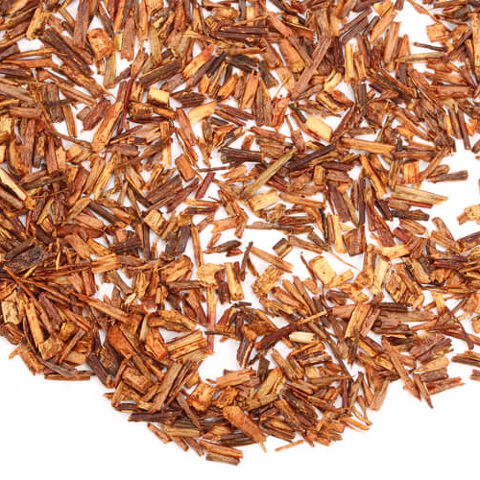 Like wine and cheese or burgers and fries, chocolate and mint is a perfect partnership. We bring that popular flavor combination here, blended with Rooibos herbal tea from South Africa to create a delicious, lip-smacking treat. Smooth and slightly cooling, not unlike chocolate peppermint bark candy. Naturally caffeine free. Steep at 212°F for 5 minutes
Recent reviews
CK

Typically, I dislike rooibos teas. I also tend to dislike mint and chocolate as a combination in tea.

This blend, however, is the anomaly to end all anomalies as far as my tastes go. Here, the rooibos doesn't taste odd or out of place but instead adds a grounding, earthy flavor that smooths out the other elements.

KW

I love rooibos anyway but this combination was super yummy. I will be buying some of this one.

Chocolate and mint flavors with the sweet backdrop of rooibos. Add a little sweetener, and you have a dessert tea that will make you smile. The second steep is a little weaker, but still very good.

The rooibos gives a solid, sweet base to the chocolate and mint flavors. The mint is fresh and bright and very clean tasting.

I am not a rooibos lover. That said, this had a weird chemical smell/taste that was not chocolatey. It was better than most rooibos I've had, I actually was able to finish the whole cup. Personal preference, I'll stick to my greens and Pu Erhs, sorry!

I am in love with this tea. I couldn t be more pleased with the way it tastes like mint chocolate chip ice cream. I am pretty sure that this tea will help me with my sweet tooth!

I enjoyed this tea, I was t sure if I was going to like Rooibos teas but I did. The flavor on the cocomint was a perfect match

Wow! This is a super unique tea, created it's own category. Would recommend!

Absolutely delicious! I love the rooibos base with the added flavors.

just not a fan of mint and chocolate, although i realize that's abnormal lol

I love this for the christmas/winter season. i love watching cheesy hallmark christmas movies and drinking this.

KM

Tastes like the old Teavana Peppermint White Chocolate when mixed with vanilla, yum!

My favorite rooibos ever! This tastes just like a dessert, perfect like a mint milano taste.

I wasn't too sure when I opened the bag as all I could smell was the mint. This one grew on me once it was brewed as it had a nice mix of chocolate to mint, mixed with some sugar and cream it was almost like a minty hot chocolate.

For a rooibos it does have a good flavor. I cold brew Rooibos because it does have health benefits but I just sm not a fan of the taste. But I do appreciate the chocolate and mint flavors

This reminds me of thin mints or mint chocolate chip ice cream. Chocolate mint is such a great combo.

I surprisingly liked this tea because I don't like rooibos! It reminded me of a thin mint cookie.

Pretty good minty chocolate tea! Kinda reminds me of a York mint patty or an Andes mint. I do think the flavor can be kinda light sometimes, but I use 1 1/2 tsp per 8 oz instead of just 1 tsp and that makes it better

This tea tasted fine. Not really amazing but not bad either. Good chocolate mint flavor

I was pleasantly surprised by this tea. I was not sure about this combination but I actually enjoyed it very much

I'm not really into the flavor combination of this tea.

This one is a little strange. It needs either more flavor or needs to use honeybush instead of rooibos

AM

This tea has too much Rooibos taste that you can't taste the mint or chocolate.

It's not the best chocolate mint tea I've ever had, but it's still nice on its own. The rooibos may be a bit too overpowering for me. But you can definitely taste the chocolate and the subtle mint and it makes for a nice Christmastime tea!

Yes. Just yes. This is like an Andes Mint in a cup. This tea is perfectly balanced and light without sacrificing the depth of flavor. It is now my go-to winter flavor when I want something without caffeine for the evenings.

Smells like mint chocolate candies, the mint is strong but not overpowering and the chocolate comes through nicely at the end, the mint definitely hits first and the chocolate follows directly after and leaves a very satisfying light mint and sweet chocolate flavor. I was looking to replace my Teavana white chocolate peppermint for so long and I tried so many different teas and this is finally the one I feel is the closest replacement!