by adagio teas



(25 reviews)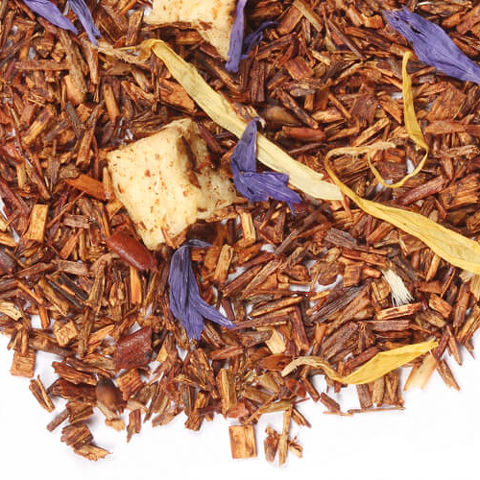 How suite it is! Limited-edition holiday herbal features rooibos with fruit, nuts, caramel, and cocoa. Smooth, rich flavors offer a natural sweetness and depth. This is the ideal blend to sip by the tree, on a snowy winter's evening.
Steep at 212°F for 5 minutes
Recent reviews
Found this little sample not too long ago and tried it and all I can say is WOW! What a treat. So bummed it's seasonal. A must try.

A lovely tea for sipping on a cold night by the fire. Smooth notes of caramel with hints of cocoa.

The caramel, hazelnut, chestnut combo smelled great. Those flavors were really well done and balanced, unfortunately the red rooibos base still overpowered and became the predominant flavor. I keep trying red rooibos tea in hopes one of them will be good, but I personally just don't like its taste.

The Nutcracker Rooibos tea definitely smells better than it tastes. My sample packet smelled strongly of sweet caramel. Once steeped, however, the rooibos base was strong, with an overlying smooth sweetness. I was not able to distinguish the caramel, cocoa, and nut flavors. A second untimed steep tasted only of rooibos. So you need to like rooibos to enjoy this tea! The nice thing is that it needs little to no sweetener. In fact, it seems to taste sweeter as it cools. So it is a nice tea when you have a hankering for something sweet, but don't want the extra calories.

Steeped at 212°F x 5 minutes.

Really nice! Very similar to the chestnut black tea, only not caffeinated, obviously. It's nice for bedtime.

A strong rooibos smell overpowers the other ingredients right out of the (CommuniTea) packet. It's a smell that I'm not very fond of, even though I do like rooibos. When steeped the flavor of rooibos is, as ever, present and powerful. The nutty and caramel flavors were strong and rich, the chocolate flavor a bit more subtle. All in all a good tea, but not my favorite rooibos.

CK

This tea was mostly nutty; I couldn't really taste much of the caramel undertones. It was smooth and creamy but almost felt like it got lost in the sea of Adagio's other fantastic Christmas blends.

TB

This went down way too easy. Solid tea but adagio has so many standouts.

It's a really interesting tea!

I've had it now twice, once entirely plain, and once with some sugar and cream in it, brewed at 212F, and steeped for about 5-6 minutes.

When it is sipped at without anything else, it has a complex, rich flavor. At the tip of your tongue and the immediate hit of flavor, you get a bit of sweetness from the floral and apple ingredients. However, the flavor almost immediately mellows to something darker with the nut, cocoa, and caramel flavors that linger at the back of your tongue. With sugar and cream, the flavors mellow to be more blended, and linger a bit longer than without either additions.

An unusual tea, it has taken the two cups for me to appreciate it and enjoy it. It is very different from the black teas that I usually sip at, though not unwelcome. Not an every-day tea, but still enjoyable to relax with.

This is an excellent tea. It's nutty without being overpowering and has a nice undertone of caramel. It's definitely seasonal, and will make an excellent addition to the Christmas rotation.

This tea is really scrumptious. It's rich, and naturally sweet with a full-body. All the flavors come through with the caramel and nuttiness dominating. A wonderful, caffeine-free treat.

JM

fantastic christmas tea, warm spicy notes and reminiscent of a family christmas morning

I typically don't like nutty flavors in my tea, but this blend is done right! I made a latte with it and it absolutely delightful! It's caramel, nutty, rich, and delicious!

Smells wonderful but for someone who is not a fan of red rooibos tea, this blend was not a favorite. I predominantly tasted the rooibos and had very little caramel or cocoa flavor.

Ordered it twice :). Unique flavor, and pretty smell. Enjoyable cup of tea.

This tea is warm and rich and the hazelnut flavor comes out nicely.

KZ

Loved this tea! Warm, sweet, full-flavored, it felt homey and cozy. Great for a chilly day curled up with a book.

This tea is very sweet and nutty. Perfect for a calm afternoon where caffeine isn't required

This roobios is perfect for the winter and Christmas season. It's nutty with a hint of natural sweetness and blends well with the subtle flavors of caramel and fruit.

Earthy, nutty, and sweet. This tea reminds me of the rooibos caramel turtle, but less sweet and a stronger flavor. I really like this tea during the holidays and when it is cold outside. Very good for fireside tea.

Very lovely! It's incredibly sweet, and the smell is a bit strong when you open the bag, but very tasty.

This review is for Adagio Nutcracker FANDOM blend

#1 the whole fandom concept is brilliant - and is what brought me back to adagio... as a former customer.

#2 i bought for myself, but my husband adores anything HAZELNUT so when he saw that he asked for the tin = it is going into his stocking [dec 15 review]

smells heavenly

and LOL got me to go back and shop for MORE hazelnut adagio blends

This review is actually for the Rooibos Pecan Turtle from Adagio but it isn't listed in the list.

This was decadent. It has a sweet aftertaste. You can taste the Rooibos at first then you get the delicious pecan turtle flavor. I highly recommend. I tried this plain and also tried this with some almond milk and a touch of honey. Delicious either way!!!