by adagio teas



(27 reviews)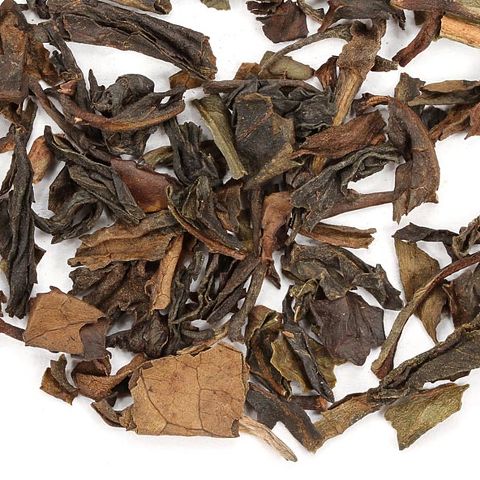 Formosa Oolong is a darker style oolong tea from Taiwan, formerly known as Formosa (which means 'beautiful', given by the Portuguese explorers of the island). Deep raisiny and ripe fruit aroma, autumn 'leafy' notes. Lingering sweet flavor and smooth, refreshingly fruity astringency. This Formosa Oolong is easy to prepare and remains a lovely introduction to Taiwanese tea. Steep at 212°F for 3-5 minutes
Recent reviews
Perfect Formosa Oolong. Formosa often gets criticized for being closer to black tea, but I think this version nailed the delicate balance between smokey and fresh

WF

I like it. Very smooth and fairly rich. I tend to like oolongs that lean towards black and this fits that bill very well.

The taste is earthy, very much like a mild black tea but without much astringency. It's rather plain, so if that's your thing you'll love it. It's not my thing.

Very average for me. I'm getting a very nutty and earthy tasting the most. Like most oolongs, great for multiple infusions.

JM

This is an interesting little oolong. It's malty, slightly earthy, but with lots of notes similar to a black tea. It's reasonably priced and holds up well for multiple steeps!

CK

This tea isn't exactly my go-to oolong, but it's not bad. It errs on the side of black in terms of it's fermentation rather than some oolongs that lie closer to the middle of the green/black spectrum. I'm glad I tried it but I won't be reordering.

This tea is wonderfully smooth, with dark fruity notes. The flavor stands up to resteeping very nicely, and is a must try for any oolong fan.

I think this tea wasn't too astringent when compared to other oolong teas.

A very smooth, dark oolong with little astringency and no bitterness when steeped at 190°F x 3 minutes. The flavor is mellow with hints of toasted grain and chocolate. I love oolongs for their diverse and complex flavors and the ability to resteep multiple times (I did 3 steeps).

I love how this tastes, reminiscent of a black tea. It steeped a nice dark color. When hot it had an autumnal, woody flavor, and a nutty scent. Once it cooled it picked up a sweeter, raisin flavor and came across a bit malty as well.

I got 2 strong steeps out of this, and 1 milder one.

Steeped 3x, 200F 3min

Reminds me of what wet wood chips might taste like but I am still liking this cup of tea. Oolongs are very forgiving if over steeped.

EC

This tea really isn't bad - it does have that slight "burnt cardboard" taste that a lot of oolongs seem to have, but beyond that it is actually pretty pleasant. It's bright like the standard orange pekoe I'm used to. Overall, not a bad tea, and it's actually a little heartier than a lot of the oolongs I have tried recently. I'm pleased with it - but ultimately would not buy a full bag of it.

I prefer the less oxidized oolongs from Taiwan, but this an interesting cup. Mineral tastes with dry, brown leaves. Moderate astringency. Richly flavored.

This was a lot more mineral than I expected based on the smell. It was nice to drink, but I don't know if it would become a regular for me

The brewed cup smelled of gardenias and spice. On the tongue I got plenty of earthiness with floral gardenia notes. I'm not big on floral teas, but I can't fault this tea for that - it's a good quality blend, just not for me.

My friend ordered some of this and I really enjoyed it. Not quite my usual but very tasty nonetheless

am still a tea learner - and hope to be one for many years. ty adagio

This is a nice, darker Oolong tea. A little astringent, I think I'll appreciate this tea more as I continue to brew additional cups.

AW

I found this oolong almost bitter to my taste, but I can tell that it's a solid oolong and just not light enough for my taste--I regifted it.

I enjoyed this oolong tea a lot. I usually get it hot in the morning and cold in the afternoon depending on my mood

A nice and flavorful oolong, a bit more oxidized than I prefer though, but that's just my personal preference and nothing to the actual flavor. It was still an enjoyable cup.

Delicious and flavorful. One of my favorites! Definately a tea to curl up with a book!

I love this tea so much! It puts me in mind of the lovely, earth teas served after a meal at a nice restaurant

Simple, smooth, roasty flavor. Not my typical cup of tea, but very nice!

KD

A nicely robust oolong. Good clean flavor and smooth finish.