by adagio teas



(21 reviews)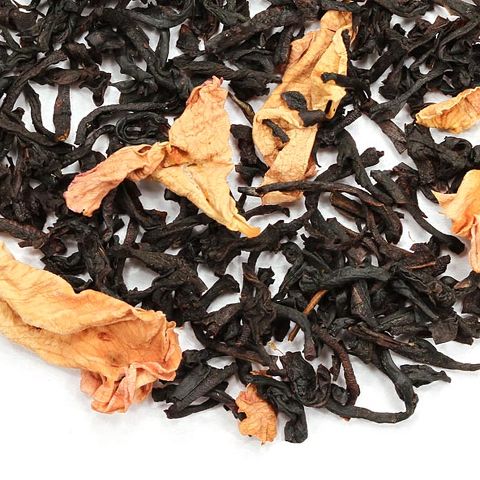 Have you been looking for true love in a teacup? Then you're sure to fall 'head over heels' for our Valentine's tea. It deliciously combines the luxurious flavor of fresh-dipped chocolate-covered strawberries with the taste of premium Ceylon black tea. Selecting this for your Valentine? He or she is sure to welcome this sinfully-rich, yet calorie-free gift. Steep at 212°F for 3 minutes
Recent reviews
Just a perfect combination of all great ingredients that I love

This is my favorite black tea. It never disappoints. The chocolate and strawberry with a slight hint of rose is heaven. I can't say enough about it!

Nice even taste, the floral isn't too overwhelming as I have found in other blends. Sweet, but not overbearing. Great with a bit of cream and honey.

This tea is definitely sweet! I like it occasionally but it's not a go-to.

Even if you're not a big fan of dessert teas, this is a great tea that keeps the sweetness in check with bright acidity from the berries. Very beautifully balanced.

I got this as a free sample. I was not expecting much of it, but its actually really good. Not too sweet

I love this romantic tea. Not too floral. I like adding cream tea to it too.

Great full bodied, flavorful tea! The flavor is reminicent of chocolate, strawberries, and roses - and is aptly named. I still can't figure out if I like this one or the Libra tea better (they are very similar).

I love this tea. I would give it a full five stars if it had just a bit more strawberry and chocolate flavor in it. It's fabulous. And it is perfect to drink when eating chocolate! 😍

This tea was surprisingly delicate in aroma and flavor, but made for a romantic cup of tea to share with a loved one. Tastes lightly of chocolate strawberries.

Maybe a bit on the bitter side, but you can still taste the chocolate and strawberry flavors. Maybe the strawberry could be a little stronger, but as a black tea it's pretty good. Just don't brew it for too long!

MB

I really like the Rose in this tea. Depending on your scoop it can get a bit tart, but if you balance out the bits and pieces there isn't any problem.

I love this tea, the black tea flavor is just enough to cut the chocolate strawberry sweetness.

I love this tea! it is definitely one of my favorite black teas I have tried fro Adagio. It smells SO good in the bag and still has great flavor once brewed!

I love this tea! I drank it daily when I first got it (I couldn't stop!) and still alternate it into my regular rotation. It is not too sweet, with just enough chocolate to mix well and not lose the berry flavor. Perfect!!

Wow! Where to begin? Valentines is the closest tea I've ever tasted to actual chocolate. The flavor brings to mind a sugar-free, dark chocolate-dipped strawberry with just a hint of rose petals. February is, of course, an ideal month to enjoy it (and it's so good I'm tempted to limit it to JUST that month as a special treat). However, it also makes an excellent morning and afternoon tea year-round, due to its high caffeine concentration. Perfect for anyone with a sweet tooth! I enjoy it with brown sugar.

Was a little too sweet smelling for my tastes. I found the smells too over powering to really enjoy this tea.