by adagio teas



(39 reviews)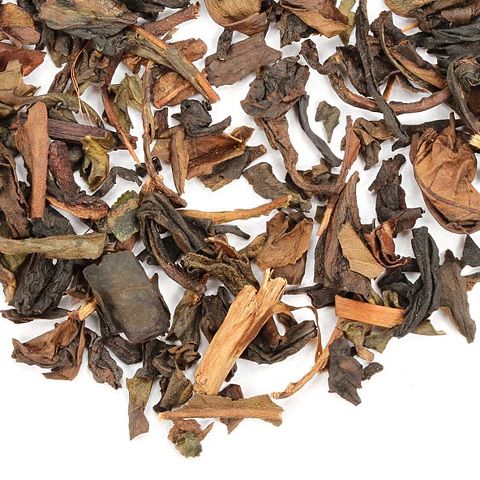 Combining savory almond with the bright, fruity-floral taste of Taiwanese oolong tea, our Almond Oolong is great on its own, as well as the perfect dessert complement. Smooth, clean and unroasted almond nutty aroma. Full, rounded body and sweet marzipan flavor. The only question now is, is it ok to have two desserts in one evening? Steep at 212°F for 3-5 minutes
Recent reviews
CK

There are some teas where the namesake ingredient or flavor is more of a suggestion but trust me, this one is *not* one of them! If you eat almonds with everything but haven't found an almond-y flavored drink yet, here it is. It's smooth, sweet, and nutty--just like almond should be.

The dark oolong is smooth and flavorful with an aromatic, nutty almond taste.

KW

This is a very unique OOLONG. I generally love oolongs. This one has almond flavors that really bring out the rustic flavor.

AD

This is like have a cup of tea and a cookie at the same time. The almond flavor is light and doesn't overshadow the flavor of the oolong.

The almond flavor is subtle, but it's a pleasant cuppa. I'm new to oolong teas, but this makes me want to try more.

EG

Wonderful tea. Very marzipan-y with soy milk- strong enough to work well in a latte.

EC

I got a sample packet of this just because it sounded good - the regular almond Ceylon is amazing! - but I was very disappointed. It has that typical cardboard taste that a lot of oolongs have apparently, and I hardly get any almond flavor. And in fact, it almost tastes like there are other things added like cinnamon. Just awful.

If you like almonds or things flavored with almond extract, this is your jam.

One of my favorite teas-perfect almond flavor and mild tea. Great for any occasion

Delicious. The almond flavor that adagio uses is so perfect, and it compliments the oolong flavor flawlessly. A real treat, another perfect dessert tea!

I loved this tea. The almond complemented the oolong. I tried this both hot and iced. It was great both ways!

This is delicious plain. With a little sweetener it tastes like an almond crossoint. With sweetener and vanilla almond milk like an almond torte pastry. Yum!

It has a very strong almond smell when you open the bag, but is very smooth in the cup. It tastes like marzipan or cookies. I thought just a little sugar really made it, but my marzipan-loving husband preferred it unsweetened.

Good almondy tea. The taste reminds me of cookies.

pretty standard oolong. I like oolongs and keep several in my stash.

Pretty decent nutty oolong, the almond is a nice flavor. By itself it's a pretty okay tea, but it really shines when blended with others.

this tea tastes a good deal like marzipan. I love it.

I really like this tea. Nice almond flavor. I am really enjoying trying Adagio's oolong teas. Really good with maple syrup.

I got this as a sample, but i just didn't find that the almond came through for me. If it was mixed with other teas I can see it adding to the flavor profiles.

Part of the Oolong sampler box, I found this one had a surprisingly strong almond flavoring smell. In combination with the oolong tea (formosa maybe?), I thought it was just OK.

EG

I got this one in the Orchard Oolong Sampler. Dry, it has a strong but nice marzipan type smell. I was glad that once I brewed it, the almond calmed down and was more of a subtle flavor with the oolong flavor being forward. I liked it enough, and tho I wouldn't reorder it, I would def recommend it to someone who loved almond flavored things.

I wasn't a huge fan of the smell of the leaves, it was more bitter than I would've liked. But the tea tasted much sweeter than the smell suggested

This taste like the milk oolong. It's creamy and smooth. Goes well with milk/creamer

AW

I discovered through this tea that I don't like almond-flavored tea, so if you don't love the flavor this might not be the tea for you, but I gifted this to a friend who does enjoy it.

This is similar to the milk oolong tea I tried and its also great

KK

I am a big oolong fan to begin with, and I'd rate this right up top with milk oolong and vanilla oolong as a major fave!!🤩

I wasn't a fan. I didn't even finish the cup. I've come to realize I'm not a big oolong fan

I was skeptical at first because of how strong the tea smells in the container, but the flavor is beautifully delicate overall

Solid tea, good alone or with vanilla creamer. Mild almond flavor is sweet.

Mild almond taste. It isn't overpowering or overly complex like some teas can be, very enjoyable.

JK

Almond is a great combination with oolong, so smooth & warm

Very strong for me. I do like it though, but I need to add something else to soften the flavor.

This oolong is very strong, but it's nice and flavorful in a good way. The almond flavor is there and it blends well with the oolong tea. It's definitely not something I can drink every day, and I probably won't get it again. But it was nice to try as a treat.

This tea is a nice treat. I love the Almond flavoring, it imparts a sweetness without sugar. It's great with a touch of almond milk.

I'm not a fan of this flavored oolong tea...keep it plain

The smell of this tea when I first opened the bag was a little off putting but it actually tastes delicious once steeped, it is much milder than the initial aroma. I drank two cups in a row when I first tried it because I liked it so much!

This is one of my husbands favorites! He is generally not a fan of really sweet things and this seems perfect for him. This is the one he always requests when we put in an order!

This tea was overpowering in its sweetness - it was like drinking liquid marzipan.