by adagio teas



(24 reviews)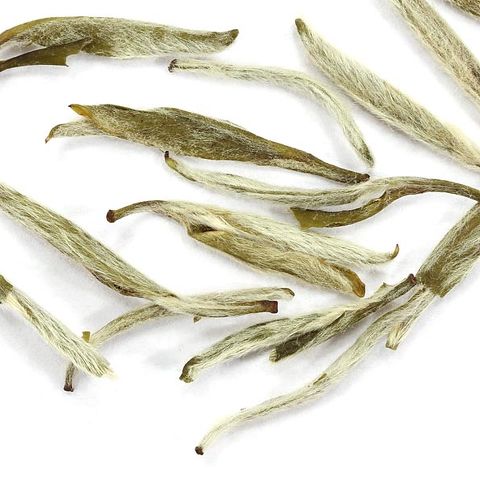 Jasmine Silver Needle white tea is made up of young and elegant tea leaf buds with a whisper of jasmine aura. All the appeal and softly sweet nuances of a classic Silver Needle tea, enhanced with the graceful aroma of night-blooming jasmine flowers. Airy flavor, delicate mouthfeel and pleasantly dry finish. The quiet nature of this Jasmine Silver Needle white tea ensures it will make a gentle companion for your special moments. Steep at 180°F for 3-5 minutes
Recent reviews
AS

Don't let the aroma of jasmine scare you. The taste is subtle and the flavor is refreshing. Like another reviewer said, you can definitely get more than one steep from it.

TR

Extremely refreshing. Someone else described the flavor as delicate, and I would say that's accurate. I definitely recommend this tea!

Perfection in a cup. Light, delicate, floral without being over the top. Simply one of the best teas I have ever drank! The aroma and taste are fabulous.

Quite a large perfume bouquet at first, the taste is a bit more subtle which saved this tea for me

KS

Refreshing tea for anytime of the day. Love it's taste.

This tea is delicate and the flavor is subtle. While you must like jasmine to enjoy this, the flavor is lighter than others I've tried. It also re-steeps perfectly - I got three good steeps that were all equal in flavor.

I got in a communniTEA and loved it. Smelled like perfume but tasted light and smooth.

SS

Amazing tea. The jasmine is a wonderful addition to the silver needle leaf. This tea is a light velvety cup.The jasmine has staying power for at least 5 infusions, yet it is subtle and not overpowering. This is an exceptional tea.

Not being a fan of jasmine teas, I was pleasantly surprised to really enjoy this tea. The white tea is very tasty and balanced well with the aroma and taste of the jasmine flowers. The cup is smooth and silky and finishes crisply.

I felt the jasmine overwhelmed the delicate buds of the silver needle. I had to add a ton of sugar just to drink it.

AF

This jasmine white is one of the best I've ever had. Strong jasmine and lovely white tea flavor.

I love jasmine silver needle teas because the white tea doesn't overpower the jasmine like some green teas (that are often paired with jasmine) do. Adagio's jasmine silver needle is great!!

IM

Hands down my favorite white tea. I love jasmine and it pairs very well with silver needle.

KK

A wonderfully lite floral tea. Perfect afternoon tea with a good book! Mild jasmine flavor makes this tea a delight!😄

Light, delicate, and mellow, this is a wonderful tea on both the jasmine and white tea fronts.

JW

My all-time favorite tea. Low in caffeine, one of the best features is that the tea leaves can be used twice with the same splendid jasmine flavor. Ice it as well but brewing a pot and then adding the same amount of cold water.

Overall a splendid tea, i can definitely taste the jasmine, while lighter than most jasmine teas, still an amazing cup.

It has a very light flavor, obviously it's a white tea so it's going to be softer no matter what you do, but the accompaniment of jasmine makes it a little more interesting

A very pleasant delicate combination of white tea and jasmine. Its tough to determine how long to steep, however as white tea is incredibly light while jasmine tends to oversteep easily

Delicate tea, bit grassy with jasmine floral scent.

TA

This is an excellent Jasmine tea. It has a strong Jasmine flavor mixed with the silver needle

First white tea I have tried, was honestly not a fan. It smells nice, but the fragrance is too sweet when you try to drink it. The tea itself tastes like flowers, which I personally did not enjoy.

This is a very pricey tea, but when brewed at the recommended temperature, it's worth every penny. Jasmine flavor is very forward and the smoothest cup of tea you'll ever make.