by adagio teas



(40 reviews)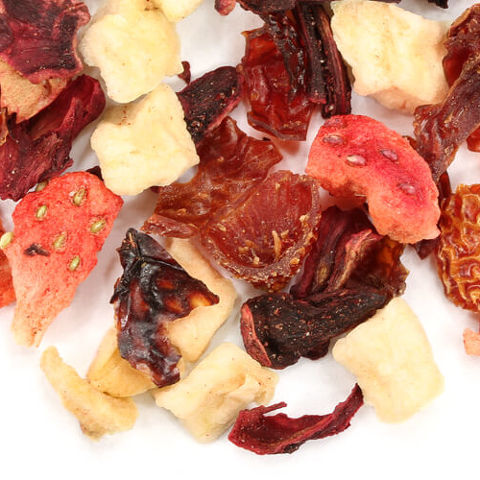 Even when the strawberry harvest is waning for the year, our Wild Strawberry herbal blend will have you smiling like the first pick of the season. Fresh strawberries, apple pieces, hibiscus flowers and rose hips create a mellow, almost dessert-like tea. Sweet strawberry and sugared rhubarb aroma, beautiful warm berry color, pleasantly aromatic and not super sweet. A caffeine-free cup of pure delight. Steep at 212°F for 5-10 minutes
Recent reviews
KW

This is a delicious tea. It has so much yummy strawberry flavor. It is one of my favorites to sweeten and ice all year round. I also love mixing it with Adagio Watermelon Cooler.

Anytime i get some tea with this mixed in I know it's gonna be good

AD

This is one of the reasons why I don't buy kool-aid anymore. The fruity herbal teas are an instant hit with the whole household.

EV

I keep buying and buying it, because I love it. Great taste and keeps me away from buying juices, which have lots of sugar. I recommend this tea to everyone!

There is one drawback: on the list of ingredients, which needs to be on the website, actual strawberries listed as ingredient on the fifth place...

Brewed hot, it makes a beautiful rosy red cup. Nice strawberry aroma, but not much strawberry flavor. Tart and a little sweet. Probably better cold brewed and served iced.

CK

My favorite of the fruit tea blends! WIld strawberry flavor is hard to find in the US, it's not as popular so this makes me very happy! It's tastes just like wild strawberries. I love it iced. Very juicy and refreshing. And it's not just rosehips and hibiscus, there's other fruit in it, which makes this just a better tea.

Found this too bitey without any sweetener. It is a nice refreshing iced tea, did not care for it hot.

One of my favorites for iced tea. Strawberry aroma and flavor is very strong. I usually cold brew it overnight.

A little toooo much hibiscus for my liking. Im going to try mixing this with strawberry black to see if it can tame the hibiscus a bit.

KB

Wonderful tea. Naturally sweet, a little bit jammy, and very fresh.

One of my favorite adagio teas. It's amazing with cream or fixed like a latte. It tastes like strawberry shortcake!

YUM!! Superbly refreshing. The perfect fruity, herbal tea. Excellent over ice!

KO

another fruit tea overpowered by hibiscus- this one slightly tastes of strawberry at least

This is my husband's favorite tea and he doesn't even like tea. I make it as a sun tea because I think it brings out the flavors better. It's juicy and sweet and perfect for a summer's day.

I wish I liked this tea more than I did. There is just something about the sweetness that is almost artificial? Idk. Just not for me.

I find it overly sweet myself but I still don't find it tastes bad

Great over ice with a little sugar. It smells amazing in the bag.

Amazing strawberry tea, Great flavor. A little sour so don't over steep it but I enjoy it overall

Great taste, works best iced and with a little sugar.

This tea is amazing, it smells like strawberry candy and has a nice tart yet lightly sweet flavor to it. I do think adding just a bit of sugar really enhances it, but I love it on its own too and either hot or iced.

Pretty good strawberry tea. Had a nice aroma and tasted like strawberries.

This tea is so incredibly packed with strawberry flavor. I think it tastes particularly good as iced tea with just a little sweetener.

It's ok, I've had it hot and iced and when it's hot the strawberry flavor definitely is more prominent. When it's iced the hibiscus flavor is much more overpowering.

Sweet and fruity, I enjoyed this tea. It was a little bitter toward the end, though.

I love strawberries, and this is great. Tart and sweet, this is refreshing and lovely.

MJ

Heavy hibiscus notes. I was looking for more pure strawberry. All in all, not bad. Would make a solid iced tea.

I love this tea a lot. We drink it in the evenings. It's very sweet, but I wouldn't describe it as sugary—the hibiscus helps with that. It's a nice tea to unwind with. I agree with others, that it feels closer to a juice, but not as heavy or as sugary. I've drunk a lot of teas heavy on hibiscus though so I'm very used to its juice-like qualities.

This is a strong strawberry tea. I agree with its description that it is "almost dessert-like," especially after adding sugar. Would likely be good iced or with cream.

Iced or cold, I have a cup of this atleast 3xs a week. I absolutely adore it.

First off: this stuff is beautiful! Strawberries are the best, and this tea captures that. Great hot or cold with a bit of mint.

One of my absolute favorite teas by Adagio! A yummy, sweet, herbal infusion that's great hot or cold. 😁🥰🍵

Really lacking in flavor. Strawberry is a tough flavor so I understand why. Its very underwhelming

AM

This tea is okay hot, but is definitely better as an ice tea.

Very soft flavor. I make it for my kids instead. They look it cold with sugar added.

I agree with the reviewers who have said this is almost more like a juice than a tea. It's just right if you're looking for something sweet and vibrant.

A nice flavor, but I mostly taste hibiscus. Quite juicy, but not very sweet.

One of my favorite Adagio teas. It has a bold fresh flavor!

You can really taste how fresh the strawberry flavor is in this herbal tea. It's very refreshing and fruity and blends well with other fruity herbal teas as well. A delicious strawberry tea!

This is a real strawberry flavor, not the fake creamsicle flavor you often get. Live for this one.