by adagio teas



(13 reviews)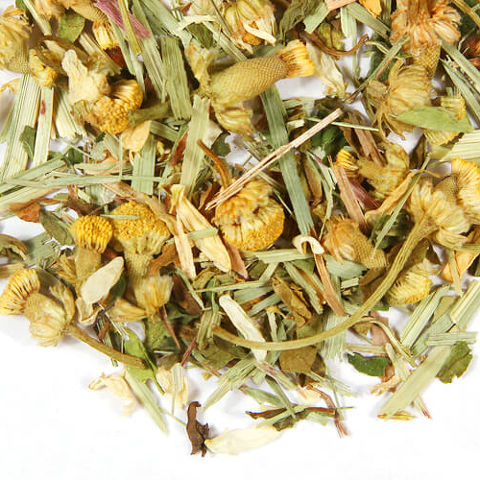 Much like the Cuban dance for which it is named, famous for its three quick steps ('cha-cha-cha'), Cha Cha deliciously mingles chamomile, peppermint and lemongrass into a wonderful herbal concoction sure to send your taste buds dancing with delight. Zesty flavor, layered in aromatics: cool earthiness from the mint, sweet, uplifting floral from the chamomile and lemongrass. This cup has a lot of depth. Enjoy any time of the day - this blend is naturally caffeine-free. Steep at 212°F for 5-10 minutes
Recent reviews
I was expecting more mint and lemongrass. I think there may be too much camomile for me.

Great mix! Not overt chamomile flavor. Perfect for relaxing tasteful drink without caffeine.

LD

A lovely tea, perfect for the evening. A nice mix of chamomile, lemongrass and peppermint. I didn't taste the peppermint much, but I'm not complaining.

MJ

Tastes like a mild mix of chamomile and peppermint. Not bad!

My boyfriend's favorite! It's such a nice combination of flavors!

This is a delightful evening tea to keep on hand!!

Chamomile tea usually isn't my thing, but this tea is absolutely fantastic. All of the flavors intertwine in such a magnificent way.

LD

I just discovered this tea and I love it. Honestly I'm not a huge fan of Chamomile but in this blend it just works. This is my go to afternoon and evening blend when I'm not looking for any caffeine.

I've been drinking this blend for over a decade. Its such a delightful, light blend that is perfect as an afternoon pick me up or a bedtime tea. Its really well balanced

This blend of chamomile, peppermint and lemongrass is one of my favorite decaf teas to have. I always keep some on hand for evening cups or when I feel like having tea without the buzz of caffeine.