by adagio teas



(24 reviews)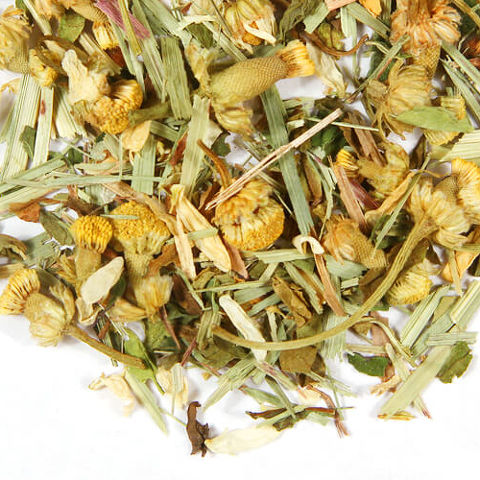 Much like the Cuban dance for which it is named, famous for its three quick steps ('cha-cha-cha'), Cha Cha deliciously mingles chamomile, peppermint and lemongrass into a wonderful herbal concoction sure to send your taste buds dancing with delight. Zesty flavor, layered in aromatics: cool earthiness from the mint, sweet, uplifting floral from the chamomile and lemongrass. This cup has a lot of depth. Enjoy any time of the day - this blend is naturally caffeine-free. Steep at 212°F for 5-10 minutes
Recent reviews
I am not a fan of camomile. The taste of it over powered all the flavors in the mix.

I only rated this a little lower because the tenacity of the leaves and flowers makes clean up hard. I'm a fan of the taste so I make a deliberate effort to clean out the infuser before I drink the tea.

This is a good nighttime tea, brewed at 212 degrees for 7.5 minutes I got mostly chamomile flavor with the coolness of peppermint, and not too much lemongrass (not a problem for me, as I don't like lemongrass that much.) Had it with a bit of sugar, but honey would also probably be good with an herbal tea like this.

When dry all I could smell was the peppermint and chamomile, so I thought those would be the most overpowering, but it was actually a really nice, even blend. You could pick out each flavor, but as a whole they tasted even better.

The chamomile is greatly enhanced by lemongrass. This blend is mellow, yet uplifting, good for any time of day.

CK

I don't know if it was just my portion but all I tasted was chamomile and the slightest hint of lemongrass. No mint noted. It's not inherently undrinkable but it's not my bag.

I'll preface by saying I don't like chamomile. This tea would be great if I did because there's a LOT of chamomile. I'll not buy again.

I was never wild about chamomile, but, while chamomile is front and center, everything plays well together. This is a clean and relaxing blend that will definitely be going on my wish list.

EC

I'm not really a fan of herbals, especially when they contain mint. I do love chamomile, but I'm not sure why tea blenders always feel the need to add in mint. This tea is reminiscent of Sleepytime, and the mint is very overpowering - giving my tongue that "cool" feeling. People who love mint will probably like this tea, but it isn't for me.

Definitely need to get more of this one! Each ingredient's flavor comes through and combined, they make a wonderful tisane to enjoy any time of day.

CR

decently good tea. It's got an interesting character to it. The two perdominat traits I found was lemon and chamomile.

Love all three of these teas individually so as a blend this is so good. Good nighttime sip to help me unwind.

I was expecting more mint and lemongrass. I think there may be too much camomile for me.

Great mix! Not overt chamomile flavor. Perfect for relaxing tasteful drink without caffeine.

LD

A lovely tea, perfect for the evening. A nice mix of chamomile, lemongrass and peppermint. I didn't taste the peppermint much, but I'm not complaining.

MJ

Tastes like a mild mix of chamomile and peppermint. Not bad!

My boyfriend's favorite! It's such a nice combination of flavors!

This is a delightful evening tea to keep on hand!!

Chamomile tea usually isn't my thing, but this tea is absolutely fantastic. All of the flavors intertwine in such a magnificent way.

LD

I just discovered this tea and I love it. Honestly I'm not a huge fan of Chamomile but in this blend it just works. This is my go to afternoon and evening blend when I'm not looking for any caffeine.

I've been drinking this blend for over a decade. Its such a delightful, light blend that is perfect as an afternoon pick me up or a bedtime tea. Its really well balanced

This blend of chamomile, peppermint and lemongrass is one of my favorite decaf teas to have. I always keep some on hand for evening cups or when I feel like having tea without the buzz of caffeine.