by adagio teas



(26 reviews)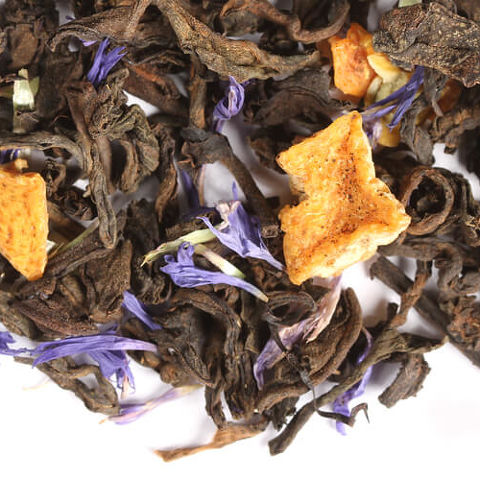 Rich chocolate and sweet orange bring a confectionary note to the gentle earthiness of pu-erh. Lively citrus lifts the blend while the warm chocolate and easygoing pu-erh are grounding and smooth. Reminiscent of a favorite treat. Steep at 212°F for 5 minutes
Recent reviews
This is delicious and decadent, like a yummy chocolate dessert. It is heavier on the chocolate than the orange, which is fine with me. This may be my favorite tea yet--I am loving the earthiness of pu erhs. It is just as good on the second steep.

Remember those chocolate orange things that were around during the holidays? Yeah. Pretty much.

Pu-Erh Chorange tastes like drinking a Christmas chocolate orange! I like to drink this blend with a dollop of cream and a sprinkle of sugar. This blend is a staple in my cupboard and one of my reliable regulars.

I love chocolate and orange paired together and this tea kicks those dessert cravings to the curb. Wish they'd make this into an herbal, non-caffeinated blend so I didn't have to drink a black tea at night

CN

I'm always a bit hesitant to try pu-erh teas since they've got such a distinct taste. However this is so pleasant! If you like those chocolate covered orange jelly candies, you'll love this! It is an awesome, strong tasting dessert tea

My first experience with pu'erh tea and I was not disappointed. The chocolate wasn't too artificial tasting and the orange was just right. I am just delighted in how dark and flavorful this tea is.

It doesn't smell too good in the pouch, since the strong orange smell immediately made me think of orange floor cleaner. It mellows out once brewed though, and the flavor isn't as aggressively orange as the smell. It's pretty nicely balanced between chocolate and orange.

This was just the right balance between dark chocolate and orange. Orange is a compliment to the chocolate notes, rather than the other way around. Reminiscent of a mocha Valencia latte.

Don't know if it was just me, but I got next to no chocolate flavor and this was mainly just an orange tea

Pleasantly surprised by this one! I'm not usually a fan of chocolate and orange together, but the earthy pu-erh went well with the orange, which was more of a sweet orange than tart. I like!

The chocolate flavor is nice, and I'm saying that as someone who generally doesn't like chocolate flavor in her tea. I do wish it had a little more orange zing and I would probably add some orange peels if I were to try it again.

To be fair, I didn't read about the hot rinse until after I'd steeped my tea. I added sugar and a touch of milk. However, it didn't taste bad. I got a very subtle chocolate and "fruit" taste I would not have identified as orange if I hadn't known it. It's not bad, just not a favorite.

Like a rich, tasty chocolate orange. The breakable kind that you whack and crack into pieces. Not an everyday tea for me, but maybe a good holiday one.

After tying and not liking Pu-erh Dante in last month's CommuniTea I was fully prepared to dump this one down the drain, but upon opening the packet I got a strong orange-chocolate scent and my hopes were lifted ever so slightly.

As suggested I did a quick rinse. My mind might've been playing tricks on me; I thought there might've been just the slightest of fishiness in the rinse, so I dumped it just in case (Dante really did a number on me haha).

I did a full 5min steep next. I got a dark, rich color, an earthy scent, topped with bright orange and smooth chocolate - like when I first opened the packet. Upon tasting it plain, the hay-like earthiness was too strong for me, even with adding some sugar, it still distracted a bit too much from the orange-chocolate. It was alright.

For the second steep the hay-like flavor was all but gone, and the orange-chocolate reined supreme. Again I sweetened with a bit of sugar; this was my favorite cup!

I'm a little surprised the flavorants managed to hang in for a rinse and 2 full steeps - in other teas the extra flavors are tired out by now. I'm temped to see if it'll give me a third steep.

Orange Chococlate is one of my favorite flavor combos, I'm really glad this tea beat my expectations.

Wow! Yum! I was looking to try this one for some time now. Perfect blend of orange and chocolate, reminiscent of Terry's chocolate orange.

CK

Maybe I did my rinse too long and that altered the flavor drastically but there was almost no orange flavor. The chocolate was smooth and decadent, though,

Really enjoyed the smooth, mellow pu-ehr used in this blend. The orange and chocolate aromas are nice, but there was almost no chocolate taste. The orange flavoring tasted ok, but left an artificial aftertaste for me.

works very well together to give the impression of one of those choc-orange candies... am slowly getting to like a "desserty" type tea

I just had this in a blend and it was a delight! It's very much like a chocolate orange.

This tea is brilliant. The combination of chocolate and orange is just amazing. So yumm

A lovely Pu-Erh. As others stated, this one is forgiving if you over steep it, not something to be said about most Pu-Erh teas. The chocolate orange flavor compliments the earthy deep taste of the Pu-Erh and makes it a delightful cup!

Great reliable pu-erh I keep as it is very forgiving of my oversteeping. This is not something that I would drink when I craving a authentic pu-erh

I was very excited to try this tea after seeing all the highly rated reviews, but ended up disappointed. The flavor is very earthy, but not in a nice way. There is only a slight hint of orange and chocolate in the aftertaste. Not sweet at all.

This may actually be my favorite tea. If you love terry's chocolate oranges you'll love this!!! very strong, with an amazing flavor.