by adagio teas



(27 reviews)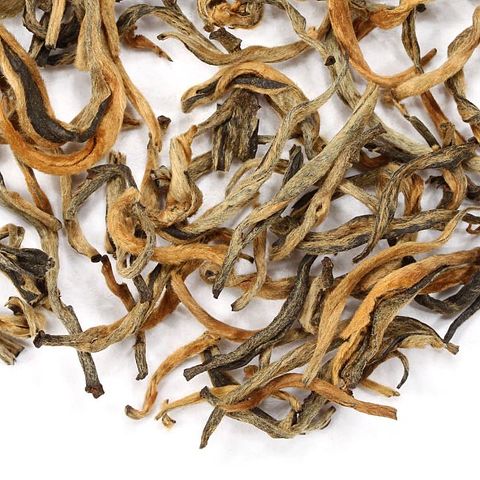 Yunnan Gold black tea (also known as Dian Hong) is easily identified by its abundance of soft golden tips, and savory cocoa and black pepper flavors. This artisan tea hails from the Yunnan province of China, the birthplace of tea itself. Our high-grade Yunnan Gold is milk chocolate creamy and sweet, with pleasant pepper notes. The flavor becomes earthier and more layered as it cools. Soft, rounded cup, silky and perfect. It is also a very forgiving tea and will not taste bitter when over-steeped. Allowed to take only one tea to a desert island, this "golden" Yunnan would be our clear choice. Steep at 212°F for 3-5 minutes
Recent reviews
A tea that lives up to every word of its description. I found it to be a smoother version of Yunnan Noir, with a malty chocolate undertone. I steep at 190°F x 2-3 minutes but have accidentally over-steeped it and not found it to be bitter. It also stands up to multiple infusions. Delicious tea sweetened or not.

Delicious tea! Smooth and soft with malty flavors, just a hint of astringency and no bitterness at all.

LB

Smooth and so good. Enjoyed this with very much with vanilla creamer. Don't hate! Learned to love tea in England, with a spot of cream.

WF

Very good. Smooth and strong. A personal favorite so far as black teas go. A bit on the pricier side, but definitely worth it

Smooth honey like delicious black tea. Careful to brew. I was blown away the first time I tasted it.

I bought this as a gift for my friend and she absolutely loves it!

(212* for 3 minutes) Yunnan Gold......Ah! This is one of my favorite teas. I order it nearly every time I order from Adagio, just to make sure I don't run out. It's earthy and mellow. Like a fine wine, each sip gets better.

honestly, i cant decide how i feel about this one, i need to be in the mood for it.

This is a wonderful tea - sweet, lightly floral, with a touch of earthy maple syrup and chocolate. Very soothing cup of tea!

JI

This tea is soo good. Not one of my favorites but i would definitely would buy it again

This is a really good Yunnan black, but I preferred the Yunnan Noir and even the Yunnan Jig a bit more than this tippy one.

CK

I feel uncivilized with the way that I've never been super into black teas on their own, but this one was good. I enjoyed it but probably won't buy more when my single serve portion runs out. But who knows, maybe another cup will persuade me.

I really enjoyed this one. It had a great flavor and was easy to drink with or without sweetener.

This was a really nice black tea. Although it wasn't flavored there was a lot going on. Recommended.

A fairly well balanced Yunnan, but it lacks depth.

Decent black tea with some flavor but not very strong

Sweet and earthy black tea, but it lacks any dimension or depth. Good cup of tea, just not my favorite.

Strong, smooth, and slightly chocolaty. It's a beautiful golden color and wonderful taste.

MW

Yunnan black teas are a personal favorite. They are well balanced and very "middle of the road" in terms of flavor.

While the price point is a little higher than most, it is definitely worth it. Smooth flavor, and beautiful color. Add a splash of milk for a little fun.

WOW! Great flavor, this is one of the best tasting teas I have ever had!! Smooth and delicious. Expensive but worth the cost!

This is my favor Golden tea it is so expensive though

Deliciously earthy, with just a touch of smokiness, this tea puts me in mind of a more subtle Lapsang souchong

A very nice smooth cup of tea. I enjoyed it with a bit of honey.

MP

I think I died and went to tea heaven. Subtle in flavor while warm, stronger as it cools. Not a hint of bitter on it. Just a great all around tea for my early morning.

I have been looking for a tea that tasted like a tea one of the local Chinese places makes, and I've finally found it. This is really good stuff. Its super rich in flavor, and I put just a little bit of sugar in mine.