by adagio teas



(36 reviews)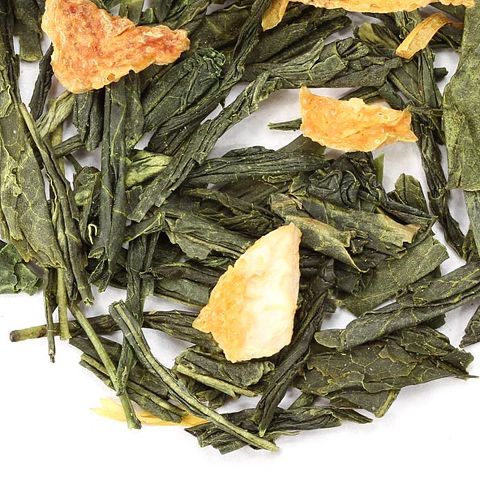 Citron Green tea combines green tea from China with delicate flavors of lemon and lime. The clean vegetal notes of the green tea blend seamlessly with the citrus crispness. Delightfully sweet, lifted by the freshness of the lemon-orange. Not too dry or too citrusy. Citrus Green is an Adagio customer favorite, perfect hot or iced. Steep at 180°F for 2-3 minutes
Recent reviews
An enjoyable crisp green tea with light citrus flavor.

LS

This is my favorite tea, and I enjoy it both hot and iced. I dislike "grassy" green teas. The citrus flavor is a nice blend and is not too strong in any one flavor. I definitely disagree that you taste the lemon more as mentioned in previous reviews. The flavors are not overpowering.

DZ

One of my favorite teas. Light citrus/lemon taste that balances the green tea very nicely!

Tasted too much like Fruit Loops to me! The way the milk tastes after you finish the cereal. Not my thing.

CK

Every time I try a tea with lemon as a prominent flavor, I'm always reminded of one particular fruity cereal made of multicolored loops. This tea, while definitely tasting like cereal, also has a distince vegetal, umami taste and mouthfeel. It's weird but very enjoyable.

Communitea packet - great way to sample Adagio teas - lemony and luscious !

Tastes like a green tea version of a sprite soda. I gotta say, I'm a fan. It's very light and refreshing, perfect for a lazy day at the pool.

Green is on a ride

Her friend, Citron, at her side

Riding motorbikes!

The race around town

Weaving around the traffic

Oh, what a fun ride!

(Haiku Review)

Nice light green tea without any bitterness or raw grassy taste. Sweet citrus flavor without tartness. Smooth and silky with a clean finish.

A pleasant green tea experience. Light, vibrant, and refreshing.

TR

Okay, I'm really enjoying this tea! It's really refreshing without being overpowering. If I had just woken up and I had a sore throat, it would be my top choice for what to drink

CB

So good, delicious and light. Love the clean taste

So far my favorite green tea. The citrus is refreshing and the green tea is not overly grassy or vegetal. I like it hot and love it iced!

This tea is one of my favorite greens. The flavor of citrus are great. I'm a big fan of anything with lemon or orange or lime. So this tea hints all the right points with me. 3 mins @180 hot and then I will do a second steep and let it sit for about 15 minutes and then put in the fridge.

More lemon than orange. But the lemon is not overpowering. Great with sweetener and iced.

Citrus based green tea, one note tea, does not get bitter or astringent if oversteeped.

The flavors from the citrus notes and green tea blend together well in this tea and I think anyone who enjoys fruity green teas would love this. I tend to veer more towards vegetal Japanese greens over Chinese ones, that tend to be much lighter, though. Just personal preference.

TB

This one wasn't for me but I may revisit it in the future after getting a little more used to flavored greens.

A nice flavored green tea, worked well with the green and the flavor.

The citrus in this really came through. If you like green tea and citrus you'll love this.

Lovely green tea with pleasant flavor. I had a good time drinking it

AW

Really good green tea! I found the citrus interesting without being too overpowering, like some teas. Less of a fruity tea and more of a gently flavored green tea.

MJ

The citrus notes were a bit too strong for me but it seems like a wonderful idea in concept. I'd drink it again but wouldn't seek it out. Maybe if the citrus notes were a bit more mild?

I smelled and tasted the orange in this tea immediately. I added a decent amount of honey, which blended nicely. Very good cup of tea.

Fresh, crisp, wonderful blend that is great on its own or blended with other teas as well. Highly recommend it.

Refreshing tang. I brew it for 3 minutes along with many of my unflavored black teas. Just lovely.

This is a great citrus green,, one of the best I've tried!

This one is great I really enjoyed it alot!! I'll try shin

Love this tea XXOO it does taste really good. Love it

EG

I liked this one, but it's not as flavorful as Adagio's Citrus Mint Green. This one is more subtle, and not quite as refreshing, but the flavor of the green comes through nicely. I think the Citrus Mint Green suits my mood more often, but I'll definitely keep this one in my rotation.

The citrus and the type of green tea used here go great together. The lush vegetal taste of the green tea goes really well with the bright lemon

Yum! Easily one of my favorite green teas overall, but especially from Adagio. The blend of citrus and green tea is just right.

TB

A perfect mild citrus tea. One of my favorites. The green grassy notes are subtle

Though I haven't had this in a while, the last time I purchased it, I was pleased with the citrus blend flavor in my green tea. It makes the cup bright and lightly acidic and it's good hot or cold.