by adagio teas



(38 reviews)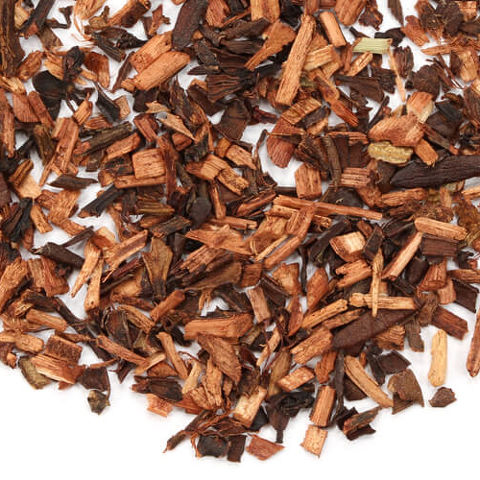 Our Honeybush Hazelnut combines the mellow smoothness of honeybush tea with the cozy creaminess of hazelnuts. Very nutty and aromatic, slightly roasty with a rounded, sweet flavor. Lingering honey-roasted nut finish. A mellow, very well-blended cup of tea. Great with just a touch of brown sugar. Completely caffeine free. Steep at 212°F for 5 minutes
Recent reviews
CK

The best simple caffeine free tea adagio has to offer! It's one of my favorites. I mix this with the vanilla and chocolate honeybush teas to make a nutella tea, and it's perfect! Great on its own, and great for blending with other teas.

great success in our house - adagio's honeybush hazelnut has a mellow sweetness with the nutty taste we were looking for !

I love the aroma and taste of the Honeybush Hazelnut tea! I steeped at 212°F x 5 minutes, and added a little brown sugar to bring the sweet nuttiness forward. Another nice add-in is cocoa nibs, for a hint of Nutella flavor. I also love how forgiving Honeybush is with steep temperature and time. Great tea for baking, too. A staple in my pantry.

If you like hazelnut and honeybush tea, you'll obviously like this. I am not a fan of hazelnut. I do like honeybush tea but I don't like the nutty/woody flavor added by the hazelnut. I brewed it for recommend 212F for 5 minutes.

Good but not a favorite. Hazelnut is nicely nutty but the honeybush is too mild for me.

Got this as a sample and it was delicious. I enjoy hazelnut. The aroma was pleasant and the taste wasn't to overwhelming. Nice and light

CB

One of my favorite adagio teas- honey bush. Coupled with hazelnut it is so good

A heavy hazelnut scent wafts from the dry tea. It makes a great hazelnut tea on its own, but it's even better with sweetener, and the best made into a late (being sure to steep it in 1/2 the water as usual since the steamed milk is added afterward to make up the difference)

Steeped 212F 8min

Excellent hazelnut flavor, bold like nutella, but less sweet. It's perfect for a punch of flavor late in the afternoon, or before bed.

EC

This is a pretty solid tea! The hazelnut isn't too artificial tasting to me. Honeybush is a mild tea that thankfully doesn't taste too much like rooibos even though they are related. I do get a hint of "cardboard" which I am just thinking might be the hazelnut flavoring Adagio uses since I've tasted it in a few hazelnut teas lately. It's not bad. I probably wouldn't order this again, but I wouldn't turn a cup down!

This was just ok. The hazelnut was prevalent on first steep but nearly absent on the second steep. It might be nice with cream, but I tend to drink my tea straight.

Steeped at 212F for 5min

Okay, but not a favorite. I generally like most things hazelnut, so I was looking forward to this. I want to try a plain honeybush to see if it was that that I didn't like, or if it was this particular combination.

I adore this tea! The flavors mix really well. And no caffeine to boot!

What a wonderful smooth, full-bodied cup. Sweet with honeybush and toasty and nutty with hazelnut. It's very aromatic and rich in taste.

CK

This tea is quite nice and takes added flavors very well. Definitely a good cup for sipping on in bed with a good book, which was just what I did.

Hazelnut is one of my favorite flavors and it pairs very well with the sweetness of honeybush.

I like the hazelnut flavor of this, but hazelnut frequently makes me think of coffee, and therefore disappoints me that this isn't like coffee.

CD

I'm not really a fan of hazelnut flavor, but I do love honeybush. It wasn't my favorite, but may'be I need to give it another go.

I was given this tea as a gift from my in law and it totally changed my life. I know I'm in love with 1/chocolate tea and 2/ rooibos

I'm definitely addicted to this tea. So yummy so earthy so good.

very yummy as a latte, but also good on its own. I love this tea.

This was one of my favorite out of the flavored honeybush teas. It's lightly sweet and toasty with the warm nutty hazelnut flavor. It's also pretty good blended with the chocolate honeybush, and nice with a splash of milk for a bedtime treat.

I have always found honeybush teas to be an enjoyable experience. This tea does not disappoint

IL

Very strong flavor, not for me. Maybe with milk? - but I don't like milk. No one in my household liked it

I recently bought this as part of a honeybush collection, and I made this as a hot tea with no modifiers. I liked it! It's excellent as a dessert tea, since it's subtly sweet and chocolate-y. Recommended!

This is my favorite tea! So warm and cozy and has the best aroma

Quite good! Not overpowering like I was expecting. I've come to like simple teas such as this.

It's like a Ferrero Rocher Hazelnut Chocolate in a cup. Very woodsy and nutty with just a hint of sweetness without coming across too strong. The smell is delightful both before and after the steep. A great beverage to enjoy with your favorite cookies or to wind down with in the evening.

Strong artificial flavor and smell. I do not like this tea on its own.

Its not my favorite. It tastes artificial and is way too sweet

Not a fan of this tea....it even went through my tea filter

This is a great, robust tea for late at night when you need caffeine free.

A friend made this for me tonight and I was hooked, smooth and sweet, the aroma itself is delightful. Harmonious blend and already craving more.

Absolutely delicious with milk and sugar, especially on a cold day!

J

excellent caffeine-free brew!