by adagio teas



(37 reviews)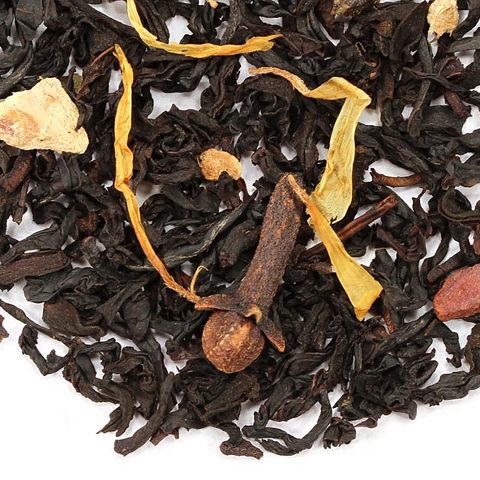 Premium black tea from Sri Lanka flavored with pumpkin and exotic spices. Autumn festivities just wouldn't be the same without the comforting, smooth sweetness of spiced pumpkin - and neither would your tea time. Warm and rich flavor, with lingering cozy aromatics. Steep at 212°F for 3 minutes
Recent reviews
CK

Tastes as expected. Reminiscent of a mild chai, but there is a slight bitterness. I added milk and honey as I would a chai, after I asted it without, and the spice comes out more. Yummy tea!

It's pumpkin spice? I mean you get what you'd expect, really.

Of all the holiday flavors, I liked this the least. It was just not for me.

I enjoyed this tea, for me it's a fall time tea. I enjoyed it with some cream and sugar

JF

I don't tend to get the pumpkin flavor, but the spice (which is my favorite part) comes through well. Also very good with a splash of pumpkin creamer.

This tea is perfect! It has a wonderful chai flavor. I steeped it at 200 degrees to avoid any black tea bitterness and added a very small amount of rock sugar crystals. It is the perfect way to start out on a cold, early, morning.

I'm not really getting the pumpkin spice quality. It definitely tastes like a regular nice chai. Regardless, it's still a nice tea.

All spice, no pumpkin. There really isn't any difference between this and any generic chai you might find. Had to mix it with a more pumpkin-forward tea from another retailer.

DB

This is not my favorite Adagio tea. That being said, it's still pretty dang good but not the true pumpkin spice flavor I was expecting.

TB

I was surprised how good this was. A very nice spiced adventure.

I really dislike pumpkin spice flavor so Im pretty biased about this tea. It isn't really bad, just not for me

MJ

Absolutely wonderful. It's so warm and nice, reminescent of pumpkin bread. Definitely one of the best spiced teas I've had.

AF

This is a tasty tea, but I was a bit disappointed that the spices weren't stronger.

EC

Although this isn't a tea I would necessarily drink every single day, I really like it - I got it in my Adagio Tea Club shipment along with the Candy Cane tea. The main thing I love about it is that it doesn't try to go the chai route (chai kind of turns my stomach). It also doesn't have too much of a "pumpkin" flavor, which can sometimes taste odd. It's just a solid black tea with a delightful blend of spices you might use with a pumpkin pie. It has great depth and is very pleasant, especially for the fall!

RJ

This has quickly become one of my favorites for Fall! The scent and flavor of Pumpkin Spice are perfect! On a side note, for a half-calf version that is a little spicier I mixed it with the Pumpkin Chai.

i'm in the mood for pumpkin spice, and enjoyed immensely. added a Tbs of canned pumpkin too

I was worried when I open the bag and was slapped in the face by an overwhelmingly strong scent of pumpkin spice, but once it was brewed up it tasted great and a little cream really mellows out the flavor.

I liked this more than I expected! The pumpkin isnt overly strong and doesn't taste artificial. I liked this for breakfast a lot.

This had lots of good spice but was a bit short on pumpkin. I wish the tea had more body for some reason.

AW

I found this tea quite bitter, honestly--neither a sweet and creamy pumpkin flavor or a spicy nutmeg-type flavor came through for me.

Very weak flavored tea. Prefer Harney & Sons for flavor

This tea smelled nice, but I wasn't satisfied with the taste. I felt like it had a weird watery squash undertone that was mildly off-putting. It also needed more spice.

I'm more of an apple cider girl than a pumpkin spice girl, but I got this in Adagio's CommuniTEA and it made a delicious latte with a little sweetener. It was perfect for a fall morning.

You can never go wrong with pumpkin spice. It just ushers fall in. But unfortunately I'm not really a pumpkin spice fanatic, so while I enjoy this and am glad to have it I'm not going to run out to grab it

Just wonderful. While I don't recommend this if you're looking for a less caffeinated version of a PSL, this tea is like a delightfully lighter option.

I thought I wasn't going to like this but it's honestly delicious! The spice and pumpkin aren't too strong but you can still taste them.

Wonderful tea for anytime of the year, works well with vanilla and milk and sugar. Slight pumpkin flavor and spices dont overpower it.

Perfect for the fall! The aromas given off by this tea are absolutely hypnotic!

A nice tea for when the weather cools. Great for Fall!

TS

This is one of my favorite black teas. You can definitely taste the spice by it isn't too strong. This is a perfect tea for the fall time.

This is an all-around good tea. With sugar, both the pumpkin and spice flavors are subtle. The spice is a bit more pronounced when you don't add sugar.

This is probably my favorite black tea from Adagio. I always drink a lot of this during October. The pumpkin spice flavors aren't too strong, but you can still taste them and they blend perfectly with the black tea. Tastes great hot or iced. It's like Halloween in a cup!

SS

This is a perfect fall cup. It is creamy, delicious and cozy.

I knew I would like this one when I found it in my advent calendar but I was still shocked by how yummy it was!

I wanted to give this full 5 stars but it would not let me! This is the only pumpkin spice tea that I like and I have tried many of them. I do mine at full 5 mins, and also at 3 min, it is great!