by adagio teas



(33 reviews)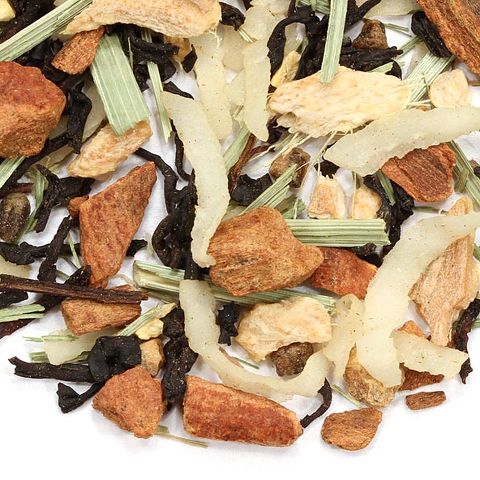 Creamy sweet coconut and playfully floral lemongrass highlight this succulent black tea chai blend. Let the aroma draw you in and you'll swear, you hear it beckoning to come closer, just take a sip. We suggest two heaping teaspoons per 8 oz cup, sugar, cream or coconut milk if desired. Steep at 212°F for 5 minutes
Recent reviews
This is a different experience but better than Mr. Toads wild ride. It is unique, soft and best served with cream in my book. The coconut-lemongrass-Saigon cinnamon works. It's softer than a masala but more complex and easier on the palate

This one was... well, weird. Normally I'm a big fan of all things coconut, but I just couldn't get behind this. The lemongrass seemed out of place and the cinnamon was overpowering. All in all, I'm glad I tried this as a sample bag instead of a big one.

KH

I did not love this as a tea, but the aroma was so intense, I was tempted. So I made a very strong pot of it, and then marinated chicken thighs in it, and barbecued them. OMG! Scrumptious! The flavor went all the way through the meat, and with absolutely nothing else added, this made an amazing meal! Who'da thought?

DR

kind of a strange blend of flavors for me if im being honest

The first thing I smelled when opening my packet was coconut and cinnamon. The directions recommend 2 heaping spoonfuls of tea per 8oz cup, but I only received one spoonful of tea in my packet. As I don't own a tiny cup, I opted to steep this tea longer than recommended (8 min at 212F).

While hot, I mainly tasted and smelled cinnamon. After the tea cooled a little, I tasted a lot more coconut. I believe the ginger and cardamom flavors were present, but they acted more like backup to the stronger coconut and cinnamon flavors. The cinnamon and ginger also leave a spicy feeling on your tongue.

CK

If I could give this negative stars I would. Lemongrass does NOT work well in this blend and it shows. I had a visceral reaction to the tea the first time I tried it and had to dump it immediately. This tea is a cacophony of conflicting flavors that taste like the way an upset stomach feels. It's tangy in all the wrong ways.

Excellent chai blend! It's not as robust as say a Masala Chai, but the tropical lemongrass and coconut really make for a special, aromatic blend. Very well-balanced with all flavors playing well together and none dominating.

SS

Very pleasant aroma and taste. A well blended mix. The tropical flavors are subtle and take turns coming to the front as the tea cools. It is a Chai light, but very flavorful at the same time. Yes it is another favorite for me.

When I worked at Teavana they had a Thai tea that just had vanilla and coconut in it. Since I'm not big on chais, I watered this down a bit and chilled with milk, rock sugar and vanilla extract. It made for a very pleasant drink.

I've had it a few times, and while it's a neat chai to try if you want to branch out, I find the lemon grass is a bit too overpowering for me to completely enjoy it.

While the chai spices I love so much are fairly weak, the coconut is nice. It's very coconut forward.

KB

Not a bad tea, but not enough chai flavor for me, and the cocount is overwhelming.

imo this is a buy and try - wonderful tea, nice blend and totally enjoyable ... join us in communitea ! daily new flavors to try

This tea is excellent, one of my all time favorites, one I keep in stock at home! All the flavors come through nicely.

I. LOVE. THIS. TEA. So sweet and surprisingly light. Barely needs any added sugar. Really recommend with some frothed milk.

Very unique cup of tea. The coconut and lemongrass work very well with the chai

This tea misses the mark. It isn't spicy enough to be a good chai and the added fruit is just a little strange

I'm a fan of bold chai, so this one is a bit underwhelming for me. Taking my preference away, it's a pretty good chai. Has a bit of a citrus flavor to it. I tried it with sugar, but I think I'll try honey next time.

Very good! Lovely Coconut flavour that really brings a sort of roundness to the tea!

An unusual but surprisingly good combo. Not for everyone, but I enjoyed it.

EG

Just tried a sample of this, and loved it. It's a nice twist on the usual Chai, and I enjoyed the refreshing addition of lemongrass. I thought the coconut was subtle, but some reviewers have said it tasted strong to them. I'm wondering if my sample packet just didn't have much coconut in it. Either way, I will definitely be buying a whole pouch at the end of the summer to take me into Fall.

Just finished mine off this morning. Will be ordering more for sure. Very good flavor. Not too strong, but not too weak.

Delicious chai blend! I tried a sample of this and plan to buy my own bag of it.

Robust black tea with a strong (cloying) coconut flavor. Didn't work for me, but if you like coconut this might be the right tea.

Ive gotten this one as a sample with my other orders and used it in personal blends and its amazing! I really like how the coconut works with other spices. I always add milk and sugar. Really good when mixed with the pu erh tahiti!

Not a fan of the lemongrass and chai combination, too lemony.

This is absolutely my all time favorite tea. I love the coconut and lemongrass flavors together. It reminds me of the tea I get from my favorite Indian restaurant, and I think that this blend's flavors translate really well when you make it like authentic chai with hot milk. Some chais just end up tasting like, well, warm milk, but you can really taste all of the spices in this blend.

A unique tea quite different than any I've tasted before. The coconut isn't overpowering, so even someone like me who passes on coconut-flavored treats finds this tea perfectly agreeable. The most prominent flavor is the lemongrass, with the coconut offering a mild, mellow, smooth complement. Best served with 2 heaping spoonfuls per cup! I also love that it's highly caffeinated (perfect for early mornings) without the black tea taste that comes with most high-caffeine beverages.

JG

an excellent tea with a little bit of coconut milk and sugar

I was hoping to get a bit more coconut flavor out of this but I think the lemongrass overpowered the coconut. It's still a great tea but if you don't love lemongrass then this tea isn't for you. It isn't a traditional chai but a very good tea for early afternoon.