by adagio teas



(31 reviews)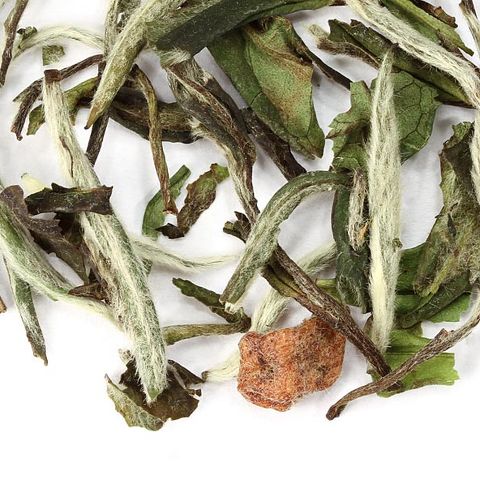 Premium white tea from Fujian region of China infused with the taste of ripe pears. Warm and sugary aroma, like a freshly baked pear, with a pear skin crisp finish. Wonderfully smooth and rounded, perfect hot or iced. Steep at 180°F for 3-5 minutes
Recent reviews
Lovely white tea scented and flavored with pears. I steeped a heaping teaspoon in 6oz of water at 175°F x 3 minutes. The tea is light in color and flavor, which is typical of delicate white teas. The subtle hint of pear needs no sweetener to coax it forward. A "pear-fect" white tea for sipping hot. Would also be refreshing iced.

KW

This tea was very delicate and light. I added sugar to bring out any flavors of pear. The pear could have been stronger in my opinion.

CK

Very delicate fruit flavor. Not too sweet. not too artificial. Not a distinct pear flavor, just a delicate fruit flavor. Only tried this cold and it was very refreshing.

I have fallen in love with this tea. It's smooth and has a lovely sweetness that surprises your palate with pear. This tea has become one of my go-to cold brews.

Really enjoy white teas, for flavor, for health, and for the fun of knowing once only emperors could drink them.

Adagio's white pear is sweet and subtle, so very enjoyable!

It was a whole lot of nothing. I didn't smell or taste the pear I was hoping for. It's probably better blended with something else to bring out fruit flavor.

I love this tea, it is very night and refreshing. One of my favorites.

Not a lot of pear flavor or smell. But as just a white tea its fine.

It's a very subtle, sweet pear flavor. Depending on what you mix it with and how much of it you use, it cam also be surprisingly nice in blends.

Soft, gentle, and sweet. A calm and relaxing tea!

One of my favorites. The flavor is very subtle and light, but that's why I enjoy it!

TB

Not a ton of the fruit coming through here. It's a solid tea but adagio has more interesting white blends.

KK

Very soft and mild smooth white tea with a very subtle fruity undertone. Very nice for an afternoon break.

I didn't get a huge pear taste, but I enjoyed how light this tea was. Iced with a little sugar.

I was very disappointed in this tea because I couldn't taste any pear.

Decent white tea. I just don't think I'm a white tea fan. This is better than their white peach however.

Subtle pear flavor, but I added some brown sugar and cinnamon and it tasted like fall in a cup!

Subtle, but present pear flavor. It doesn't overpower the base white tea, and is very good.

The flavor of the pear didn't really come through for me. The cup was ok but nothing special.

Decent white tea with a hint of fruit. Not very strong tho

good tea. The tea however tastes nothing like pears. Slightly fruity, that's about it.

AW

I couldn't get past the very strong, unpleasant smell of the batch I got, I'm afraid.

Light flavor, don't taste a distinct pear flavor just white tea. Tasted better as it cooled.

A wonderful summer tea treat- crisp and refreshing

This is a lovely juicy pear flavor that complements the delicate sweet melon flavors of the white tea really nicely. Soft and subtle, and works well with western style brewing or multiple infusions in a gongfu session.

Very subtle, but you definately taste the pear. Unusual, refreshing.

This one really surprised me. The pear goes really well with the green tea. The pear flavor is a little light, but I think it works

I wish I could taste the pear more, but it's still there despite being subtle. Nothing too special about it but it was still refreshing. I love pear, so hopefully this tea will get updated in the future with more pear flavor! Pear teas are hard to find.

Mild grassy flavor and fruity scent. Not much pear flavor. Very light tea.

I love serving this tea warm. It's very light and subtly fruity and the best peach tea I've had form Adagio.