by adagio teas



(31 reviews)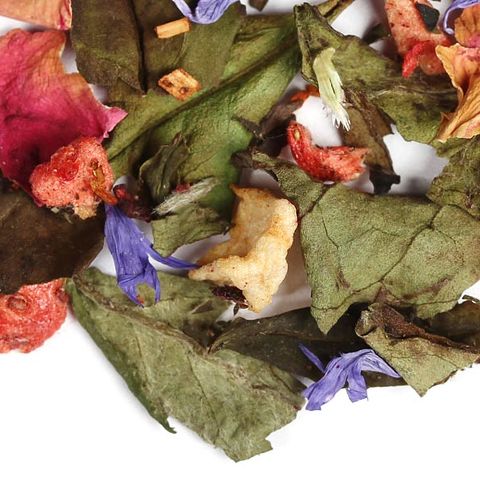 White tea from China with inherent melon notes makes a tasty base for this homage to the fabulous strawberry. Ever popular, strawberries can lift the spirit and please the palate. In this complex blend with strawberry overtones and a hint of vanilla, the Queen of Berries reigns supreme. Steep at 180°F for 3-5 minutes
Recent reviews
CK

Very light and refreshing tea. Compared to the strawberry basil, I would recommend that one first, hence the half star removed. That one has something extra special, and this is too plain compared to that one. There is also a slight medicinal taste and smell to this one, not sure if it's the cornflower, but it goes away as the tea cools. Otherwise, taste as expected. Good tea!

AD

I love strawberry teas in all forms. This isn't my favorite but I will reach for it in the evening before bed

Pleasant, but very unassuming. I would serve this to myself, to children at a tea party, and to friends as something light. Perhaps not at a formal tea.

The strawberry wasn't very strong in this white tea. Perfectly fine for a nice hot cup, needs more to blend with to have an iced cup. Is an amazing base, but needs help

I loved this tea. The strawberry flavor was delicately sweet. This might be one of my favorite whites.

I loved this tea. A very nice soft hint of strawberry. This tea is perfect for sitting around and relaxing in the afternoon

JM

This is a great fruity blend! The rooibos adds a more hearty flavor than the white tea alone could add, with the strawberry coming through. This was delicious hot and iced!

CK

This is one of my top 3 favorite flavored white teas. Oftentimes the flavoring overshadows the subtlety of the white tea itself but this one was a gentle ray of sunshine that highlighted the white instead of masking it.

I am not a huge fan of white tea, but this one was pretty nice. It had a lot of strawberry pieces so it had a reasonable amount of strawberry flavor when brewed. I would recommend added a little sugar because the dried strawberries have a tartness to them.

The White Strawberry tea offers a full sensory tea experience. It is so pretty out of the package, with colorful bits of fruit, rose petals, and blue cornflowers tucked in among the tea leaves. The sweet aroma is of strawberries and vanilla. I steeped at 180°F x 2 minutes, and added just a tiny bit of sweetener to bring the strawberry flavor forward. I didn't distinctly notice the rooibos or other flavors, but found that they blended together to provide a richer backdrop to the strawberry flavor then would white tea alone, which allowed for a second steep. Very good sipped hot, but I think this would also be fabulous served as an iced tea.

This tea has a strong strawberries n'cream scent. The is is a nice light white tea that carries plenty of flavor. Good hot or iced.

Steeped (1) 175F 1.5min (2) 2min

EC

This would be really good except for the added rooibos, which I can't stand. It has a rancid flavor that makes everything taste bad, and this tea would be amazing except for that.

I'd love to see a white strawberry without rooibos.

I brewed a cup and stuck it in the fridge to chill for a couple of hours. Good flavor of strawberries and white tea. Although there was rooibos in this blend, I was not picking up that flavor in my cup.

Very nice light tea, with sweet aroma and tastes of vanilla and strawberries. Really enjoyable.

ok, so normally i dont like the fruity teas, but i do love the lightness of this one.

i like to dry strawberries - adorable slices and nice additives to tea - this is a great tea TY adagio

JP

I followed the instructions on the bag and used two teaspoons for my cup and steeped it at 180 degrees for three minutes. the taste was fine but i could not get over the the smell. it smelled like a medicine that i had when i was a child and i cannot get over it.

Great strawberry tea. I like to add some vanilla tea to make it more creamy. Also for the plain and clean version, I like the basil strawberry better

One of my favorite summer teas! Light, fruity and tasty! Nothing overpowers the other flavors-it all just blends nicely for a very nice cup of iced tea! If you want a little more flavor, just add a touch more tea to the brew. I always have some of this on hand!

A favorite of mine. Use it often in blends as well. BGreat strawberry taste without tasting artificial like so many other tea brands.

Light and fruity, this is a perfect combination of white tea and strawberry. Highly recommend for any fan of either.

Not my favorite but my boyfriend loves it! A nice soothing tea, however. I find the strawberry to be overpowering.

CL

I tried this with a friend and found it to be a great fruity tea. It's nice and sweet and has a good aftertaste.

Very good! I tend to find most of the fruity teas to be overpowering. This one hits the spot!

A nice, light, fruity tea. The flavors are quite subtle, but you have to be careful not to oversteep. Not the best if you prefer teas with bold flavors.

Absolutely delightful! The flavors are light and well balanced and this tea is refreshing

I would opt for the Adagio wild strawberry tea instead. This tea smells a bit synthetic.

One of the best smelling teas! The flavor is more subtle, but the strawberry flavor comes through and makes for a nice and light white tea. Very refreshing iced!

Love this tea! Nice and light strawberry flavor!!!