by adagio teas



(38 reviews)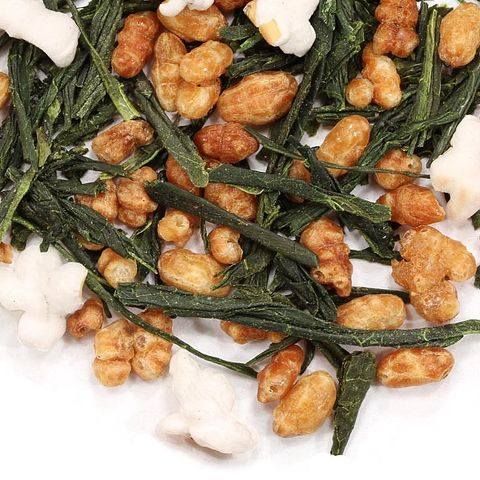 Genmai Cha is a classic Japanese green tea, blended with toasted, popped rice. Originally created to stretch short supplies of tea, now enjoyed by tea lovers here and abroad. Warm and nutty taste, with a lovely savory quality. A hearty cup of tea that is easy to combine with food. Genmai Cha is a great solution for those seeking a substantial, but less astringent, flavor from their cup. Steep at 180°F for 2 minutes
Recent reviews
KW

I liked this one. The toasted popped rice was so unique flavor profile and I really enjoyed the cup. I like the energy from green tea as well.

First, I am not a fan of Japanese green teas, which I find to be to savory generally. This tea includes a savory toasted flavor from the added rice. Adagio's version is a superior blend. Steeped 3 minutes at 170 degrees.

The scent is like a toasted rice cake and the tea has a subtle earthiness. Very light and nutty.

This tea is a pretty pale green color, with a unique and satisfying aroma and flavor that reminds me of a rice cake. The mild, toasty, nutty flavor doesn't overpower the delicate green tea base and pairs well with honey. It is very satisfying and could be sipped alongside anything.

TR

Personally, I thoroughly enjoyed this tea! It has a toast-y flavor that I didn't like at first sip and then fell in love with over the course of the packet from Adagio. I've recommended a couple of friends give it a go, though I think this is probably not a flavor profile that everyone will enjoy. I found it savory and comforting, like a warm bowl of soup. I'll definitely be seeking out more of this and possibly some teas like it. This may be sacrilege of some variety or another, but this is my favorite Japanese tea I've tried so far

AD

It's a roasty toasty green tea. I like it with just a touch of honey.

Fantastic! One of my favorite teas I tasted out of the green tea sampler box. It has a unique, nutty, rounded, toasty rice flavor that I love. It is reminiscent of Rice Krispies, but in a good way! This tea makes me happy, like my soul just got a big old hug. I can't wait to buy more of this! :)

It's a nutty green tea. Looks and tastes very interesting.

One of my favorite teas, I wish it came in decaf!!

A solid genmaicha! Not my personal favorite, but still a good tea. The toasted rice adds some nice dimension!

Interesting green tea. Nutty and popcorns and very fun to look at.

I loved the savory taste of this tea, it felt like I was eating a full meal.

I discovered Genmai Cha at a huge Asian grocery store, and instantly fell in love. It's not for everyone, but if you like green tea, might as well give it a try!

Personally, I love the rice flavor, but that's just me.

EC

I got to try this through the Adagio CommuniTEA program, and I even though I'm giving it a low rating, I'm glad I got to try it. I usually choose/prefer fruity teas so this was a complete departure. It smells like a bag of puffed rice cereal (not particularly appetizing) but it does taste slightly better than it smells. It really just reminds me of eating sushi while drinking green tea - not totally an unpleasant feeling. The kids and my husband didn't like it at all. I wouldn't buy this again, but I'm glad to have had the experience.

Like a cup of rice krispies mixed into a cup of sencha, which I guess is exactly what this is. The puffed rice flavor didn't do anything for me.

I had a hard time choosing the right words to describe this, but really it just tasted like puffed rice. It's blowing my mind lol. If I had to describe it another way, I would say toasty and maybe a little nutty. I don't think it'll be in my regular rotation, but I liked it.

With added sugar, it tastes like honey smacks cereal. It's good, and goes well with food. It paired well with beef and broccoli lo mien, and I could see myself just having it alone as well.

I've noticed this tea before in stores, but today's CommuniTea is my first time trying it. I'm guessing the strong scent is the puffed rice, because it doesn't smell like green tea. It was more savory than I expected, even after adding sugar.

It was interesting to try, but I don't think I'll be buying more.

CK

Absolutely amazing. I've never loved savory teas ala chai but this one might be my favorite overall! The rice is prominent but doesn't completely overshadow the green, which balances the tea and adds a sense of delicateness and duality. I had to stop myself from drinking my whole portion in one day and hours later I still don't know how I managed to do it. That's how delicious this tea is, folks.

This is my staple tea. I love the toasty warm rice flavor. It's good for resteeping--I get a good three rounds.

First off, this tea is fun to look at with it's green leave, yellowish toasted rice and white popped rice. It's almost novel. It smells great before and after it's brewed and tastes really good.

LD

This is a pretty decent cuppa. A very light flavour. The toasted rice was a nice change, reminiscent of a local sushi restaurant. It did get kind of a weird aftertaste the more I sipped, though.

I love this stuff. Great for times when you're in the mood for something savory.

Gonna be a weird description, but it kind of tastes like onigiri in a cup, and I'm liking it.

AW

This tea really does taste like the toasted rice it contains! It's really unique. It's nutty, smooth, and filling--would recommend!

Simply fascinating. There is no other tea like it, and any serious tea connoisseur owes it to themselves to try it. Earthy and nutty with traces of brown grain residue that will remind you of unsweetened rice crispies (the aftertaste, especially!). This may very well be one of my favorite green teas, and you can't help feel you're expanding your knowledge of culture and cuisine while you enjoy it. Definitely recommended.

As an American, we can often be intimidated by the various kinds of tea that are out there. I've noticed that most Americans don't like green tea because they scald it with too hot of water. If we are to truly enjoy green tea, such as this wonderful one, we must put in the effort.

A very different but lovely tea that got me hooked on Japanese green teas. I find that steeping it the full 2 minutes is a bit too long so I go around 1 minute and 30 seconds. The flavor is light and toasty and so comforting.

#1 tea!! Genmai Cha is delicious! I love the nutty rice flavor.

This reminds me of traditional Korean brown rice tea.

EL

one of the classics and my all time favorites, tastes of home and comfort

One of my favorite teas. I can drink this daily!!!

SH

One of my favorite green teas. It's nutty and not bitter. I love to coat mine in matcha powder before brewing

JK

Much better than other brands that i have tried. Worth paying a bit more for this one. Its not bitter at all, but clean, light & toasty because of the rice.

I perfect Genmai Cha. This tea has a great balance of sencha green tea and the brown rice

One of my favorite Adagio green teas, this nutty, popcorn green tea.

So good. Tastes like green popcorn or rice cakes. This is a great afternoon tea.