by adagio teas



(3 reviews)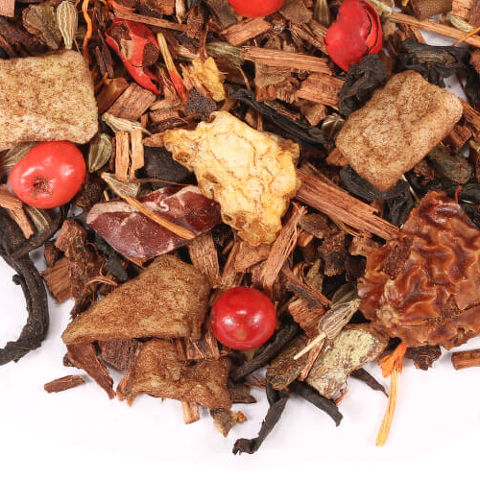 Crisp autumn nights call for warmth and comfort and little can better provide them than an autumn
Bonfire
. Behold our
Bonfire
blend: Honeybush hazelnut and cocoa nibs relax and ground you, while a spice blend of aniseed, cinnamon, clove and orange peel offer cozy comfort and zest. Apples and rose hips add soft sweetness while lapsang and red peppercorn offer hints of smoke and the flickering spark of heat. A perfect tea for fireside enjoyment or downtime dreaming. Steep at 212°F for 5 minutes
Recent reviews
Bonfire is a tea that brings autumn to mind and truly is best enjoyed during the cooler months of the year. Being nearly caffeine free makes it the perfect beverage for a cozy evening after a long day (and in my opinion has a slightly sedative effect). My steep brought the honeybush and clove/peppercorn flavors to the forefront, creating a taste much like the scent of a fragrant but spicy candle shop. Those who find pure lapsang to be overpowering may find a more welcoming and subtle alternative here. This tea truly is an unusual blend of flavors that's worth experience (even if only as a sampler), especially from September - November.

I wish this was offered all year round! It's reminiscent of everything fall means. Anyone from outside a city limit can resonate with the warm smoky flavor of this tea.

This one is definitely an acquired taste. I love the idea of it and I can see how this could be a favorite for some but there was too much of the smoky flavoring for me. I tried it with almond milk and honey as well but still didn t love the taste.