by adagio teas



(29 reviews)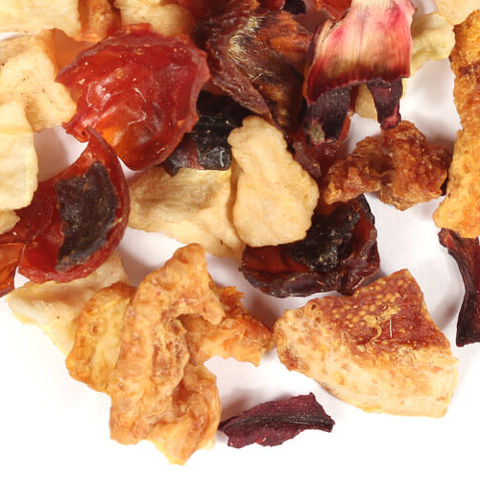 Let your heart be light! This herbal blend is a lovely duet of classic holiday flavors (cranberry and orange) with the added sparkle of cinnamon spice. Bright and festive, tangy yet sweet. Steep at 212°F for 5-10 minutes
Recent reviews
It's okay. Not my favorite but if it was offered I accept. I won't purchase again. Perhaps it was missing something for my tastes.

The citrus overpowered everything else. With much less orange, i think this tea would be amazing, but as of now, not for me. A good mouthfeel though.

CK

In the bag, very yankee candle. Too strong, was hesitant to taste it, but gave it a try. too much fruit, too much spice, just too much. However, nce brewed, the smell mellows out, and the flavor is not as strong as expected. Only tried hot, but it tastes like a spiced compote. Very tasty mix of flavors. I didn't brew it too strong because of how strong it smelled in the bag, and it made a nice decaf cup of tea!

I think this one was too everything. The orange ruined it for me.

Got a bit of a tang to it, but still pleasing. No need for cream or sugar.

This one was too tart for me. Even with added sweetener.

the tart TANG of cranberry is very nice in this tea, most enjoyable

I loved this tea. Had to order more after having some in a sampler pack. Sweetened with a little of the rock sugar crystals, and it was perfect!

JM

a good winter tea, needs a bit more spice to be perfect, and a bit less bitter.

It smelled like bubblegum and a was too tart on its own. I added honey whiskey and sugar. The sweet balanced out and pair with the tart, it was the teas saving grace.

MA

This is a festive tea. The blend of orange, cranberry and cinnamon with the hibiscus tea make for a wonderful celebration

Reminds me almost of wassail, just with less apple. It has all the wonderful tastes of chrismas that i just love.

I love this one! It's fruity with just enough spice to make it taste like Christmas. Of the fruit, the orange stands out the most to me and it blends beautifully with the spice. Might try with some honey and an added cinnamon stick next time.

Very nice, fruity, tart tea with a hint of spice. Probably great iced, too.

Very Christmas. A nice blend of apple cider and cranberry flavors. Going just a hint stronger with the spices would have made this a 5 star review.

CK

Definitely Christmasy in flavor but I feel like it would be a bit better with a stronger and more complex fruitiness to it rather than tasting mostly like cinnamon apple.

Upon opening this packet, it smelled like bubblegum. However, the flavor is all holiday inspired with orange, cranberry and cinnamon with just a hint of cherry. Lovey sip on a cold winter day.

AF

Fruity and sweet! Lovely hot, especially if brewed strong with a nip of whiskey added ;)

RJ

Love this tea! This is one of those that is light but still flavorful, and I would even say it is one that you could drink year round.

TA

I love the flavor of this holiday tea. I dont drink it often but I love it during the holidays. Very fruity.

Love this tea! Perfect for a festive evening in the winter!

I loved it. I drink it year round. Excellent balance of flavors, and I found it needed nothing else.

Better when mixed with something else. Not quite strong enough to stand on its own, and tends to get a bit more tart/sour when steeped longer to try and pull out a stronger flavor.

Reminds me of a fruitier version of good earth. Not a bad flavor and great for a cold day

This tea is like a spicy Christmas! It's has a great combination of flavors that taste so festive together. I think my favorite part is the cranberry flavor.

I didn't think I would like the combination but I was surprised by how nicely everything blended. The orange and cinnamon was very prominent but not overpowering. A great tea for the Christmas season!

A very good tea, I get it in bulk when it's in season & drink it all year round. You can definitely taste the orange, cinnamon & cranberry in it, they're all strong flavors.

I'm really hoping Adagio brings this one back for the Holiday Season. I love this tea. It kind of reminds me of Trader Joe's Winter Wassail so if you love that tea, you'll love this one as well. It's fruity but spicy. A great combination!!