by adagio teas



(66 reviews)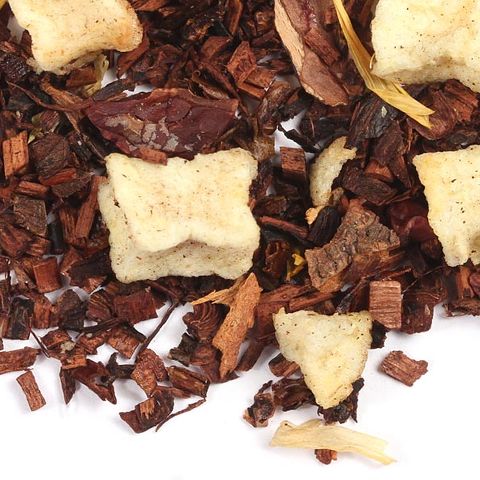 One sip of our Honeybush Banana Nut tea and you'll feel as though you're standing in the middle of your local bakery, about to take a bite out of a freshly baked muffin! This smooth brew deliciously combines your love of baked goods with our full bodied honeybush tea. So not only is it sugar free, it is caffeine free as well! Making it the perfect indulgence for both morning and night. Steep at 212°F for 5 minutes
Recent reviews
SD

This tea is incredible! The banana and nutty flavour works really well with the honeybush and it's an ideal evening treat, like a pudding in a mug.

My go-to evening tea. The banana nut bread flavor is gentle and comforting. I typically brew this at 212° for about 8 minutes, and serve with sugar. I never leave home without this tea.

Good. Not my favorite honeybush but nice for brunch.

The banana isn't as fake as some. The nut is chestnuty. The honeybush is sweet. It's a balanced treat.

KS

Fast becoming my favorite tea. My daughters love it as well.

I usually avoid banana flavored things, but this is actually delicious. It has a not quite real and not quite fake banana flavor, and the taste does make you think of banana bread. There is a natural sweetness from the honeybush, and the chestnut flavor as the "nut" component really adds a nutty, woody flavor that also hints of caramel. Overall, a very tasty cup of tea.

The smell of this tea is everything youd want it to be. Banana bread fresh out of the oven. However I barely tasted the banana once brewed. Spice and nut notes are strong throughout the consumption of this tea. It is slightly sweet but better with bothered flavors with honey. I find it to be a comforting tea, ideal for evening.

I really love this tea. I will create a keto latte by adding a Tablespoon of ghee and two tablespoons of Half and half with a few drops of stevia. It is decadent!

Nice dessert tea. It really does taste like banana bread in a cup without the mess and time of baking. No one can refuse this.

CN

The banana scent is strong. However when steeped, a lot of the banana flavour goes away. To help, I'd steep it extra long and add a bit of sugar or honey. It's great after that!

DL

Yes, a tea that taste like a slice of banana bread. Great job creating a wonderful morning tea.

Despite accidentally dumping nearly a third of my sample packet on the ground, this is delicious! It's sweet with a touch of banana and a nutty finish. I'm not a big banana person at all, but I really like this blend! Steeped for 5min at 212F

I love this tea. This is light drinking a cup of Banana bread.

There's no better smell than homemade banana bread baking, and maybe no better comfort food than a slice of that warm, buttery bread right out of the oven. Adagio has managed to capture that aroma and flavor in this tea.

Steeped 212°F x 5 minutes. Second steep is weaker in flavor.

I love banana brea! So I was excited to try this tea out. This tea smells divine! Nutty and banana-y lol.

Thankfully the banana flavor is not candy-lie, like laffytaffy. The flavor is a good likeness to banana bread - not a perfect one to one, but it's similar enough to connect the dots.

Besides the chestnut, the honeybush also brings its natural woody sweetness to the party. It actually helps hammer in the 'bread' or 'baked goods' aspect of the flavor for me.

Sugar helps enhance the flavors, but since honeybush is naturally sweet one has to be careful not to oversweeten it. Milk or cream are also a welcome addition.

Steeped 212F, 5min

OMG, so good! Waiting for it to brew was torture! It smelled amazing-just like banana bread out of the oven, and it tastes just like it as well! Love this and its perfect when you're craving something sweet. I will always have a bit of this in the house as long as its available.

EC

I've been sort of on the fence about honeybush since I don't like red rooibos at ALL, but this tea is amazingly delicious. I was so surprised how much I loved it, It really does taste like a banana nut muffin - with NO weird aftertaste or smell. No complaints - five full stars! I would totally buy this again!

Liquid banana bread. That's the only way I can think to describe this tea. If you like banana bread, you'll really like this.

One of my absolutely favorite teas!! It really does taste like banana nut bread!!

The tea leaves had a cloying scent of chestnut syrup and banana. On the tongue this tea is very sweet; with maple bourbon vanilla, chestnut, and banana syrup - which would be good if there wasn't an odd chemical aftertaste on the backend. Can't say I will be purchasing again.

JP

This is one of my favorite teas. I love banana teas and this a top of the list tea

Smells and tastes exactly as described. Depth and breadth to flavor, does not get bitter if oversteeped. One of my favorite blends!

Banana nut bread in a cup. This is an excellent dessert style tea that stands alone or goes very well with baked items.

TB

This is about as good as dessert tea gets. Absolutely tastes like a banana nut muffin.

Really nice yummy tea! The banana flavors comes through really well.

I sipped on this tea while eating a slice of banana bread and it was the perfect combination. Highly recommend.

KH

By far my favorite year-round rooibos. The flavor of the banana nut bread comes through strongly, and I add a little sugar to keep the sweetness going. This is one I never let myself run out of!

KO

Warm banana bread flavor- does not even need sweetener

Has a nice banana bread flavor, and blends well with chocolate or nutty teas if you want to mix it with something caffeinated.

This one was great. I was skeptical at first, but once I opened the packet- fresh baked banana bread! Must repurchase.

JD

This tea has an excellent scent as well as an excellent taste! You will feel as if someone is baking banana bread in your kitchen, and the flavor is very true to the name.

A great tea from adagio! I like that you can taste both the banana and the honeybush. A great tea to keep on hand for drinking in the evening!

MJ

Very very banana-esque. I'm not sure what I think of it to be honest. It's not bad, but the nut flavoring is meh. The banana flavoring is quite good though.

My absolute favorite. Sweet, banana-y, and perfect with a little milk and sugar or creamer. Sprinkle a bit of cinnamon on top for an epic treat.

This certainly smells like banana nut loaves in a bakery. The flavor of the banana and nut is weak. I ended up doubling the steep time and put a touch of stevia in it.

AW

This is a great banana nut tea! It is a comforting, warm flavor, although I would love if it was just a touch stronger or maybe had a bit of caramel flavor to fill it out and then it would be PERFECT

This is a very tasty tea. I love the flavor combo. Recommended.

CD

True to its name! No artificial taste. Great as a hot latte!

VM

Nutty aftertaste, banana undertones. Perfect with bread and honey.

Nutty and naturally sweet, this tea really does mimic the taste of a banana nut muffin.

Yummy dessert tea. Perfect to finish any meal!!!!!

This tea is suuuper good! To make it a bit stronger I use more than a teaspoon per cup, and then steep it for 30+ minutes.

KK

This tea is solo good, you can skip dessert! It's dessert in a cup without all the calories of the bakery version! Love, love love this tea!🤩

It's not bad but not good. Not my taste. I might enjoy it better if it does not have cinnamon.

Not sure what I expected when I got this, but it's definitely yummy.

This smells exactly like a fresh basked banana but muffin. The flavor is light, but definitely has notes of sweet banana bread. So good, will always have a bag on hand.

This tea tastes just like banana and smells like banana nut bread. Good tea for autumn or winter.

There is no flaw with this tea. It's one of my absolute favorite teas from Adagio, and of all companies I've tried. If you like banana bread, just trust me and try this. You won't regret it... 😉🤤🍌🍞🍵

One of my favorites for night time. It gives you that something sweet you crave at night, without having to ruin your day of eating healthy. Yum!

HL

This is one of my favorite teas. It smells and tastes amazing!! I usually let it steep for a little longer to help strengthen the flavor.

Smelled great, but I found the flavor to be a bit weak.

Subtle sweetness without adding sweetener. Nice rooibos.

This astounding tea tastes like a warm, cinnamony banana bread!

This tea straight up tastes like banana bread. Add a little milk and sugar and BOOM! Perfect cup of tea!

I was amazed by how much this tastes like banana bread. Not only does it, but it's absolutely delicious. It's no wonder why this is one of the highest rated teas on Adagio's website. If you like banana bread or banana muffins, you will LOVE this tea!

This tea is a lot of fun and something I'd be comfortable sharing with children because of the lack of caffeine.

I absolutely love this tea! It smells exactly like banana bread. The flavor is subtle but still sweet.

If you enjoy banana bread, then you will love this herbal tea! It is a wonderful dessert tea to have right before bedtime with just a bit of truvia :)

Very good! The aroma and flavor profile really do match the taste of a nice warm piece of banana nut bread. I find myself drinking this one on cold days. Definitely going to be one of my go to herbal teas.

This is probably my favorite tea! It has a wonderful smell - just like banana nut bread. The taste is more subdued, but still sweet and nutty. I was worried that it might be overly banana-y, but it isn't at all. There's just a hint of banana bread flavor - not artificial banana.

Absolutely amazing! This tea tastes almost exactly how my boyfriends banana nut muffins taste! The honeybush adds a delightful sweetness to enhance the banana and the nuttiness is not overpowering in anyway and works well with the banana, I did find that I had to steep it extra long to get that satisfying flavor though so now the shortest steep time I use for this tea is 30 minutes!

Smells, tastes, and even has the visual composition of the banana nut muffins my mom makes. It's a comforting, homey, nostalgic tea that serves as an ideal evening companion alongside a book, a blanket, or a favorite video game. Brew up a cup and inhale the fresh scent of "welcome home after a hard day of work!" Can't recommend this one enough!

A great breakfast tea, that both smells and tastes like banana bread.

I ordered 16 oz of this tea, based on the reviews alone. Unfortunately, I wasn t blown away by the taste. It is a very mild banana nut flavor with a heavy Honeybush flavor. I am a fan of Honeybush, so this works for me but if you are purchasing it in hopes of a tea tasting strongly of Banana nut, you ll be disappointed. I brewed this plain and also brewed it and added almond milk and honey. The milk and honey did bring out more of that banana nut flavor.